Having fun with the family and exploring Houston can be easy! If you have a few hours, we have ideas on how to spend them with the kids.
In this Half Day in Houston series, find a place to park, play, explore and eat... all in one spot. Pick what you like or combine with another Half Day post! See the full list below (and scroll to the bottom for a map of the adventures).
If you want a new Half Day in Houston suggestion emailed to you each week, go HERE! And if you have an idea for a Half Day in Houston, tell us!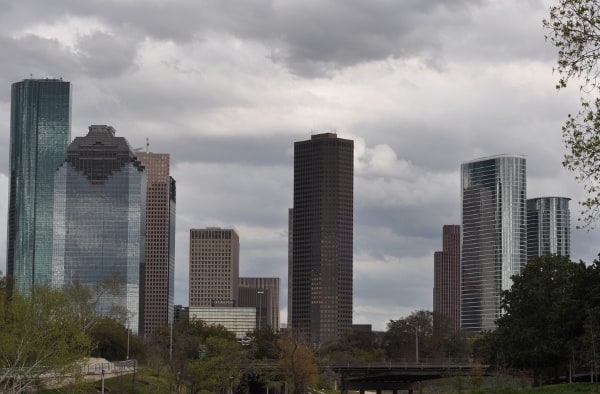 Downtown:
Downtown Houston & The Tunnel System: When I started this website in 2011, I wrote about the Tunnel System under Downtown Houston. It is super popular (because who doesn't want to see the world under the downtown streets?). So, for those heading down to the tunnels, here is where to park, play and eat!
Walk Your Way to Downtown Houston via the Buffalo Bayou Trail: Start the day at the nature playground, walk down the bayou trails, burp the bayou, admire the park, see the city for 60 floors up and walk across a waterfall!
Houston History:  Learn about Houston History as you visit City Hall, the City's Biggest Library, Houston's First Library and Houston's First Park.
Train Ride, Observation Deck, Underground Tunnels & Mysterious Button:  Ride METRORail, see the city from 60 floors up, explore miles of underground tunnels and find a mysterious red button in the middle of Downtown.
Downtown Picnic, Playground, Spalshpad & Secret Listening Vessels:  Grab supplies at Phoenicia, have a picnic at Discovery Green, play at the playground, splash in the splashpad and find the secret listening vessels!
Ride 2 Trains, Aerate the Bayou & Pet a Stingray: Take METRORail to the mysterious red button, Buffalo Bayou and the Downtown Aquarium!
Hang with Police Officers and Firefighters… All Before a Noodle Lunch:  Visit the Police Museum in Downtown, the Fire Museum in Midtown and the Pho Saigon Noodle House next door.
Fourth Ward:
Visit Buffalo Bayou Park:  Slide down the banks of Buffalo Bayou, go for a walk along the water, see hundreds of thousands of bats and enjoy the beautiful view of the Houston skyline.
Museum District:
Uncover Secrets at Rice University:  Find goofy carvings, a marble wall that makes a croaking sound, whispering niches, angry dolphins and so much more.
Art, Science, Gardens & Maze:  Walk through the Museum of Fine Arts, wander through a Labyrinth, explore the Museum of Natural Science and climb a "mountain" at Hermann Park.
Tree-Lined Trail, Gorillas, Splashpad & Picnic: Push your stroller down a tree lined trail, visit the Houston Zoo, splash in the water and grab a picnic.
Ride a Train, Pedal a Boat, Take a Trip through Japan & Play: Head to Hermann Park for enough fun to fill a half day (or a day)!
Little Waterfall Park, Interactive Art & Lunch: Grab a coffee at Black Hole, swing by Bell Park and walk over to the Museum of Fine Arts Houston!
Health Museum & Garden Mound: Visit the very interactive Health Museum and then tour the beautiful Centennial Gardens!
Perform Real Deal, Hands-on Scientific Experiments and then Learn Things You Never Knew about Paleontology:  Bigger Little Kids can visit the Houston Health Museum's Cell Lab and then take a guided tour of the Paleontology Hall at the Houston Museum of Natural Science!
World Class Play and Funky Fresh Food:  Visit the popular Children's Museum and eat lunch at Barnaby's Cafe!
Montrose:
Montrose Art Walk (for Families):  Walk through 3 free art exhibits, create your own works of art and then play with the art… all at the Menil Collection Campus!
See hundreds of thousands of Mexican Free-Tailed Bats emerge nightly, right in the middle of Houston: Grab a casual dinner at Whole Foods, walk along Buffalo Bayou and find a spot on the hill at the Waugh Bridge Bat Colony.
Heights:
Visit a Permanent Farmer's Market, Mexican Bakery & Grab Lunch:  Visit Canino's Produce Market, be amazed by the cases of pastries at El Bolillo and then grab some lunch. This trip is shorter than some adventures… but it's got things you probably don't do every day!
Funky Art, Fortress Park & Pizza: Explore the funky Houston Heights neighborhood with a trip to the Art Car Museum, to a wooden fortress park and with really good pizza.
Eat at a Cafe that is Cute Like an Antique Store… and has a Playroom for Families: Visit 19th Street in the Heights and Maryam's Cafe!
East End:
Visionary Art:  Experience art so unique you can only find it at a monument celebrating oranges. Visit the Orange Show and then picnic at Smither Park!
Port of Houston:  Tour one of the busiest ship channels in the world! This adventure take some advance planning… but it it includes a free boat tour of the Port of Houston!
Bellaire/West University:
Get close to nature, visit 3 playgrounds, a pool… and grab pizza and gelato:  Push the stroller down Bellaire's exercise trail, stop at 3 playground along the way, visit the Nature Discovery Center, swing by the pool and grab some lunch!
Swim at a super cool beach entry pool, play at an equally cool playground and grab lunch next door:  Visit Bellaire's Town Square for a playgrounds that is good for little kids, and challenging for big ones, to cool off at an amazing family pool with slides, sprays and waterfalls, and then to grab some lunch!
Read a book at the library, walk over to one of Houston's most kid friendly restaurants and then pick one of many West University parks:  Visit the West University Library, Eat at Little Matt's & Pick a Park in this kid friendly neighborhood!
Visit the Maritime Museum and Candelari's Pizzeria:  Learn about Maritime history, about one of the busiest seaports in the world, play dress up and grab lunch!
Memorial:
Funky Folk Art and Seriously Accessible American Art in One Afternoon:  You are sure to smile at the Beer Can House… and then be amazed at how fun it is to enjoy art at the Bayou Bend Collection and Gardens!
Houston Arboretum and Nature Center: Make crafts, read books, walk on the rope bridge and take a hike!
Memorial Playground Tour and International Market:  Find 3 playgrounds, a zillion restaurants and shops and explore "not-your-usual" market!
Just Outside the City:
Play on a caboose, tour an old train depot, play at the park and cool off at an old fashioned soda fountain: Visit the Tomball Train Depot and Nonnie's Soda Fountain!
Feed exotic animals on a wildlife safari and then pick your own produce:  Make the short drive to Alvin, fine the Bayou Wildlife Park, come nose to nose with exotic animals, take a safari tram ride, visit the petting zoo and ride a pony... and then stop by Froberg's Farm to pick your own produce!
Visit 2 Waterparks, Wetlands and a Battleship:  Make the trip to Baytown… and make it worth your drive! Visit Pirates Bay Water Park, Calypso Cove, The Wetlands Center… and then the San Jacinto Monument!
Visit an Old Caboose, Play at the Beach and Tour an Old Battleship:  Go to Sylvan Beach in La Porte and then the San Jacinto Battleground Historic Site!
Run a Ninja Warrior Obstacle Course:  Go to Iron Sports and then grab lunch next door!
City Map:
To use this map...
1. Find the part of Houston you want to visit.
2. Click on the red tack
3. In the window that pops up, click on the link for all the details on that half day adventure! The link will take you to the walking map and all the details on each venue.
  For our favorite gear for exploring Houston, go
HERE
!