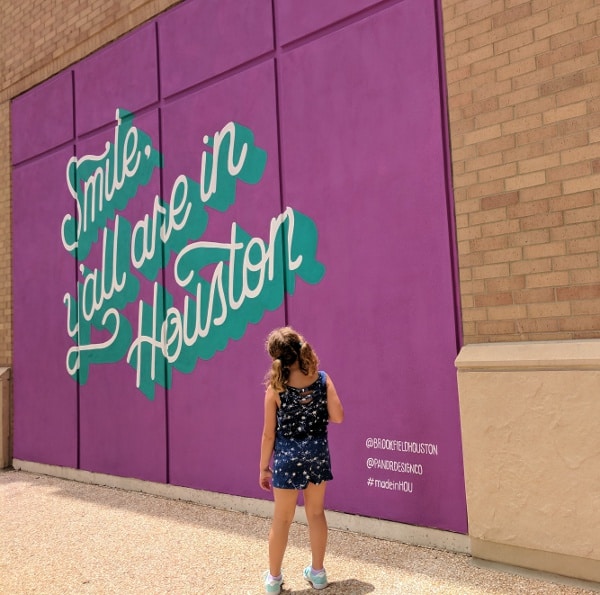 There is a lot to do in Houston, with kids, and we're putting the best of the best in one spot! Look below for things to do with the family, local attractions and for the interactive map!
If you are looking for the currently list of weekly events, please go HERE. If you want all this emailed to you each week, just go HERE!
Take a self guided mural tour! It's free and easy… and socially distanced!
Find room to run at a local farm or zoo! Whether you want to tour a working farm, go on a drive-thru safari, meet some animals or swing into piles of hay… the Houston area has plenty of farms ready to welcome you.
With school a little different this year… we've been posting (parent led, social distanced) field trips each week. Each has learning resources, details on the venue / attraction and driving / parking directions.
Here's a list of over 50 things to do… and they are fun things to do! Feed horses, find art, tour museums and find more free attractions!
Houston is a great place to be with kids! There are festivals, shows and events… and there is plenty to do any day of the year!
Here are 100 of the fun things to do around Houston, with kids… on any day!
If you have a few hours, we have ideas on how to spend them with kids. This list is organized by location.
Houston has hundreds of parks that are free and fun for the family. From tradition parks, to nature trails to wooden fortresses… Houston has them all! Find the Citywide Map of Parks with pictures and reviews, HERE.
This list does not include usual favorites… so you won't find the awesome Children's Museum here. Instead, you will find things with fewer crowds, some that are a little quirky, and all that are just as much fun as the well-known spots.
For a map of things to do, look below!
To use it:
1. Look in your part of town.
2. The square in the top left will let you turn on and off layers for parks, restaurants, etc.
3. Click on the dots you want to learn more about.
4. In the window that opens, click on the link to see pictures and read about the venue!