Having fun with the family and exploring Houston can be easy! If you have a few hours, we have ideas on how to spend them with the kids.
In this Half Day in Houston series, find a place to park, play, explore and eat… all in one spot. Pick what you like or combine with another Half Day post!
In this adventure, read a book at the library, walk over to one of Houston's most kid friendly restaurants and then pick one of many West University parks!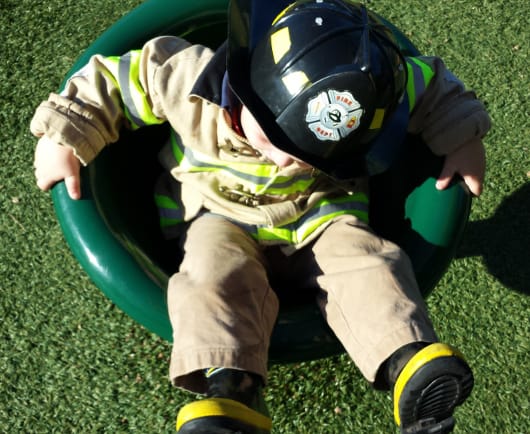 Park:
Free parking is available on the street at the West University Library and Little Matt's. You can also walk to several of the parks... but if you pick a park further out, you might want to move the car once. (See the map below to decide!)
Explore: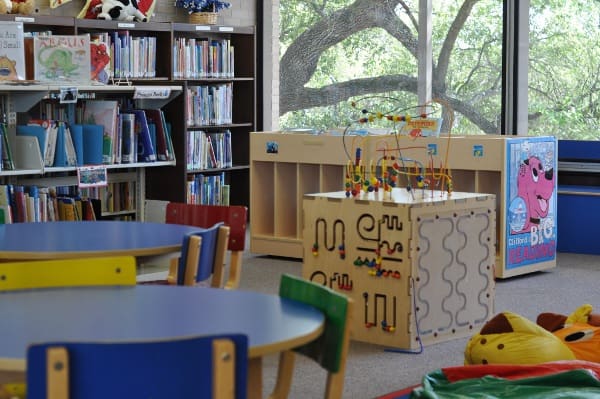 1. West University Library – 6108 Auden St, Houston, TX 77005 – Monday-Saturday, 10:00am - 5:00/6:00pm – Free
Visit the West University Library, head upstairs and lounge in the children's section and read some good books.
This Houston Library is right in the middle of Houston… but requires a Harris County Public Library Card, rather than a Houston Public Library Card, if you want to take books home. It's also in one of Houston's most family friendly neighborhoods… but it is it's own city within our city!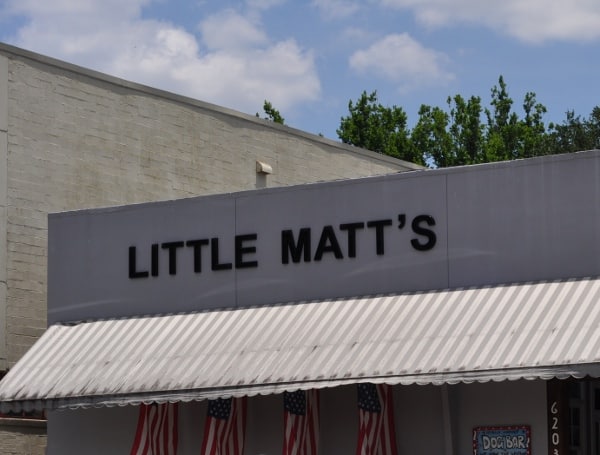 2. Little Matt's - 6203 Edloe St 77005 - Monday-Sunday, 10:30am - 8:00pm - Reasonable
Just a block away from the library is the Little Matt's restaurant. Don' t be fooled by the nondescript gray outside, the fun is inside! IPad Stations, Wish Wall, Candy Store, Kid's Room, Arcade and Patio...
Order at the counter, fill up your drink and have the food delivered to your table.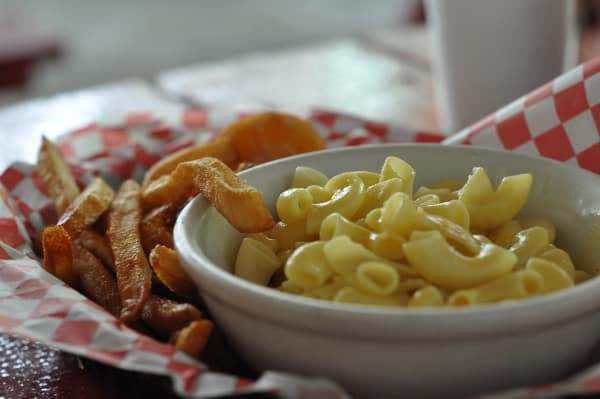 3. Pick a West University Park
After the library and lunch, find a place to play. West University has a lot of good playgrounds! You can walk to some from the library and Little Matt's... and the others are a very short drive.
Pick the ones (below) that look best for your family!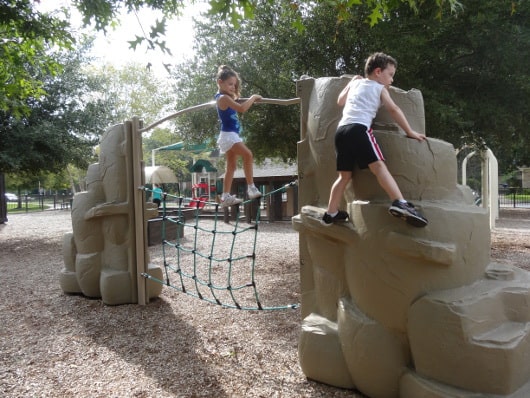 Colonial Park - 4130 Byron, Houston, Texas - Free
The Colonial Park playground offers lots of different types of activities. One of our favorites is the combination rock climbing and rope obstacle. There is also a musical array with eight different kinds of instruments, including bongos, giant maracas, and huge slide whistles! Oh, and there is a traditional playground too!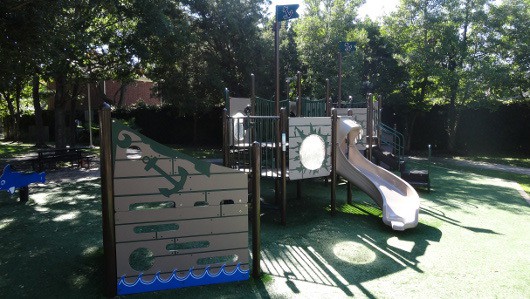 Huffington Park - 3901 Milton, Houston, Texas - Free
Huffington Park is a charming neighborhood park with a nautical theme! The single play structure forms body of a ship and there are climbing walls to the front and back of it that form the bow and the stern.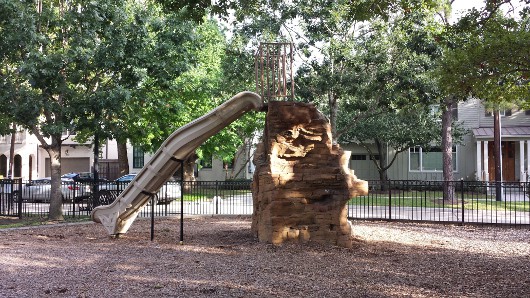 Judson Park - 4242 South Judson Street, Houston, Texas - Free
Judson Park has 2 fenced off sections in this park. One area is for children 2-5 years old and the other is for older kids. In between is a big grassy area for games and picnics.
The small playground has a little play structure, house and tunnel. The big playground is in a separate area and only has a few pieces of equipment. But one of these pieces is a very unusual slide.
This slide has a giant rock that you must climb to get to the top. There are no steps, just the rock!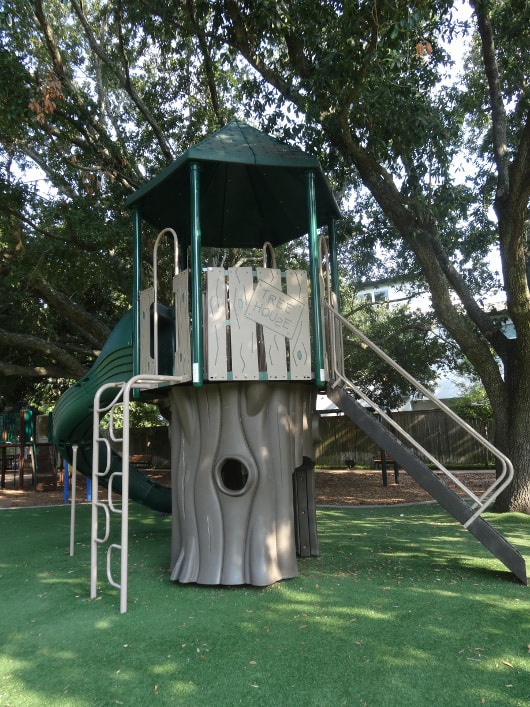 Whitt Johnson Park - 6540 Wakeforest, Houston, Texas - Free
Whitt Johnson Park is a well shaded park with a tree house! The tree house is a large metal and plastic play structure in the middle of the park. There are four different ways to get up or down from the tree house, but our favorite, by far, is the leaf ladder located on the inside of the "tree." Sliding down the vine slide is also a good option.
Oh, and there is regular equipment too!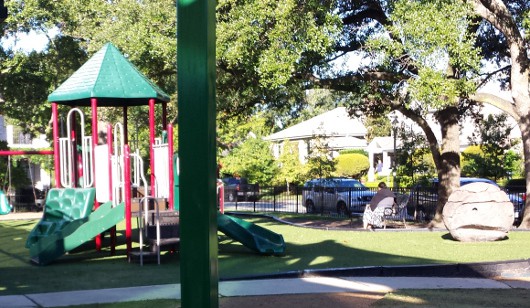 Wier Park - 3012 Nottingham, Houston, Texas - Free
Wier Park has play structures for big kids and little kids, picnic tables and a basketball court and is really quite great.
The park has 2 play areas. One is for toddlers and one if for bigger kids and each is mud free because of the soft layer of turf. Each area also has swings, picnic tables and a play structure with unique ladders!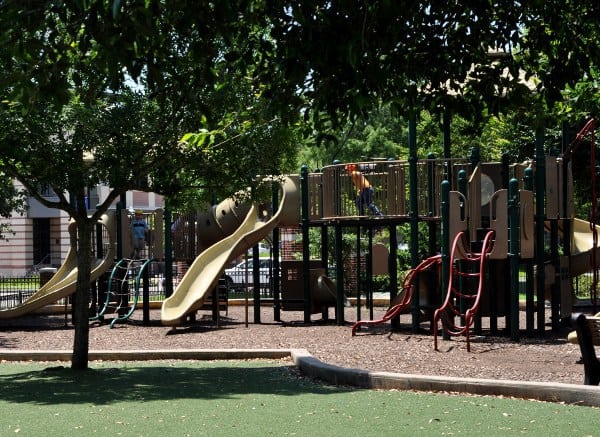 West University Spark Park - 3756 University Boulevard, Houston, TX 77005 - Free (Under Construction Summer 2015)
The Spark Park Program develops school parks into neighborhood parks as a way to increase green space in Houston. West University Spark Park gates open after school activities end and throughout weekends, holidays, and summer months for everyone to enjoy!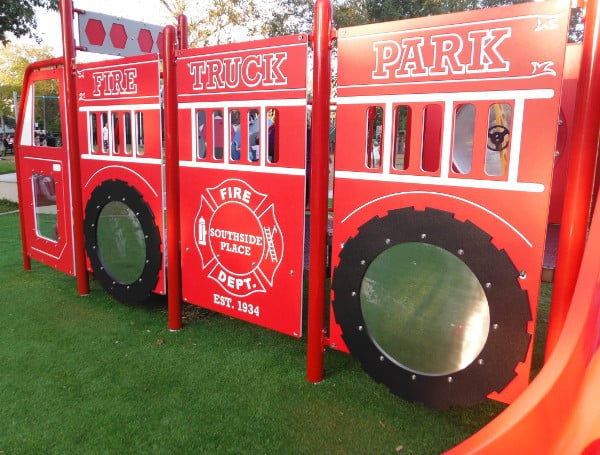 Add a bonus park to your trip... The
Fire Truck Park
is just outside of West University and a short drive away... and it's a great park!