Wier Park – Visiting Houston's Parks, One Week at a Time
See the update Wier Park post HERE!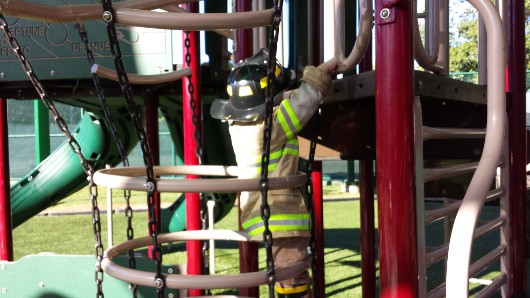 Address:
 3012 Nottingham
See the update Wier Park post HERE!
Wier Park is in West University on Nottingham at Sunset.   Here you will find play structures for big kids and little kids, picnic tables, tennis courts (reservation required) and a basketball court.  This park is really quite great.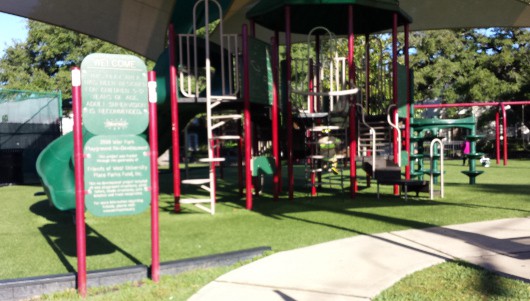 Wier Park has 2 play areas.  One is for toddlers and one if for bigger kids.  Each is mud free because of the soft layer of turf.  Each area also has swings, picnic tables and a play structure with unique ladders.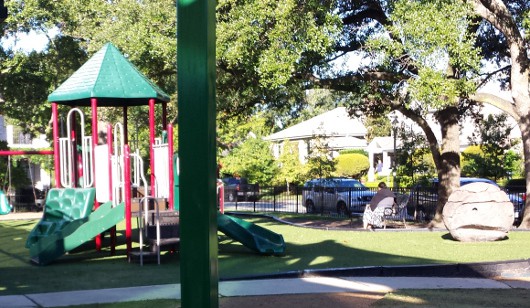 The big structure has a spiral staircase ladder and an unusual chain ladder.  The small structure has easy to climb rock walls.
The play area also has little flower-like spinners.  The kids sit in the little pods and spin.  There is also a small round boulder to climb and a little "restaurant window" to play shop.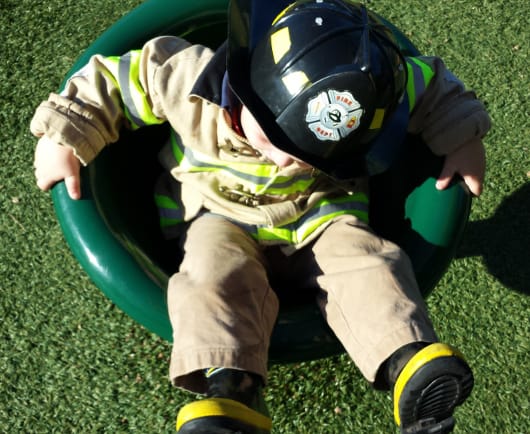 The playground is well shaded.  The big kid area has a great canopy.
Beyond the play areas is a big grassy area for running, more picnic tables and a basketball court.
Wier Park is in a nice neighborhood with a good amount of pedestrian traffic.  The playground is fully fenced in but visible from the street, which makes it feel safe.  I did not notice any bathrooms, so plan ahead!
This park was pretty popular with the preschool crowd on a weekday morning.  There were several other toddlers running around as James explored.
James had a great time climbing, spinning and sliding.  This is him in his fireman gear and it was not Halloween.  Baby James is a fireman every day.   Really.
View Larger Map
For more Houston parks, look here: