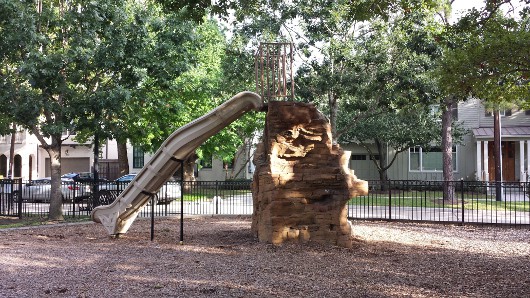 UPDATE:  See the UPDATED review HERE!
Address:   4242 South Judson Street, Houston, Texas
The Houston park of the week is Judson Park in West University! It has a tennis court, little kid playground, a big kid playground and a lot of green space to run through.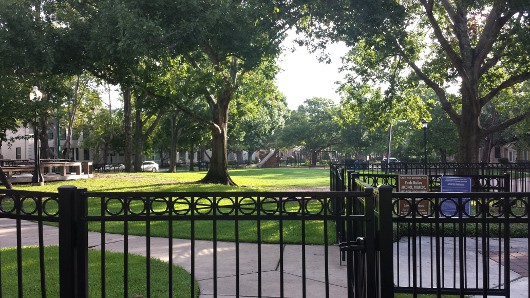 Judson Park happens to be the park that Felicia found, and then lost, and then explained to me that it had moved like
Howl's castle
. We found ourselves a West University resident that helped us find it again.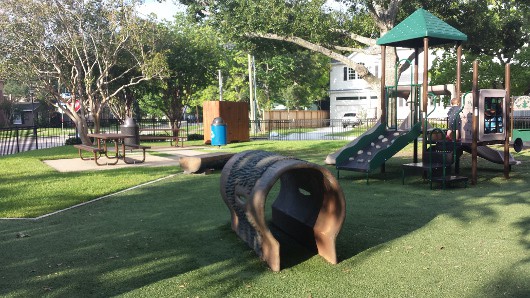 When we visited, it was at 4242 South Judson Street and I'm pretty sure it will still be there when we go back. But not certain.
There are 2 fenced off sections in this park. One area is for children 2-5 years old and the other is for older kids. In between is a big grassy area for games and picnics.
The small playground has a little play structure, house and tunnel. It's perfect for the little kids.
The big playground is in a separate area and only has a few pieces of equipment. But one of these pieces is a very unusual slide.
This slide has a giant rock that you must climb to get to the top. There are no steps, just the rock.
It looks very challenging and is perfect for my 6 year old boy that is half monkey. This slide alone would be a good reason to visit the park.
Judson Park is small and well shaded and in a nice West University neighborhood. The street is visible from the playground and there is just enough car and pedestrian traffic to make it feel safe.
View Larger Map