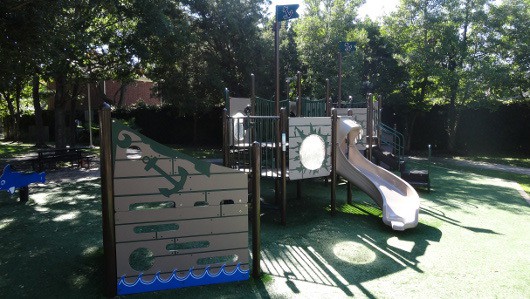 Address:
 3901 Milton, Houston, TX
Appropriate Age:
 Any age, but probably best for 5 and younger!
Huffington Park in West University is a charming neighborhood park. It has a nautical theme that both of my kids instantly loved.
The single play structure forms body of a ship and there are climbing walls to the front and back of it that form the bow and the stern.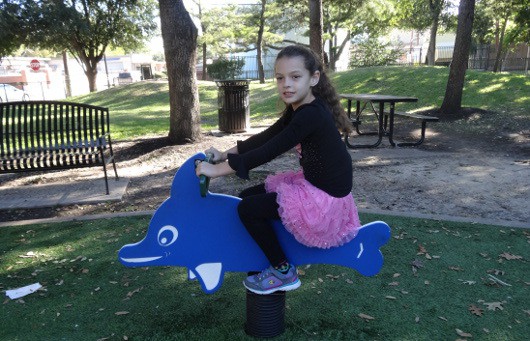 My daughter's favorite animal as always been dolphins, so when she saw the dolphin spring rider off to one side she immediately ran to it.
Although the only other pieces of play equipment are swings and a spring mounted platform that the kids jumped on, there are grassy areas to play in as well as two grassy mounds.
When the kids saw these, their first comment was "Yay, we can roll down the hills." The second was "When it snows we can come here to go sledding!" Obviously my kids have very little concept of snow, sledding, and Houston's climate!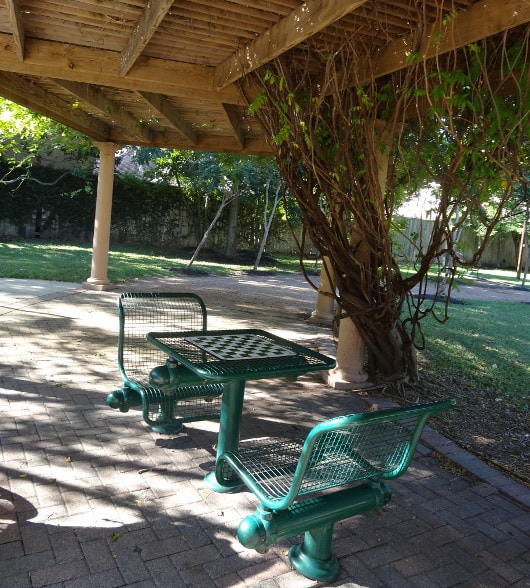 At the main entrance to Huffington Park there is a lovely arbor that shades two chess/checkers tables. There are also lots of trees shading numerous benches and picnic tables. This, combined with the fact that the park is completely fenced, makes it a very relaxing place as long as the kids are behaving.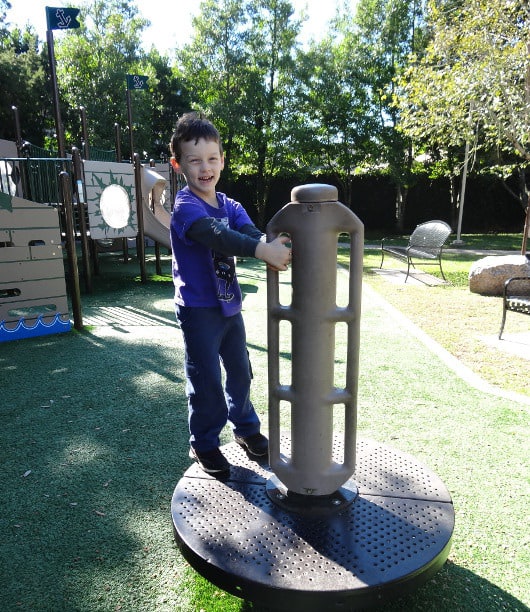 In my opinion this park is best suited for the 5 and under crowd. The play structure was designed for that age range and even the swings are set at a low height.
Although there were several families there on the Sunday morning that we went, at 6 years old my daughter was the oldest child there. Despite that we all had a good time and it was a very pleasant way to spend a beautiful morning.
Find more Houston parks: