Having fun with the family and exploring Houston can be easy! If you have a few hours, we have ideas on how to spend them with the kids.
In this Half Day in Houston series, find a place to park, play, explore and eat… all in one spot. Pick what you like or combine with another Half Day post!
In this adventure, walk through 3 free art exhibits, create your own works of art and then play with the art... all at the Menil Collection Campus in Montrose!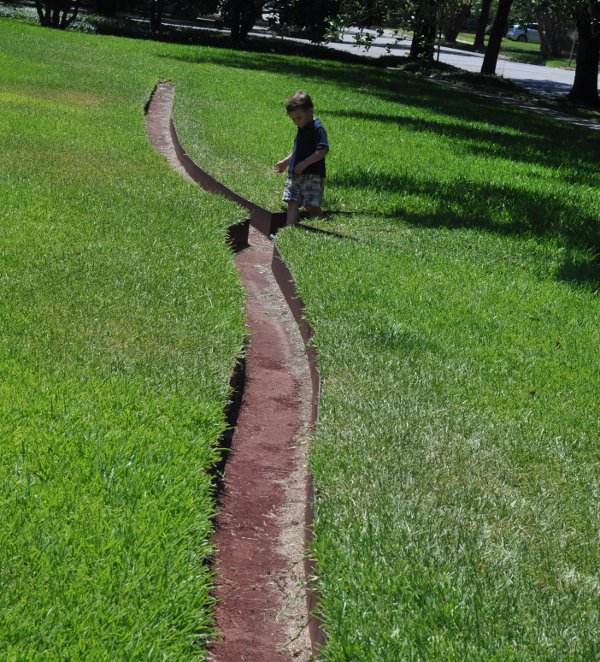 Park:
The Menil Collection has free parking on the street and in the large parking lots. Park once and walk to each stop. If you want to make your trip longer, check out THIS list of things to do in Montrose (and maybe move your car to another free spot in Montrose).
Explore:
This adventure takes you through an art museum. It's not the Children's Museum and it's not the Natural Science Museum... it's something new to try with the family in Houston!
All are welcome in these exhibits and all are within walking distance of each other. If your kids can take a hand and use quiet voices for 5 minutes, give it a try. (If your kids are in a rebellious-run-around-like-a-wild-person-phase... this might not be for you just yet!)
The cool thing is, the Menil Collection is always free. You can try it and if it's just not working, head outside to finish the fun.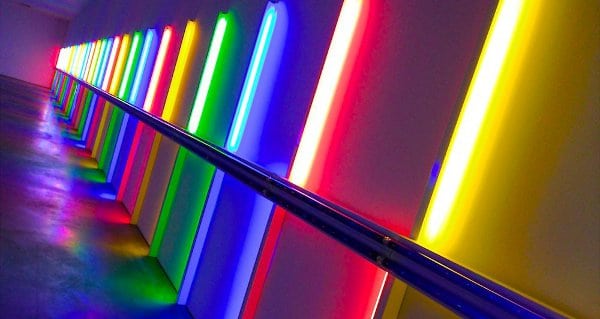 Photo Credit: 365 Things to Do in Houston
1. Dan Flavin Installation at Richmond Hall - Colquitt and Loretto Drive, Houston, Texas 77006 - Wednesday-Sunday, 11:00-7:00pm - Free
Right on Richmond Avenue, Richmond Hall was originally a 1930's grocery store. In 1996, just two days before his death, Artist Dan Flavin completed his design for this permanent Menil Collection installation.
In the big main hall, vertical colored fluorescent tubes fill the space... alternating in pink, yellow, green and blue and reflect on the polished concrete floor.
This building is cool (as in cold) and just a little dark. It's certainly not something you expect to see in a box shaped building on Richmond Avenue.
Take the kids, step inside the air conditioning and enjoy the lights. Stay for a few minutes, or all day.
2. Cy Twombly Gallery - 1533 Sul Ross Street, Houston, TX 77006 - Wednesday-Sunday, 11:00-7:00pm - Free
Just a couple blocks to the north is the main Menil Collection Campus. Here you can find the main museum, the park, the Cy Twombly Gallery (and soon to be much more)!
Take a walk through Cy Twombly Gallery before visiting the main museum, and ask the kids to think about what they might want to draw after the tour.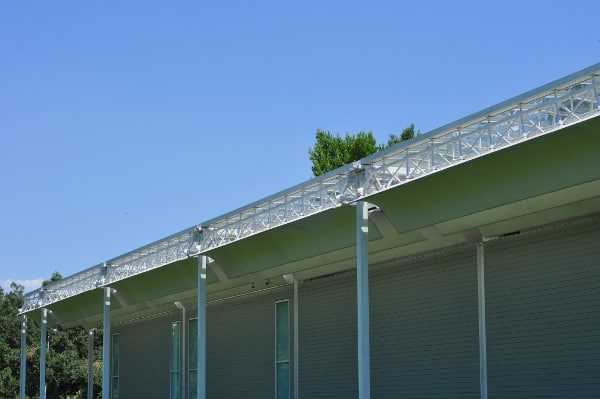 3. Menil Collection - 1533 Sul Ross Street, Houston, TX 77006 - Wednesday-Sunday, 11:00-7:00pm - Free
The main museum is the busiest of the buildings. Here there is 30,000 square feet of gallery space with collections constantly changing. Each time you visit, the museum is new and fresh.
Also, something to point out to the kids, is the ceiling and roof. The white "leaves" were design to change the light with the sun. If you visit in the morning or noon or night, your experience with the art will change.
Take the kids to see one exhibit or all of them, and tell them to be thinking about what to draw for their own masterpieces.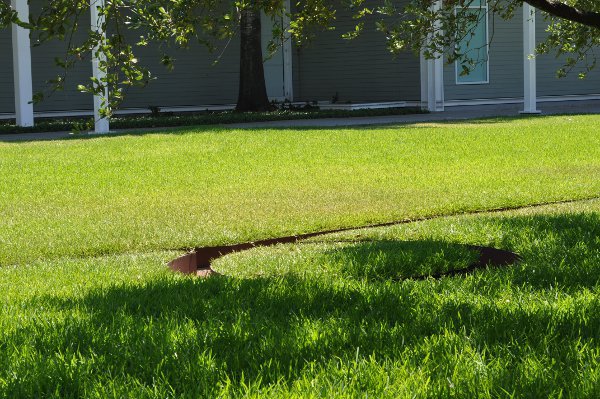 On the lawn outside the Menil (and at the park across the street), you can always find families and friends enjoying the neighborhood. Bring your own picnic or let the kids run along the art sunk into the lawn in front of the Menil.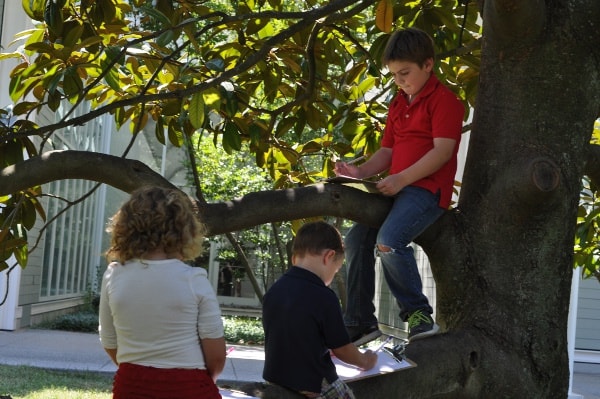 4. Create Your Own Art
This is my trick for making the art museum fun for the kids. Each time we bring a clipboard, paper and colored pencils. We find a seat in the museum or outside, and make our own masterpieces. It's very easy, but something we look forward to as we explore each exhibit.
Bring your own supplies and find a seat in the hallway of the main building, on a gray bench just outside, in one of the many "climbing" trees or at the park across the street.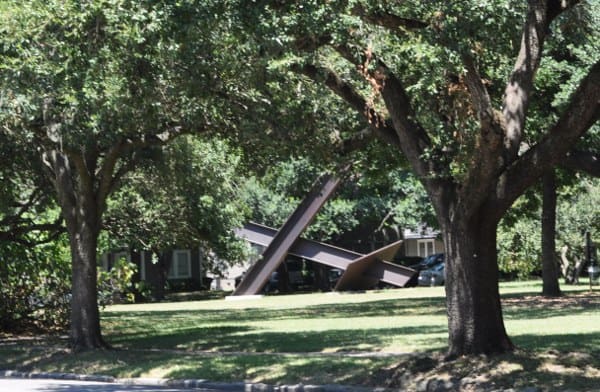 5. Menil Park (aka Red Swing Park) - Branard and Mulberry Street, Houston, Texas 77006 - Free
Right across from the main building is the Menil Park... or as we call it... the red swing park. This is a nice green park filled with giant old oak trees and one red swing. It is the park to go to if you are looking to relax, have a picnic and climb trees!
Bring a picnic or just run around!
Want to see more of Montrose, including a free splashpad? Check out THIS bigger walking tour.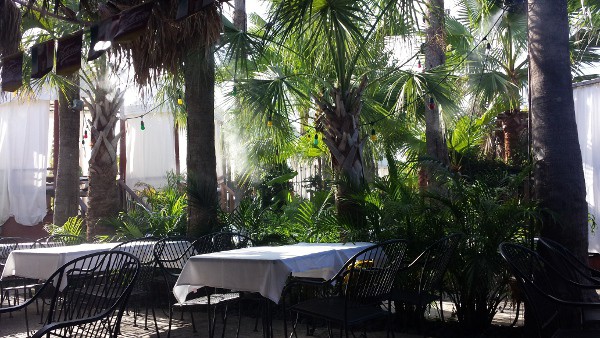 Eat:
If you haven't had a picnic already, visit El Pueblito, across from Richmond Hall. This restaurant has a patio with cabanas, fans and misters. If you avoid late evenings and late Sunday brunch (when they have loud music and a party atmosphere), it's good for families. Just know that it's more hole-in-the-wall than chain restaurant.
Other options are Blacklab and La Fendee. Also very close is Maine-ly Sandwiches, Mia's Table, Uberrito, Little Bigs, El Real, Empire Cafe and many other restaurants.