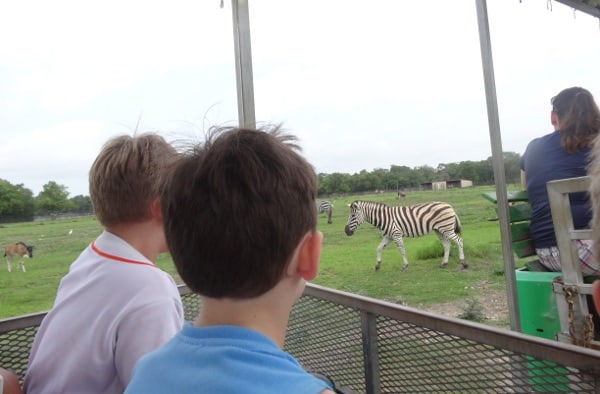 Having fun with the family and exploring Houston can be easy!  If you have a few hours, we have ideas on how to spend it with the kids.
In this Half Day in Houston series, find a place to play, explore and eat… all in one spot.  Pick what you like or combine with another Half Day post!
In this adventure, feed exotic animals on a wildlife safari and then pick your own produce.
Look below for a map of the walking route.
Park:  For this adventure, you'll need to drive to each spot… but there are big parking lots at each spot… and once you drive to Alvin from Houston, you might as well visit lots of spots!
Explore: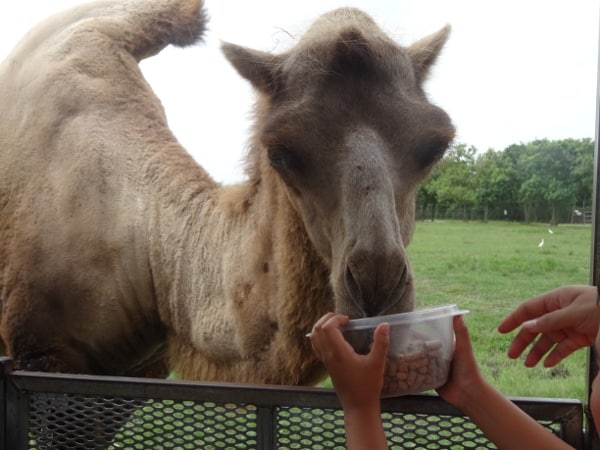 1.  Bayou Wildlife Park – 5050 FM 517 Road, Alvin, TX 77511-1828 – $20/adult, $10/kid | Discount for Groups | NO CREDIT CARD
A short drive from Houston is the Bayou Wildlife Park in Houston… and it is amazing.  You get nose to nose with exotic animals.
The Bayou Wildlife Park tour includes a safari style tram tour that is perfect for families… no running after kids… just sit and be entertained.  You can see (and feed) Banteng Cattle, White Rhinoceroses, Gaur Cattle, Barasingha Deer, Ring-Tailed Lemurs, Bactrian Camels, Pere David's Deer, Addaxes, Scimitar-Horned Oryx, Hog Deer and Nile Lechwe.
There is also a petting zoo and pony ride (for kids under 90 pounds)!  After your adventure, you can stay for a picnic in the picnic area. Bring your own lunch, just no watermelon!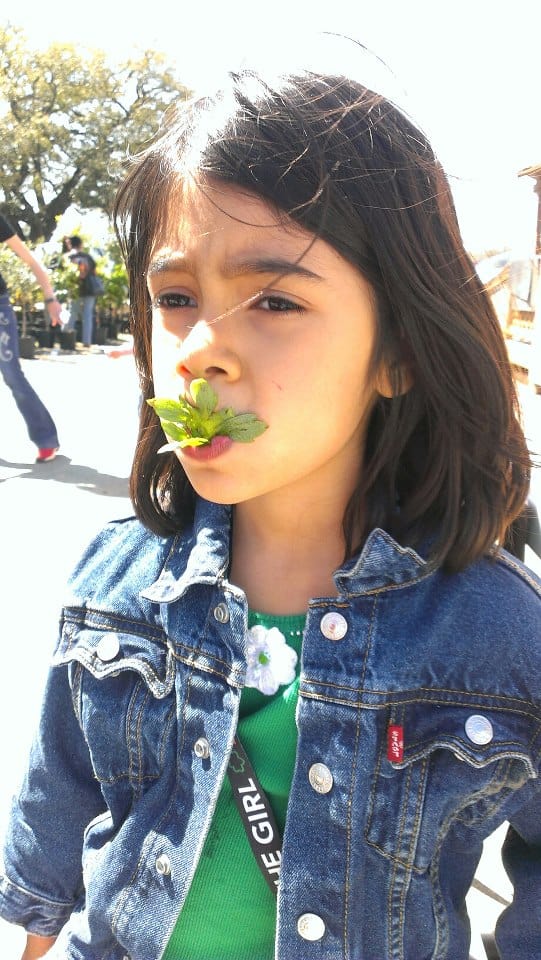 2.  Froberg's Farm – 3601 Texas 6, Alvin, TX 77511 – Free to Visit | Fee for Actives
Close to the Bayou Wildlife Park is Froberg's Farm.  You can always pick up farm fresh produce and pies… and depending on the season, you can also take farm tours and pick your own fruit and vegetables!  See what's available now, HERE.
Eat:
If you haven't already had a picnic at the Bayou Wildlife Park or eaten at Froberg's Farm, check out Joe's Barbeque Company.  It's close to the park and farm!
You can find more adventures HERE!