Having fun with the family and exploring Houston can be easy! If you have a few hours, we have ideas on how to spend them with the kids.
In this Half Day in Houston series, find a place to park, play, explore and eat… all in one spot. Pick what you like or combine with another Half Day post!
In this adventure, grab supplies at Phoenicia, have a picnic at Discovery Green, play at the playground, splash in the splashpad and find the secret listening vessels!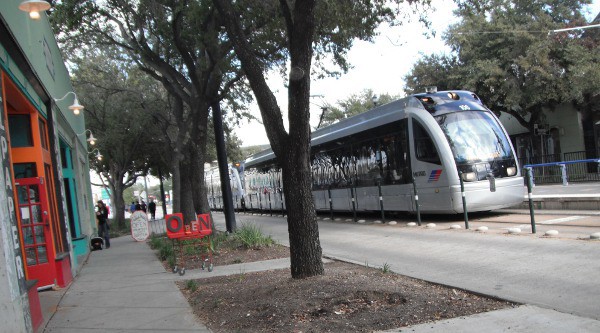 Park or Ride:
For this urban Downtown adventure, take the METRORail or park on the street at Discovery Green. If you take the train, you can park anywhere along the line… the museum district can be congested but has several $5 lots along Binz. Jump off at Main Street Square and walk the 5 blocks east(ish) to Discovery Green. (See the map below.)
If you don't have time or energy for the METRORail, just drive and park at Discovery Green. Street parking is metered (about $2/hour) and is free after 6:00pm and on Sundays. Paid lots are also available, including one under the park, with an entrance on the George R. Brown side (and it's about $12).
Explore: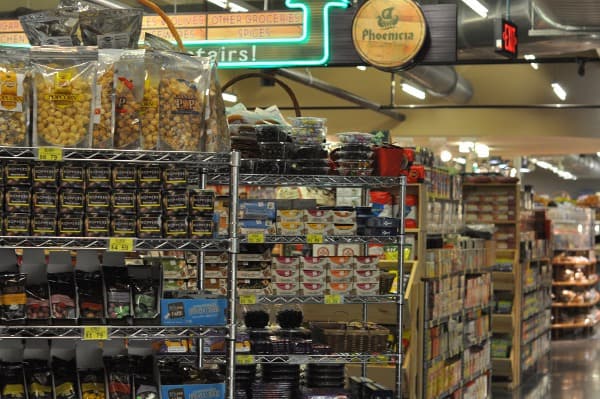 1. Phoenicia Specialty Foods - 1001 Austin Street, Houston, TX 77010
Right across from the Discovery Green playground is the One Park Place Apartment Tower. If you walk around to the opposite side of the tower, you'll find Phoenicia Specialty Foods and MKT BAR! You know we like the restaurant, MKT BAR... but we also love the grocery store. Grab a sandwich, pizza, salad, hummus, fresh pitas and much more... plus a drink and utensils... and head to Discovery Green!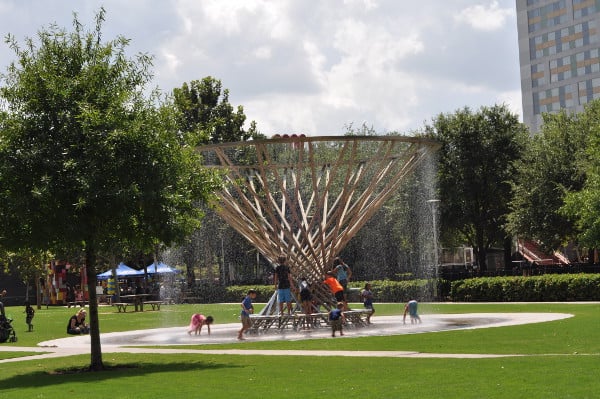 2. Discovery Green - 1500 McKinney Street, Houston, TX 77010
Usually these half day posts take you to several spots... but Discovery Green has plenty of fun to keep you busy for a few hours!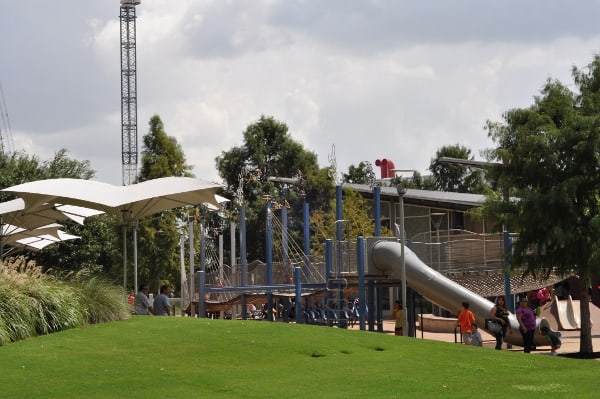 First you can play at the
John P. McGovern Playground
. This is slightly below street level, so kids don't dark into traffic. The play structure has ropes, bridges and slides. Once the kids are hot, go next door to the splashpad!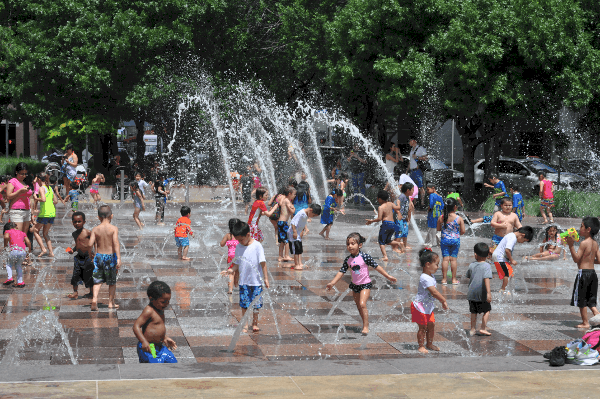 The
Splashpad
is on a timer that starts the fountains out small... and gets bigger and bigger. Let the kids cool off while you relax and watch from the deck.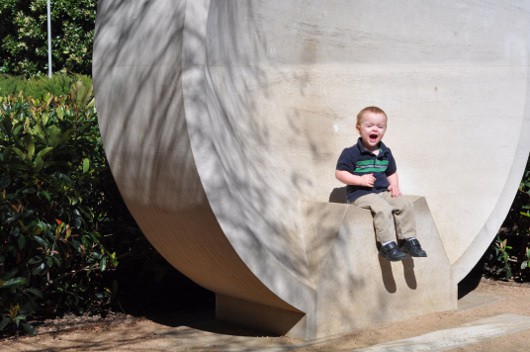 After hitting these popular spots, find a garden that most don't know is a part of the park. Over by the Hilton, you will find these amazing
Listening Vessels
! These 2 limestone sculptures have concave interiors that focus sound waves. You can sit in 1 vessel and be heard in the 2nd vessel that is 70 feet away. Read more about them
HERE
.
Whenever you get hungry, stop to eat your Phoenicia picnic at a table or on the grass!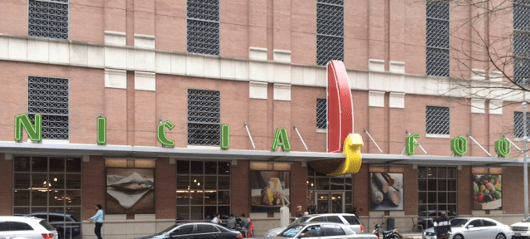 Eat:
By the end of your trip, if you haven't had enough to each on your picnic, you can grab a casual lunch at the Lakehouse Cafe, back at MKT BAR (at Phoenicia) or Pappasitos (in the Hilton across the street from the Listening Vessels)!
METRORail Map:
Walking Map: