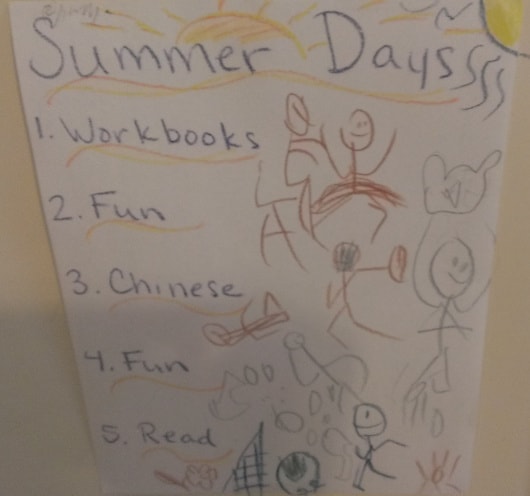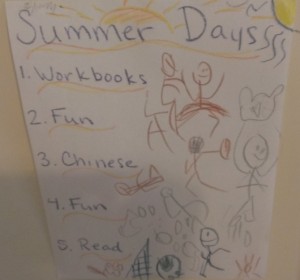 School has been out for 4 days and we are enjoying the pace of summer break. I especially enjoy that at 7:45am each morning, I am NOT hollering at my kids to run to class. But on the flip side, I don't want summer to be so lazy that all those school days of waking up at 5:55am are wasted.
Since the BigKidSmallCity household is run by 2 engineers, we like to have a plan. Since the house is also run by 3 kids, ages 5 and under, we are happy if we sorta stick to that plan.
As a family we decided that each day we would try to do 5 things.
Workbooks
Have Fun
Practice Chinese
Have More Fun
Read
The workbooks are easy. The kids pick from a stack of workbooks and worksheets that are Math
, Logic
or Writing
. We also print out FREE worksheets from SoftSchools.com.
In the morning, my schedule is generally free and I have an opportunity to go have fun with the kids. The trick is to get moving and out the door before I need to head to work at lunchtime. To keep us on track, we have our Summer Bucket List and the Things to Do List.
In the middle of the day, when we have a little downtime, we are trying to practice our Chinese. My husband and I do not speak more than 3 words of Chinese, but our kids attend a language immersion school. Half of their school day is taught in Chinese.
Our casual effort at maintaining the Chinese is to do workbooks, watch movies
and listen to audio
. And if we can catch this in the car, on the way to our next outing, we check it off the list.
For afternoon fun, the kids will go to camp, playdates or out with dad. Easy.
The days end with reading. The kids are motivated by the many reading programs around Houston that let you earn rewards. The Houston Public Library program lets the kids earn free books and tickets to the Astro's game and Circus for reading just 30 books (or 30 hours)!
We're trying to stick to this plan, but know that trips, camps and business travel could mess it all up. Good thing it's summer and we are only kinda trying to not be too lazy.
So, what's your plan for summer?