Stay at the beach... at a Surfside Beach Texas Rental! Below is everything you need to know about ROCK HOUSE... the veteran owned and operated Surfside TX beach house rental available on AirBNB and VRBO.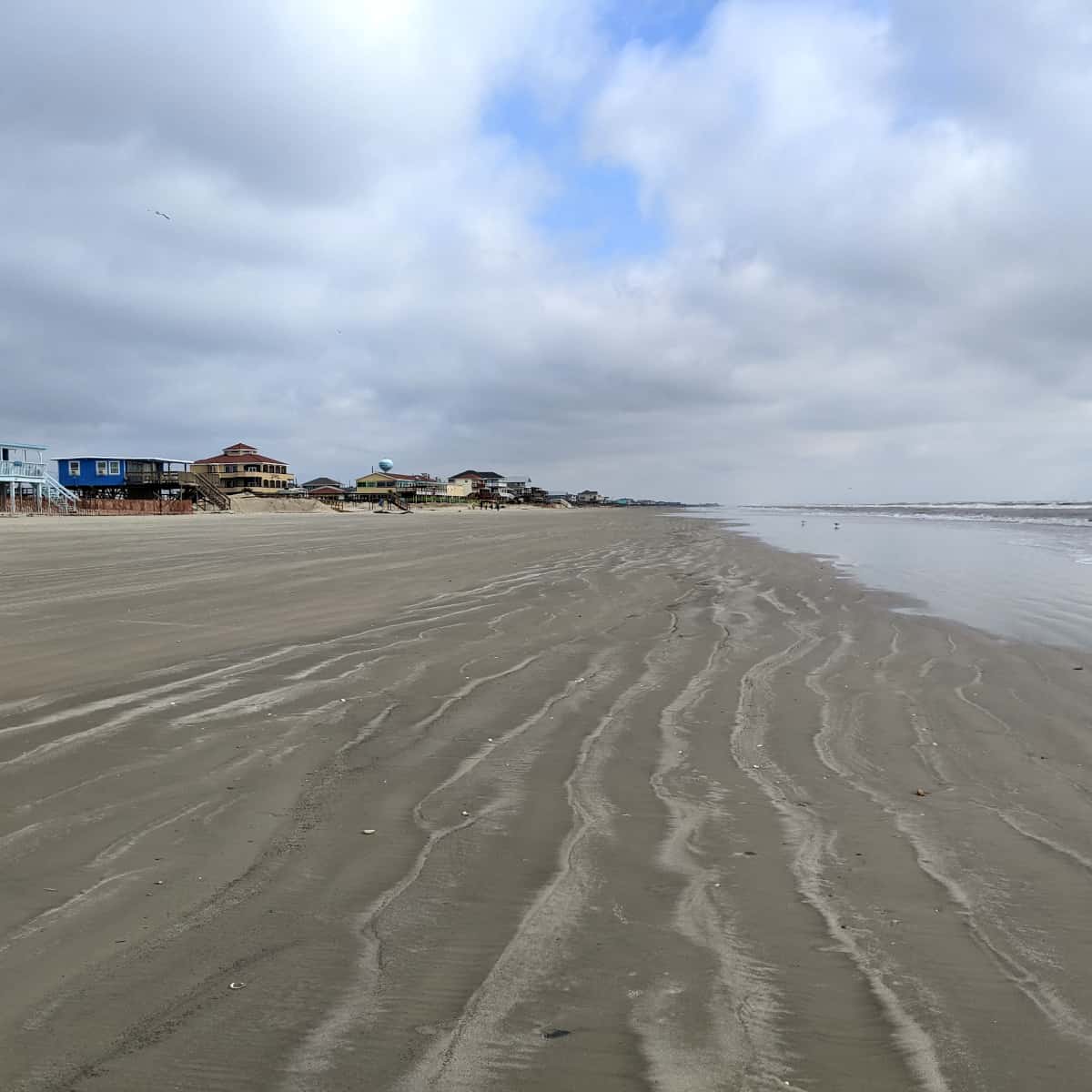 We like a good beach day in Surfside, but we had never stayed there overnight.
Lucky for us, ROCK HOUSE, the Surfside Texas Beach Rental, invited us out to their family friendly beach house.
We were excited to go, but I did wonder if we'd be roughing it or be living the good life.
Jump to: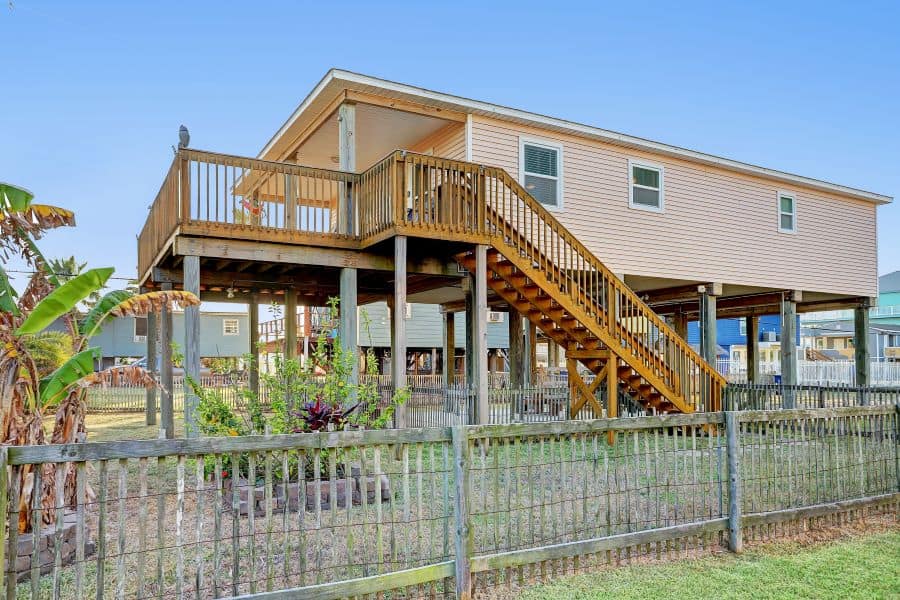 All About ROCK HOUSE:
I used to live at the beach, so I was not really sure what to expect with this beach house rental. What I mean is, the salty air is hard on houses and, from my own experience, a great location does not always mean a great house.
With that in mind, I was VERY pleased when we walked into ROCK HOUSE. The building was in good shape, the paint was fresh and everything was crisp and clean.
The ceiling was vaulted to make it airy, the kitchen was updated and there were plenty of beds and bedrooms.
It was good to have more living space than at a hotel, and it was great that the house also had a big deck, fenced in yard and outdoor BBQ space under the house. Plus it has been updated with new floors, a new outdoor shower and new water filtration system. And the beach was just a quick walk over the sand dune bridge.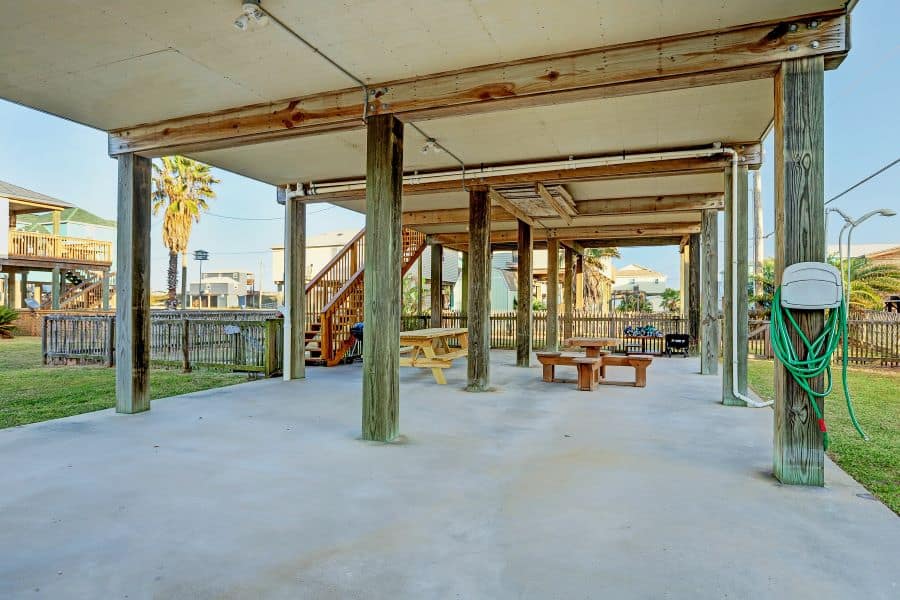 The house is also walking distance from Seahorse Bar and Grill and also beach equipment rentals (surf boards, bodyboards, golf cart rentals and more). You can just walk down the beach!
If you do rent a golf cart, there is a golf cart path right out from the house. You can ride it to the beach, crabbing pier, restaurants and food trucks. (And if you don't get the golf cart, you can still walk or make a short drive.)
The house has a smart lock and we had a personalized code to get in. The whole stay was contact-less.
Surfside TX Beach House Rental Information:
ROCK HOUSE is veteran owned and operated and is available on both AirBNB and VRBO.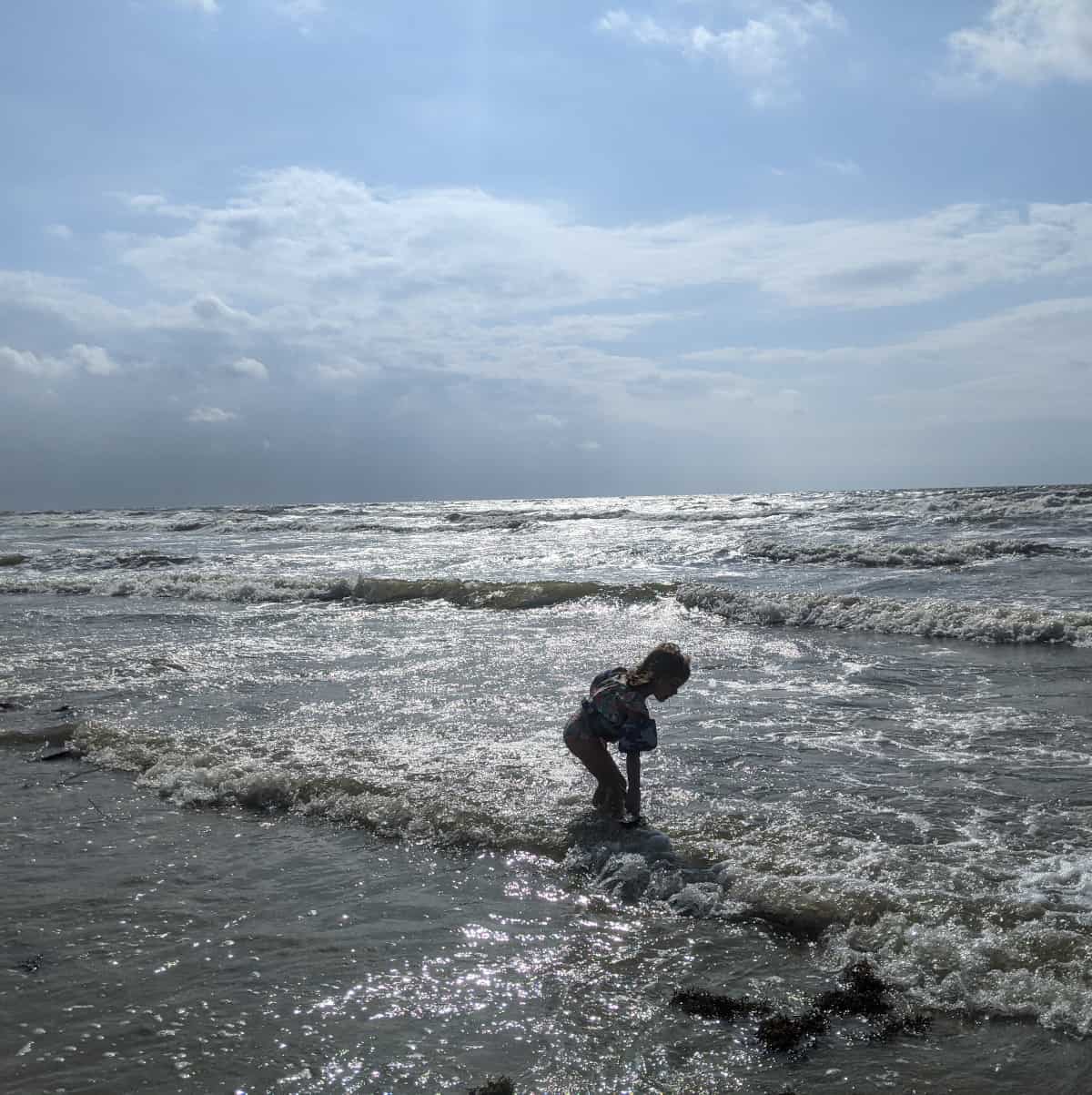 Our visit at ROCK HOUSE:
On our first visit, we had a day of rain, but we did not mind playing board games and hanging out with each other. The kids kept saying that they wished our house was exactly like this beach house.
We spent the rest of the trip drinking coffee on the deck, walking on the beach, collecting shells, relaxing in the house and doing our school work away from home.
On our next visit, it was a sunny holiday weekend. It was so nice to be able to run to the beach, run back for lunch, run back to the beach, run home during afternoon showers (and on and on). After dark we would go back out for a walk with our flashlights.
It was also great to be able to play at the beach all day and then shower, eat dinner and be home for the night instead of fighting holiday traffic leaving the beach.
When we go again, we'll check out the dolphin tour or even deep sea fishing. We also need to take the beautiful 30-minute coastline drive to Galveston.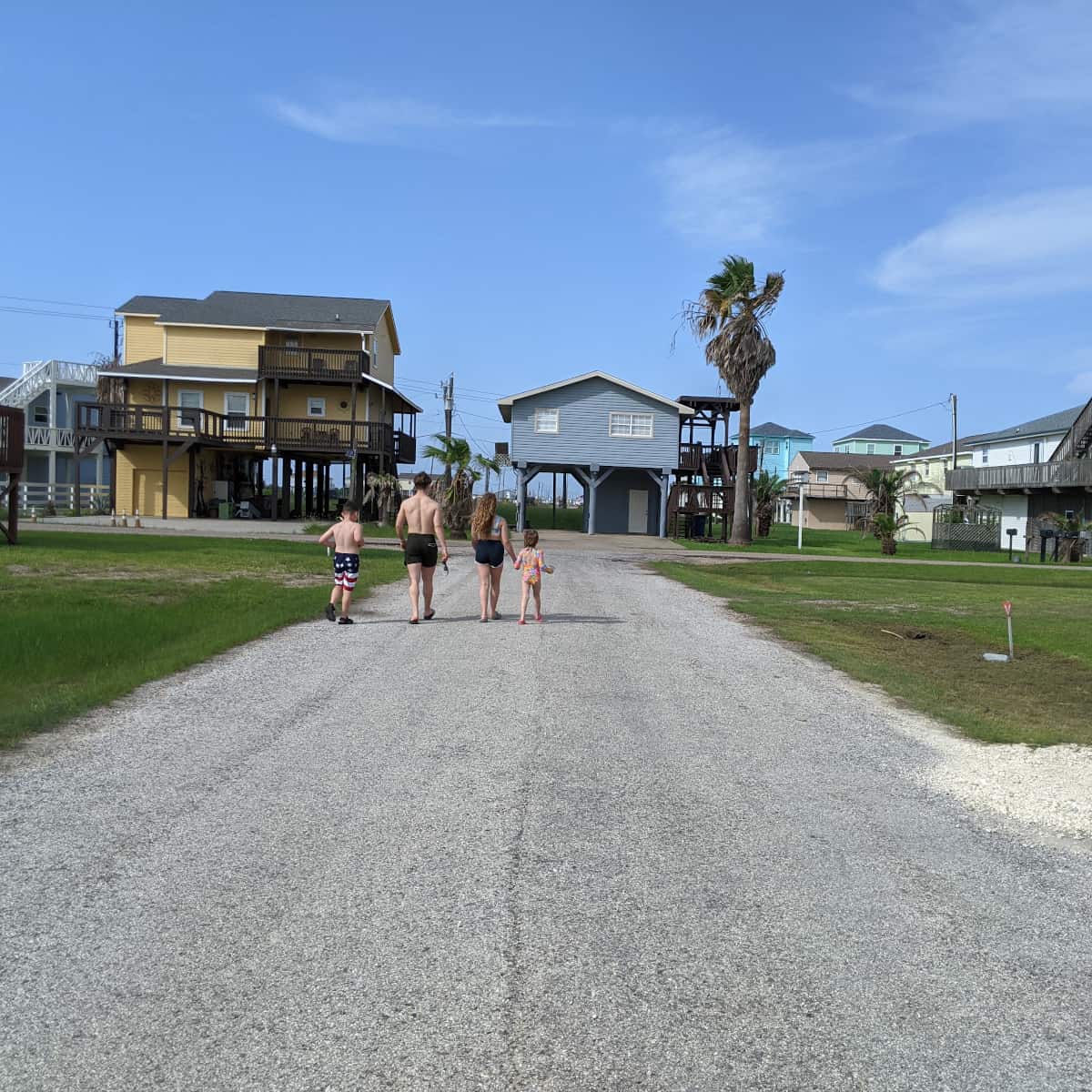 If you are considering the ROCK HOUSE Surfside Texas Beach Rental, here's what you need to know:
This Surfside Beach Texas rental is on the beach side of Blue Water Highway.
The house is very clean and nicely decorated. There are vaulted ceilings, the kitchen is updated, there is wifi and there are smart TVs in each room.
ROCK HOUSE sleeps 10. In three bedrooms, there is one king bed, one queen bed and two bunk beds (each with one full and one twin mattress). There are two full bathrooms and there is one outdoor shower.
This Surfside Beach Texas rental has a big deck for enjoying the view and a fenced in grass yard where the kids can play.
There is a smart lock and the whole stay is contact-less.
When you book a stay, you get a digital guest book with loads of information about the property and Surfside Beach.
The Surfside TX beach house rental is not right on the water, but it is a one minute walk, over the dune bridge, to the beach.
Free parking is available at the house.
Some things that are available to guests: kitchen utensils, plates, pots, towels, linens, washer, dryer, beach chairs and wagon, charcoal grill.
Be sure to bring your own groceries, shampoo/toiletries, charcoal, beach towels. You might also want to bring some laundry detergent. Bring board games and cards for rainy days. Or just bring your Disney+, Prime and Netflix passwords.
ROCK HOUSE is Veteran Owned and Operated.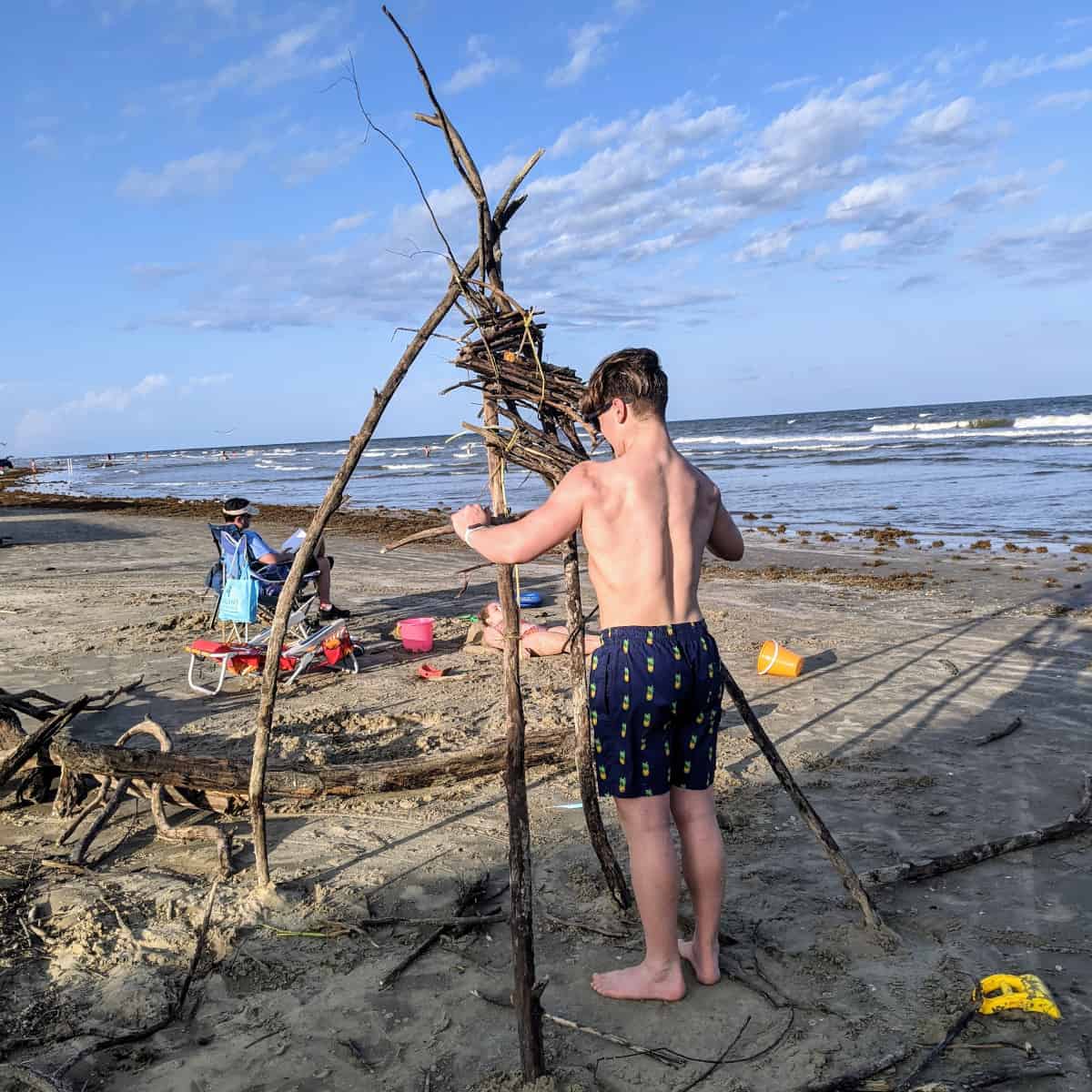 About Surfside:
When you book a stay, you get a digital guest book with loads of information about the property and Surfside Beach. You will have a map of all the restaurants and things to do in the area.
Cars are allowed on Surfside Beach (much like West Beach in Galveston). The good thing about ROCK HOUSE is that it's at the widest part of the shore line and at one of the calmest areas. When you come over the dune bridge, go right or left to find a spot that is open for setting up a chair away from the car lane. (The Seahorse Bar and Grill has a wider spot of beach.)
Surfside Beach is much smaller than Galveston. It's a great place to play or relax... but with more mom-and-pop restaurants and stores and fewer people.
There are corner stores, but for lots of groceries or supplies, Lake Jackson is just 15 minutes away.
Galveston is 30 minutes along the coastline. The last time I made this drive I kept wondering if I was really just an hour outside Houston. It is very scenic.
If you are looking to do more than relax and play on the beach, take a dolphin tour, go deep sea fishing, take a surfing lesson or go paddle boarding.
Book a Stay or Learn More:
ROCK HOUSE is veteran owned and operated.
Find more pictures below and if you go to the ROCK HOUSE Surfside Beach Rental, tell us about it!