Get away to white sand beaches and crystal clear water, without leaving the Houston area! But is Lago Mar Lagoon Houston worth the money? Below is my honest review.
Lago Mar in Texas City has a 12-acre lagoon that holds 24 million gallons of blue water. Designated swimming zones are 3-4 feet deep and the watercraft zones are 10 feet deep. It looks like you are on a Caribbean Island... but you only have to drive to Texas City!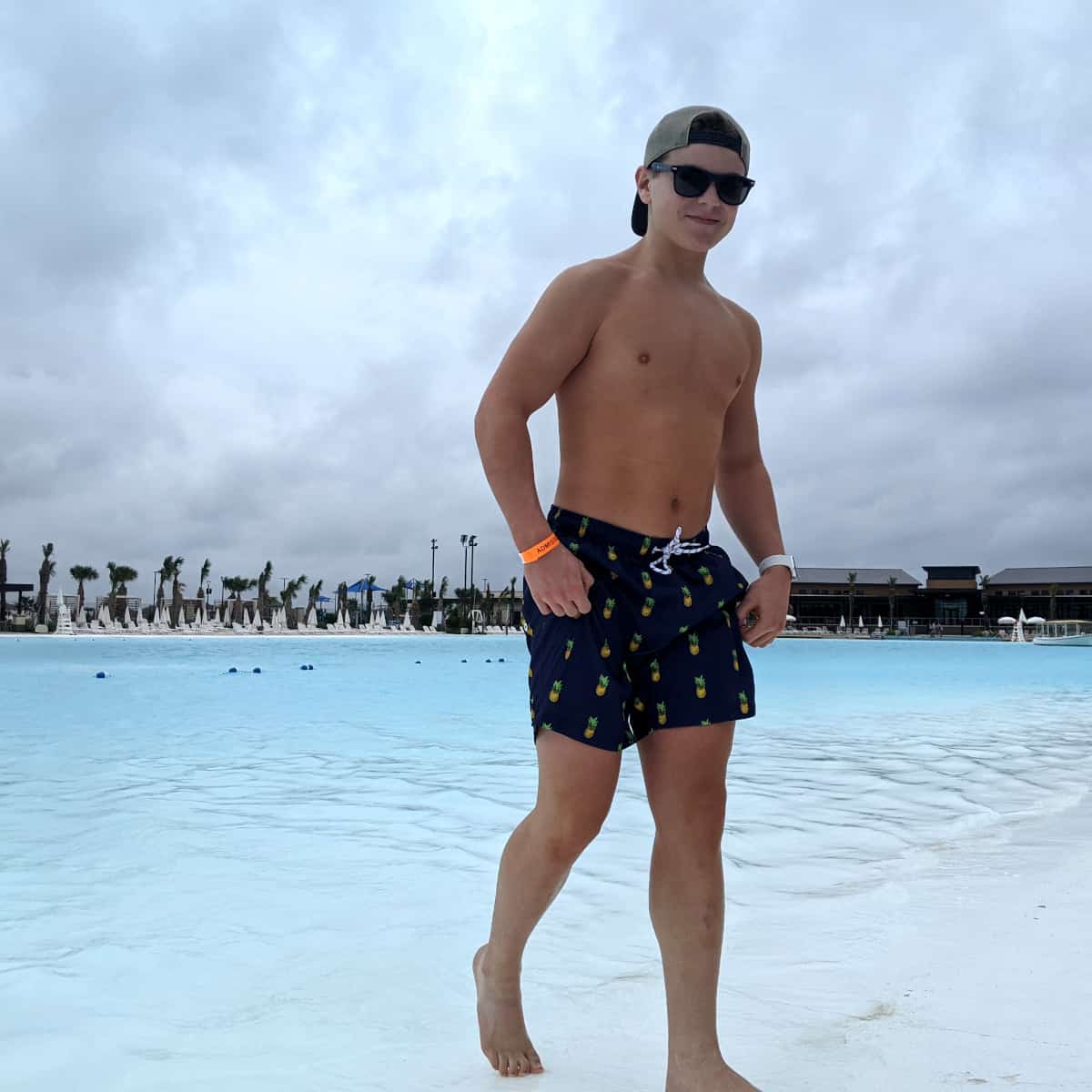 Lago Mar provided us with general admission tickets and we were able to experience this place firsthand. Scroll to the bottom and I'll tell you if Lagoon Houston is worth the money.
Jump to:
The good stuff
I am a big fan of quirky, unexpected things to do around Houston... and this is definitely unexpected.
The water is so blue it's like a Caribbean theme park... and just off I45. It's hard to imagine a giant lake, that is sort of a massive swimming pool big enough for boats, until you see it in person.
The lagoon is big. There was a sign about a sailing club starting at Lago Mar. That's how big it is... you could definitely sail on the lagoon.
Your family pictures will definitely be great here.
The water is clear and there are no critters. I love the beach... but I do not really love going in the lake or ocean because of the seaweed and jellyfish and snakes and... You do not have to worry about the here.
Parking is free.
You can bring in beach towels and sand toys/buckets.
Coastguard approved life jackets are allowed (like the puddle jumper vest for little kids).
What you should consider before buying tickets
Visiting the lagoon is expensive, especially for a family of six. You have to pay the admission fee... and if you want to do the obstacle course, paddle board, kayak or buy food, you need to purchase it.
No outside food or drink is allowed inside. You can bring in an empty water bottle to fill up. If you have a special medical need, you can talk to the staff at the admission counter.
Lagoon Houston is open rain or shine and there are no rainchecks unless the weather is especially severe.
Also, Lagoon Houston sells out so you are encouraged you buy your admission and amenity tickets in advance... but if the weather is rainy, you might just be stuck with the tickets. I guess the best way is to purchase tickets online right before going so you know the weather is good... and hope the admission and boat rentals are available.
Renting the boats really needs to be done early. We tried to do it when we arrived (even though the website advised against it) and were out of luck.
Once you are in, you are not allowed to run to your car. (I don't know if they would make exceptions... but do not plan to run to your car for lunch.)
Lawn chairs, umbrellas and pool toys (like noodles and beach balls) are not allowed. You can rent seating onsite.
The beach area and swimming area is pretty small. The rest of the lagoon is for watercraft and obstacle courses.
Find all the rules and prices HERE.
Is Lago Mar Lagoon Houston worth the money?
This depends on the size of your family and/or your budget. You should do the math and decide if it works for you.
Consider that admission is roughly $20 (plus) per person. If you will do any activities (like paddle board or obstacle course), add in roughly $20, per person, for each of these. If you plan to stay all day and buy food, add at least another $20 per person.
At this ticket price, you could pull your cooler into Schlitterbahn or Splashway... and have money left over to go towards a cabin or season pass.
That said, the lagoon is definitely unexpected and unusual. If you like to relax in the sun, play in the sand and swim in crystal clear water, this is a good spot for you.
If the math works, do it. If the math does not work, don't sweat it. Houston has a whole lot of stuff to do this summer.