This is why I like Schlitterbahn Galveston:
You can bring in coolers and parking is free. Admission is expensive enough... no need to buy lunch or pay for parking.
The staff is very friendly. As we walked through, several employees stopped to say hello and give us tips on where to set up for the day.
There are pools for little kids and slides for big kids in every section of the park. There is plenty to do for everyone!
Many of the big slides have spiral ramps rather than steps. This is good for my 5 year old because he hates the gaps between stair treads.
Schlitterbahn invited us out last week and we headed down to Galveston. My kids have asked to visit this big waterpark each time we see the slides at the entrance of Moody Gardens, but this was our first time going!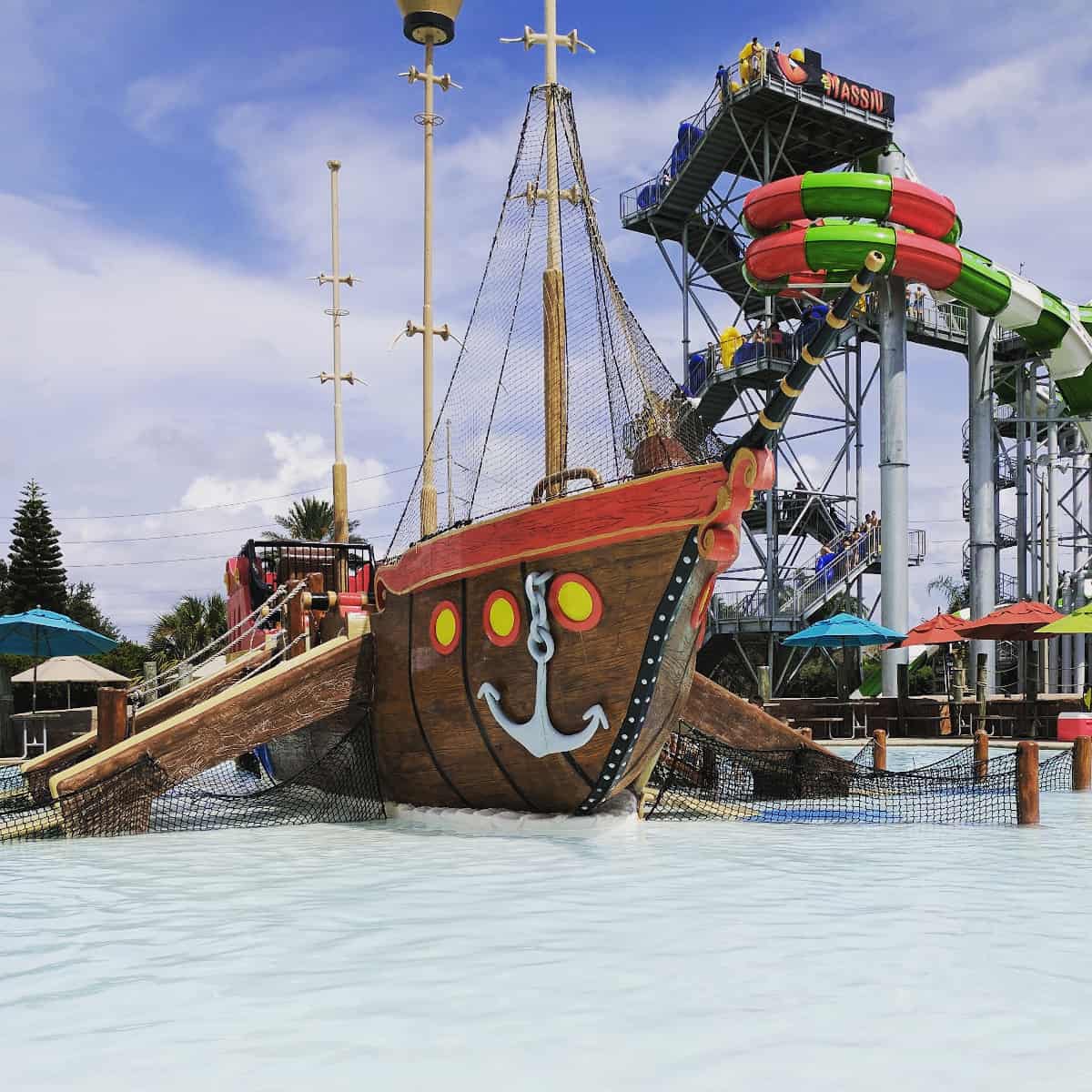 We arrived to Schlitterbahn at opening and figured out how it all worked. We parked for free, rolled in our cooler and asked the staff what to do next. Apparently you can just grab one of the many many picnic tables and leave your cooler for the day. (But put valuables in the lockers!)
Since we were all exploring together and there would be no poolside lounging, we grabbed a table by the lockers in the middle of the park. As we ran through the park we'd stop for water, snacks and sunscreen. (Also, I'm happy to report that my concerns about leaving coolers out were unfounded. No one messed with our stuff.)
We did see other big groups that would take turns relaxing at tables by pools while some ran off to slides. So... the best table just depends on what kind of waterpark trip you have planned!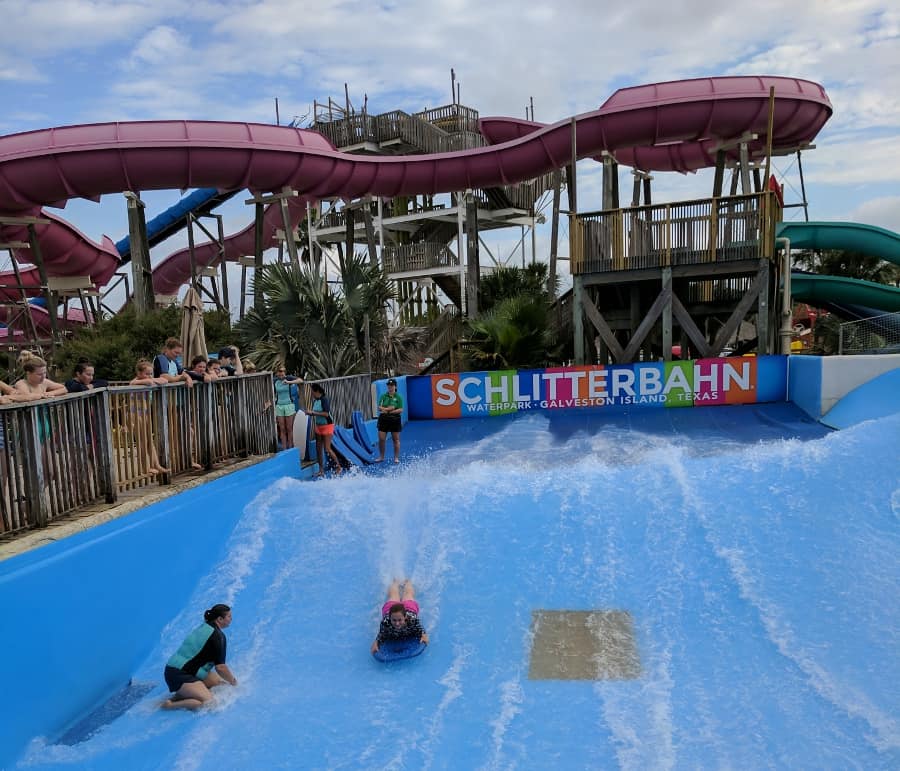 We ran around the park and found plenty of slides for my 42" and 48" kids to do together. For the slides for just the big kids, my little boy and I were able to splash at a little pool while they came down.
Wait times were relatively short on a weekday (except Massiv!) and the kids were usually just waiting for about 5 minutes.
One thing to know is that there are 3 rivers and they all connect up. On the map they look like they are separate, but I once sent my big boy around... and then he did not return to the same spot. Fortunately we had a meeting spot agreed upon (the picnic table) and found each other without major panic.
Also, another thing to know is that the Torrent River is a very cool river with big waves. BUT be ready! I did not know it was more than a lazy river... and when the big waves come I was terrified I would drop the baby. I am a very strong swimmer, but I did not know this was coming. You really need life vests (for non-swimmers) and to be on your tube and ready for big waves because there is nothing to grab or a way to get out until you reach the beach.
Other than this three seconds of uncertainty, we had a great day Schlitterbahn. We did everything and left happy and tired after 8 hours of fun. The kids declared that this was their favorite waterpark around Houston (but keep in mind that it was also the most recent visit!).
If you want to go this summer, more tips are below:
Arrive at opening… and do your favorite rides first. Massiv has a massive line... so if you want to do the tallest slide, try it early (or late) in the day.
Parking is FREE!
You can bring in COOLERS! Food is also for sale, but bringing in our own lunch saved us at least $10 each (and there are a lot of us).
Bring a cooler on wheels or a little cart. The park is big and you could pick a picnic table far away!
There a picnic tables all over the park and people just claim tables with their coolers... and come back when they are hungry. I wasn't sure how well this would go... but we had no problems!
We grabbed a table by the lockers so we had a central spot. If you have a favorite pool or slide, you can grab a table next to it so you can let the kids play while you hang out.
Lockers are available for $10-$20. I'm not sure how to get around renting the locker if everyone plans to swim and you have keys and a phone. The good thing is that you can open and close all day for one price.
Consider wearing water shoes. The sidewalks are rough and hot!
Lifeguards are everywhere. But, of course, you have to watch your kids!
The 3 rivers connect! On the map it looks like there are 3 rivers... but they actually connect. So if you were to send your oldest around the river and expect him to come back to the same spot... well, you might be surprised.
Have a meet up spot planned in advance... just in case you get separated!
This is a lot of walking and climbing! The stairs and ramps to the top of the slides can take you several stories in the air.
With all the water, I locked away my phone and was offline all day.... but I saw lots of people with affiliate waterproof phone cases.
Tubes are available for all the slides that require tubes and for the lazy river. I really liked that there were double tubes with one side that was meant for little kids under 50lbs. It had a closed bottom so they did not fall though the hole.
Life vests are available for free, all over the park. You can also bring in your own devices. My youngest wore his Puddle Jumper, even though he can swim. (It made his mom feel better.)
Strollers are allowed in the park.
Check out more pictures below and decide if Schlitterbahn is right for you!