Have the VERY BEST TIME at Splashway Waterpark & Campgrounds. Stay in the Splashway cabins, play at the waterpark all day and enjoy camp activities all night.
Use code JARVIS23 to save $10 on waterpark tickets, when purchased online.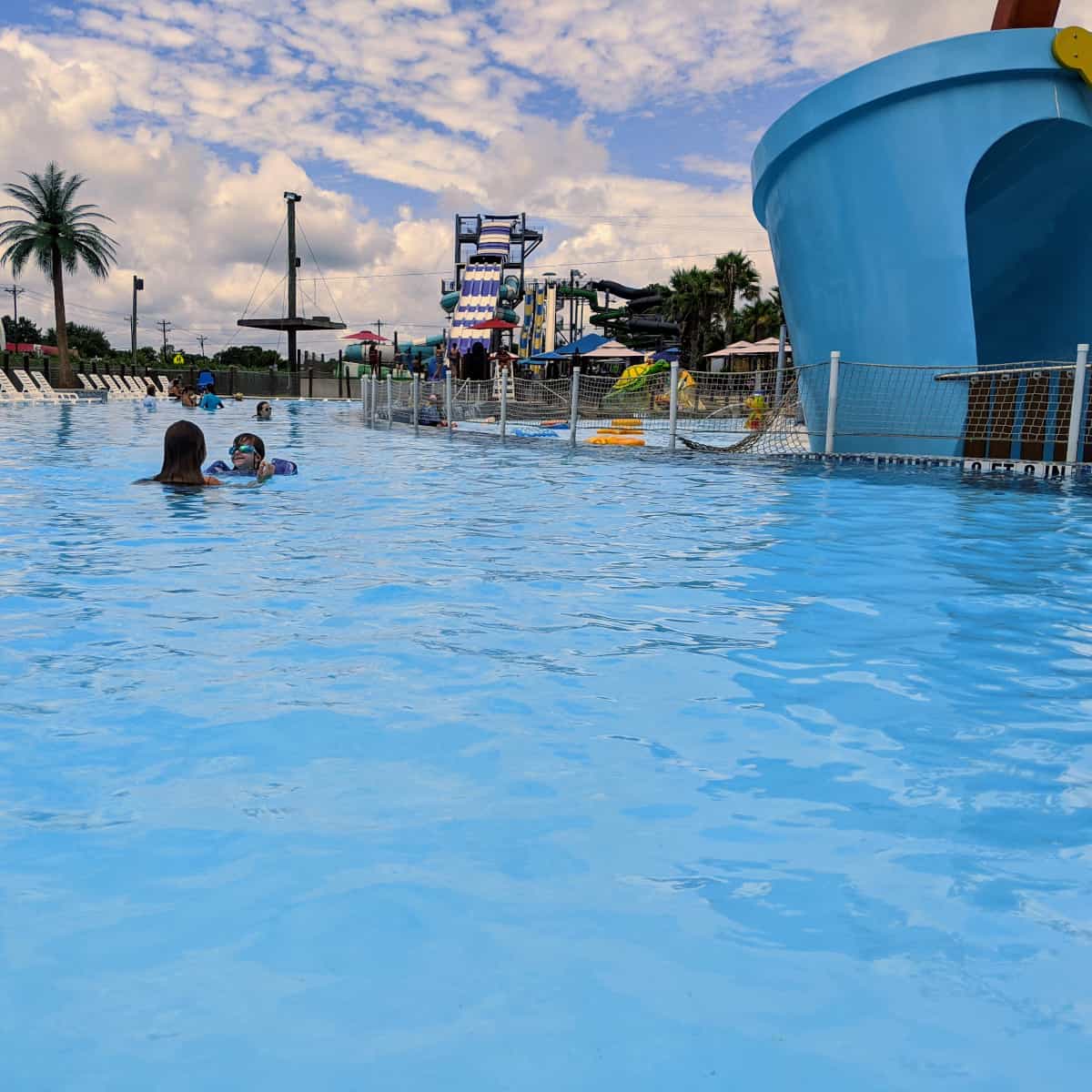 As I sat by the pedal carts and watched families cooking dinner on campfires and kids riding bikes around the cabins, RVs and playgrounds… I thought I might just be in a feel-good All-American movie.
Behind me, the big waterpark had just closed for the day and in front of me were my kids on pedal carts, riding around the campground. The sun was going down and we were busy riding the bikes, playing mini golf, competing at laser tag and kayaking before making our own campfire.
Visiting Splashway Waterpark and Campground is always a highlight of our summer. We drive just an hour past Katy… but get away from it all. We spend a few days swimming, playing, cooking and eating together… without all the distractions at home.
We like one day visits to the waterpark, but we love these three day trips to the campground. Splashway invited us out again this year, and every day was like the 4th of July block party from The Sandlot… but every night of the summer (and without the Benny outrunning Hercules).
Jump to: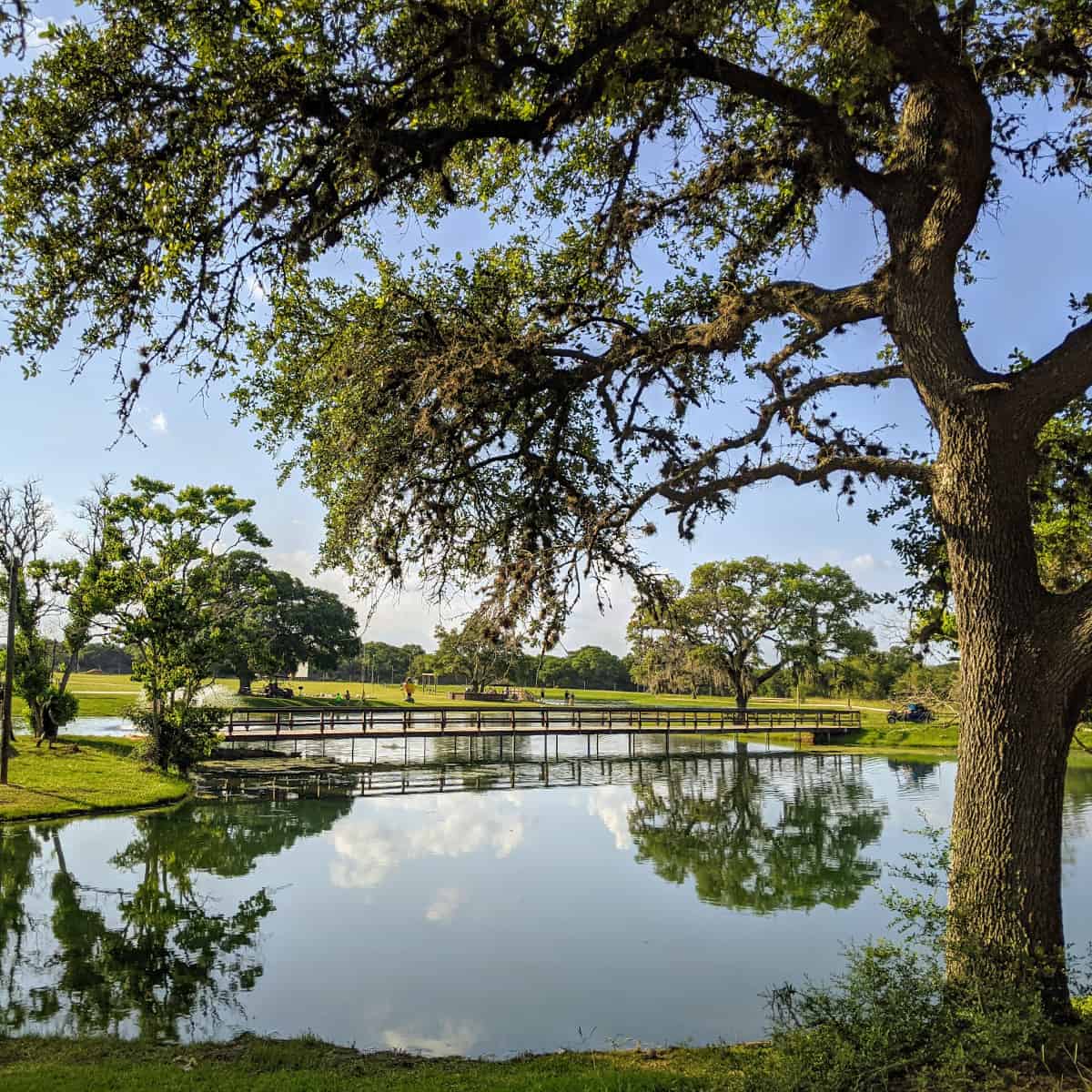 About the Campground
My kids got to go camping and stay in the Splashway cabins, I got to have all the amenities of home AND we got to visit a big waterpark!
As far as camping goes, I like the bonfires and outdoor activities but I prefer to stay somewhere with running water, air conditioning and a bed!
Well, at Splashway Waterpark & Campground, we had an air conditioned Splashway cabin with a full kitchen, bathroom, bedroom, loft and porch! Here the kids could play right outside our door, roast marshmallows over the fire and run wild... and then come inside for showers, bathrooms and AC.
You can find the Splashway Campground map HERE.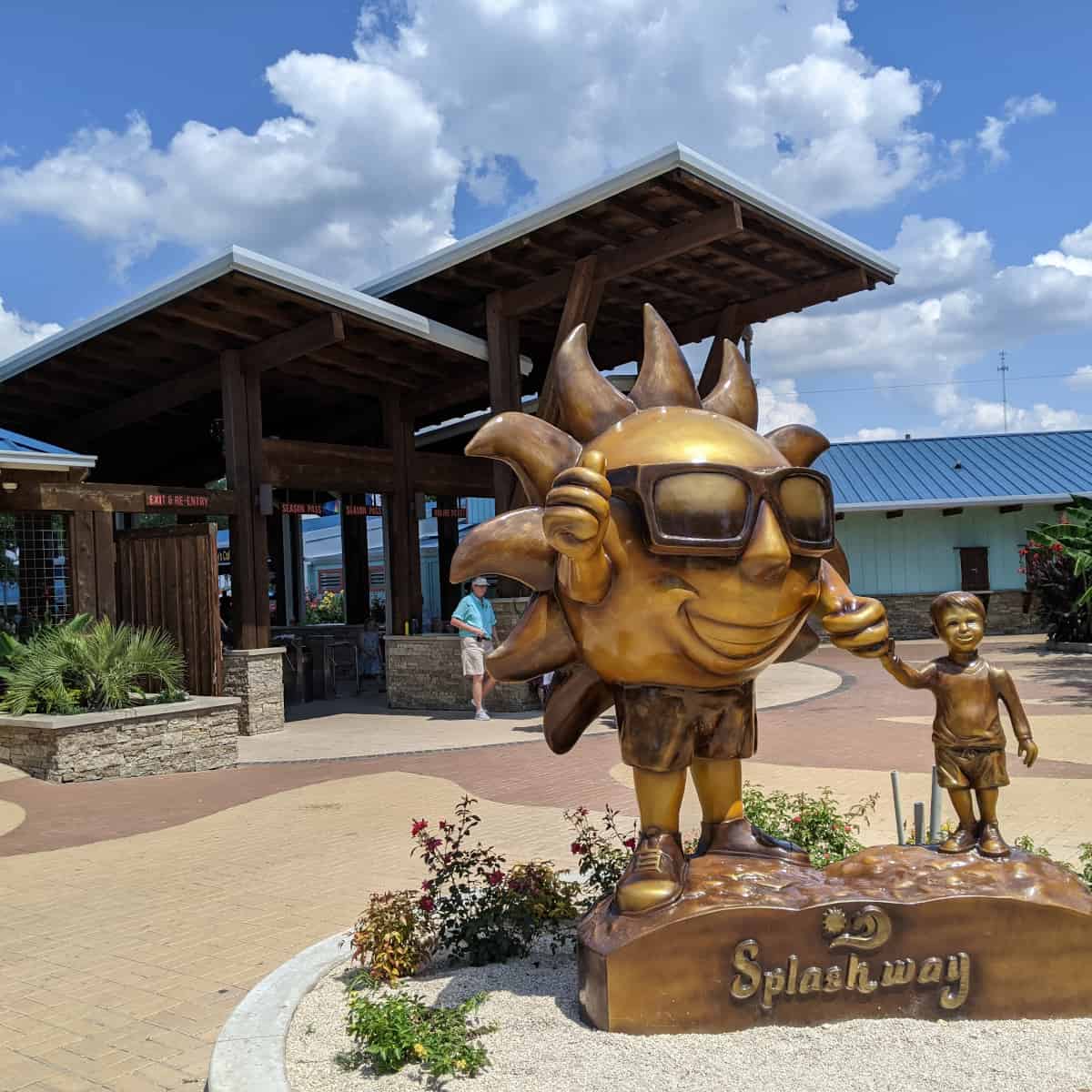 On our latest trip, we arrived at Splashway on a weekday afternoon. After the temperature dropped, families came out to their decks for dinner and to the common areas for games, bikes, playing on the playground, giant chess games and the outdoor movie.
Then we made our fire, cooked our foil dinners, hot dogs and s'mores and ran wild through the campground. Later, the kids all climbed up to the loft (with 4 mattresses) and dreamed about the next day at the waterpark.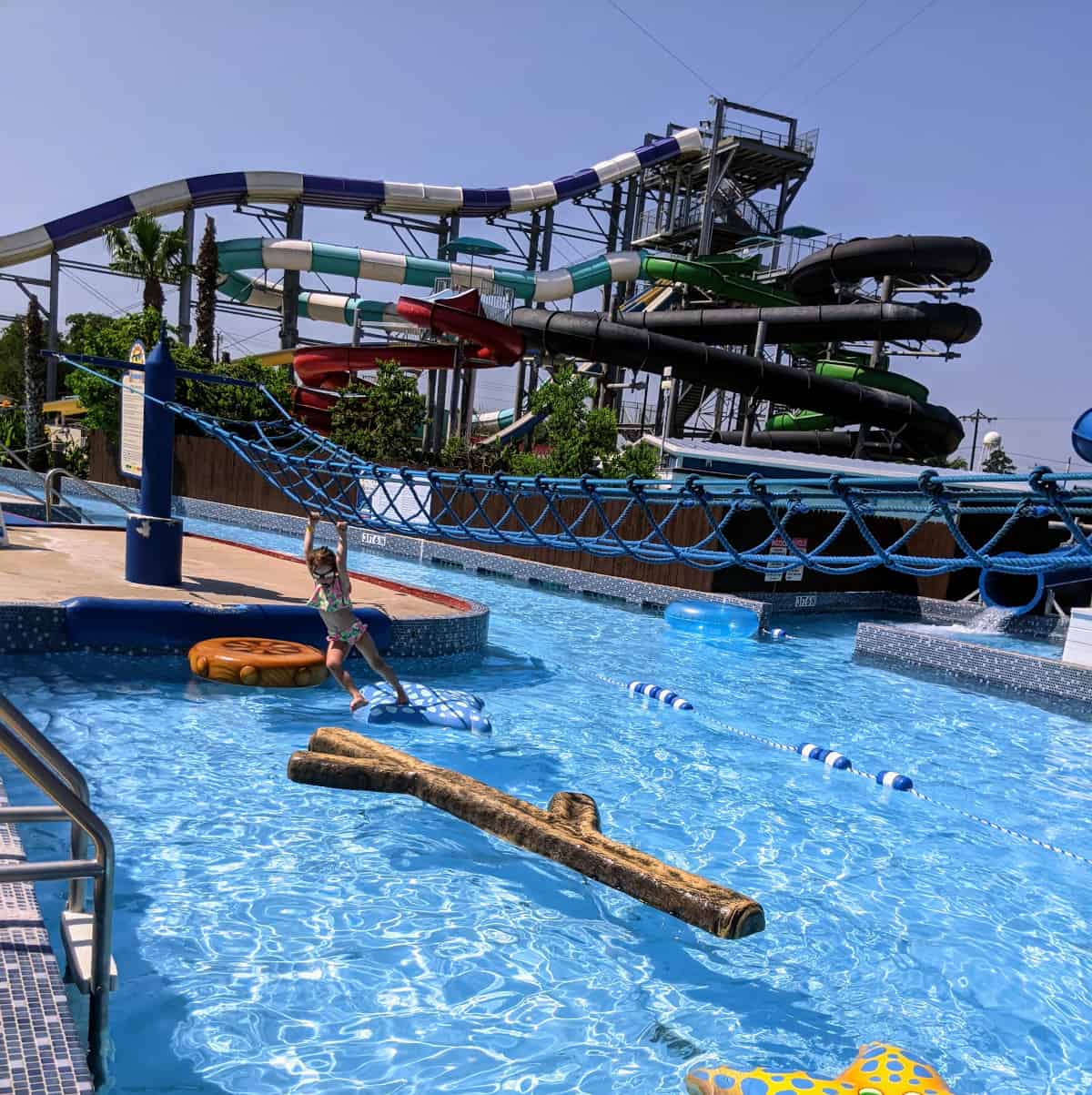 About the Waterpark
In the morning, we went to the waterpark gate before opening, found our table and the kids were off! (You can usually enter the waterpark about 15-30 minutes before opening, but cannot enter the water until the announcement is made.) The big kids went on the huge slides and my youngest and I waved at them from the little kid areas.
The waterpark is not as huge at Schlitterbahn, but it is plenty big with lots to do... making it much easier to handle.
AND the thing that most impressed me was how friendly and polite the customers were. Any time a kid bumped in to my little kids, the parents jumped in and apologized. I think it helped that the staff was very helpful, the music was all family friendly and there were frequent announcements connecting up lost parents and also reminding people to check in with their groups. This is the best experience we've ever had at a big waterpark.
In the end, the kids had so much fun that I had to peel them away after seven hours of swimming each day.
Tips for visiting the Splashway Waterpark
Use code JARVIS23 to save $10 on waterpark tickets, when purchased online.
Five slides are for 48" and above. The other big slides are for 42" and above. There are also several areas for little kids to play.
A few of the slides require 2 or 4 riders. It's a little tricky if you just have one kid that wants to ride.
Parking is FREE!
Life Jackets and Tubes are free to use.
You can bring in COOLERS! Food is also for sale, but bringing in our own lunch saved us at least $10 each. (Bring a cooler on wheels to get it across the park.)
Arrive before opening… and do your favorite rides first. You can usually enter about 15-30 minutes early, grab a table and line up for your favorite slide.
There are picnic tables all over the park and people just claim tables with their coolers… and come back when they are hungry.
One year we went on a weekday with a buy one get one free promotion going on. There were crowds... but still not as big as the other Houston waterparks.
Consider wearing water shoes. The sidewalks are hot!
Lifeguards are everywhere. But, of course, you have to watch your kids!
Have a meet up spot planned in advance… just in case you get separated!
This is a lot of walking and climbing! The stairs and ramps to the top of the slides can take you several stories in the air.
Life vests are available for free, all over the park. You can also bring in your own devices.
Strollers are allowed in the park.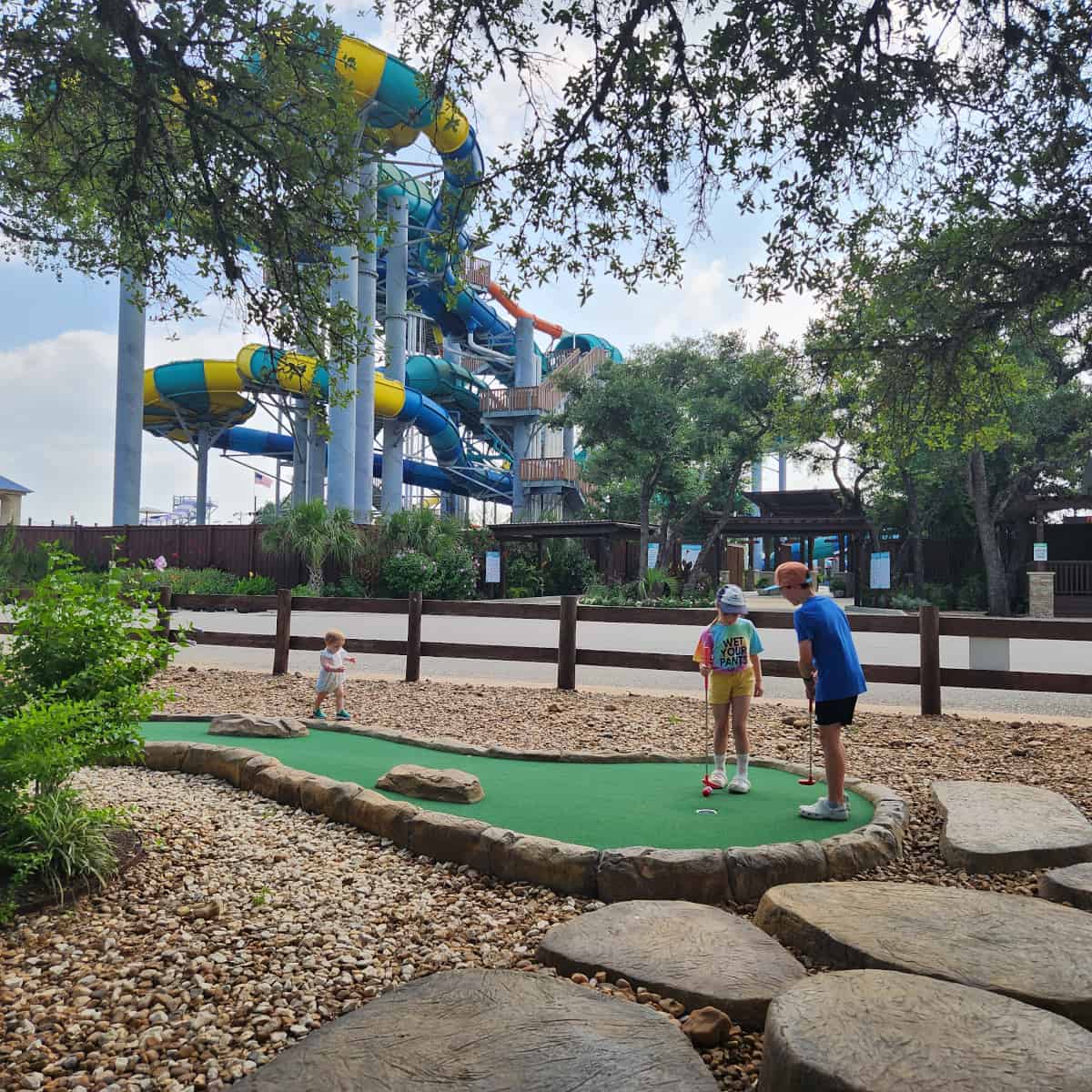 Tips for renting the Splashway cabins at Splashway Campground
The Splashway cabins come with 3 queen beds and 2 full beds. The mattresses and pillows are covered in a slick cleanable cover and linens are provided. (You used to bring your own, but now they are provided!)
The Splashway King cabins have a similar layout, but there is a king sized mattress in the main bedroom.
The Splashway King cabins are new this year and are a little nicer inside (but the other cabins are fine!). These cabins are on the far side of the campground, so there are fewer people around... but if you plan to run back and forth to the waterpark, it's worth renting a golf cart.
Splashway Waterpark & Campground also has spaces for tents and RVs. They have cabins that sleep 12 and smaller cottages.
When we started visiting Splashway, only the waterpark side was developed. Since then, there are a lot of bunk houses, campsites, RV spots and cabins on the far side of the pond. The tent, RV and bunk house area are mostly under big trees. The cabins are very close to the main road and a little loud when trucks go by.
Renting a golf cart is fun! You can drive it to the waterpark, playgrounds, movie nights and more.
The kitchen is fully stocked with pots and plates and silverware... but you need to wash and return everything you use!
You need to bring soap and shampoo for the shower.
The campgrounds have lots of things to do and boats to rent. If you have room in your car, bring bikes and balls so you have even more to do!
There are bike rentals, but we have had trouble finding the right size when we arrive. If you can swing it, bring your own bike for cruising around the campground.
For the first time this summer, we rented a golf cart. It was a really fun way to get around the campground!
This campground is nothing like Lake Houston Wilderness Park. If you want wilderness, this is not it. If you want fun, we found it here!
Find the Splashway Campground map HERE.
Staying for one day at the waterpark is great... but getting a cabin for two nights and visiting the waterpark for three days is awesome. It lets you run back and forth and take your time enjoying all there is to do at the campground.
Since we started coming, food and groceries have become easier to get in Sheridan. Splashway has the Hideaway restaurant, open every day, and there are small shopping options nearby.
If you plan to go in the winter, ready THIS post!
If you need a list of things to bring, here's what we packed. (But I'm not a real camping pro!)

Maybe the most essential:
For the Splashway cabin:

For the Fire:

Firewood (also available at the entrance of the park)
Lighter/Matches
Lighter Fluid
Leather Gloves
Stick for roasting marshmallows

Groceries (or skip this and just grab food at the Hideaway):

Bread
Cheese and Turkey
Peanut Butter
Marshmallows
Graham Crackers
Chocolate
Water
Snacks (Granola Bars, Trail Mix)
Watermelon, Fruit, Veggies
Supplies for Foil Dinners

Foil
Tongs (for taking them off the fire)
Vegetables
Hot Dogs
Butter
Salt
Cooking Supplies:

Knife
Veggie Peeler
Cutting Board
Paper Towels
Paper Plates
Sporks
Cups/Water Bottles
Plastic Bags (for storing food)
Cooler

More supplies:

Flash Lights
Duct Tape
Pocket Knife
Hand Sanitizer
Trash Bags
Deck of Cards
Phone/Charger

For the waterpark:

Flip Flops/water shoes
Swim Suits
Towels
Cooler with water, snacks
On this latest trip, I had kids age 1 to 18 with me… and we all had fun… and it's not easy to please everyone from toddler through high school, at the same time... but Splashway did it!
Take a look at more pictures below... and decide if Splashway Waterpark & Campground is right for you!
Splashway Waterpark Map
Click address for the map: 5211 Main Street, Sheridan, Texas 77475 (For the winter glamping post, go HERE!)