Last summer we went to Splashway Waterpark and Campground... and we had such a good time that we went back to the campgrounds this winter.
And this is why:
1. I can take the kids camping without really going camping.
2. Big families and extended families can stay together, for not too much money.
Splashway invited us back out over the winter break. We had a heated cabin with a full kitchen, bathroom, bedroom, loft and screened in porch. The cabin sleeps 12, so there was plenty of room for our family plus some extra friends.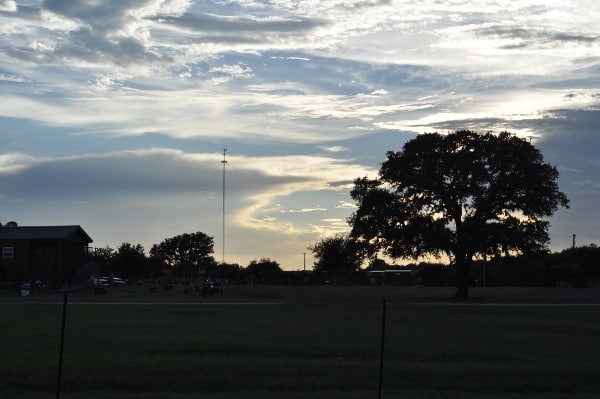 At
Splashway
, the kids could play at the playground right outside our door, roast marshmallows over the fire and run wild… and then come inside for showers, bathrooms and air conditioning.
The waterpark is closed for the season, but we found plenty of fun things to do. We went for a hike on the property, went fishing with a bamboo fishing rod, fed the ducks, played at the playgrounds, played games in the family center, rented pedal cars and built campfires. (And we could have played basketball, volleyball, horseshoes, corn hole and rented pedal boats and kayaks.) We had so much fun it was kind of nice to not have the waterpark open!
We cooked our meals together, played together and had fun together.
I like the campgrounds because we get to spend a whole lot of time as a family, with no distractions, and without really roughing it. AND I like that big families can stay comfortably and for not a ton of money.
At hotels, a family of six is supposed to pay extra for two of the kids or get two rooms or just quietly cram everyone in. At Splashway you can bring the family plus grandma plus some friends and all stay together.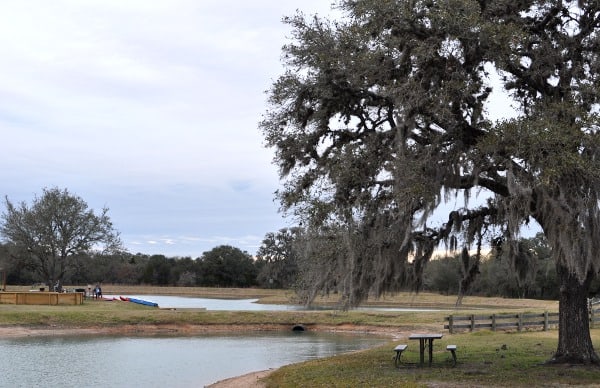 If you want to rent the cabins, more tips are below:
The cabins come with 3 queen beds and 2 full beds. The mattresses and pillows are covered in a slick cleanable cover and you need to bring linens.
The cabins are cleaned between uses. I don't know if this is always the case, but I saw the cleaning crew next door for a hour... so I think they do a pretty thorough job.
Splashway also has spaces for tents and RVs. They have cabins that sleep 12 and smaller cottages.
In addition to sheets, blankets/sleeping bags and towels, you need to bring soap and shampoo.
The kitchen is fully stocked with pots and plates and silverware… but you need to wash and return everything you use!
Mosquitoes were not really an issue like they are in Houston. Ants were a bigger issue for us.
The campgrounds have lots of things to do and boats to rent. If you have room in your car, bring bikes and balls so you have even more to do!
This campground is nothing like Lake Houston Wilderness Park. If you want wilderness, this is not it. If you want fun, we found it here!
Do not expect to get lots of groceries in Sheridan. There is a convenience store, but the closest real grocery store is probably 20 minutes away.
We went in the freezing cold (really, the freezing cold) but stayed warm in the cabins.
If you go in the summer, read THIS post about the waterpark!
If you need a list of things to bring, here's what we packed. (But remember, I'm not a real camping pro!)

Maybe the most essential:

Bug Spray
Sun Screen
Water

For the cabin:

Fitted Sheets, Blankets and Sleeping Bags.
Shampoo, Soap (including for the bathroom sink)

For the Fire:

Firewood (also available at the entrance of the park)
Charcoal
Lighter/Matches
Lighter Fluid
Leather Gloves
Stick for roasting marshmallows

 Groceries:

Bread
Cheese and Turkey
Peanut Butter
Marshmallows
Graham Crackers
Chocolate
Water
Snacks (Granola Bars, Trail Mix)
Fruit/Veggies
Supplies for Foil Dinners

Foil
Tongs (for taking them off the fire)
Vegetables
Hot Dogs
Butter
Salt

Cooking Supplies:

Knife
Veggie Peeler
Cutting Board
Paper Towels
Paper Plates
Sporks
Cups/Water Bottles
Plastic Bags (for storing food)
Cooler

More supplies:

Flash Lights
Duct Tape
Pocket Knife
Hand Sanitizer
Trash Bags
Deck of Cards
Phone/Charger
Take a look at more pictures below… and decide if Splashway Waterpark & Campground is right for you!