Address: 5211 Main Street, Sheridan, Texas 77475 (For the winter post, go HERE!)
Use code BigKidSmallCity to save $5 on full price waterpark tickets!
Splashway Waterpark & Campground is our very favorite Houston-area waterpark. It's a big park, but it's not TOO big. There is plenty to do for my 11, 9, 6 and 1 year olds… but it is not too big for mom to supervise.
Not only this, but Splashway is perfect for families. Which other waterpark has frequent calls over the intercom asking kids to check in with their parents? Where else does someone accidentally bump into you and actually stop to apologize and make sure everything is okay? And who else stops everything at 1:00pm, every day, for the national anthem?
AND, the only thing we like better than visiting this waterpark is staying in the cabins while we are there. We swim all day and build campfires, play horseshoes, mini golf and laser tag all evening!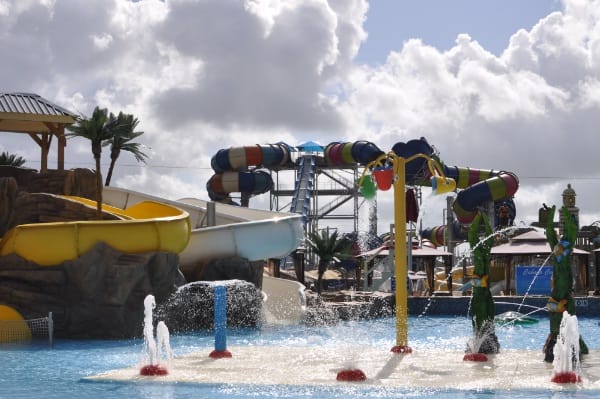 Splashway Waterpark & Campground
 invited us out again this summer, and we had the very best time. We've now been for a 
one night waterpark trip
, for a
winter camping trip
… and now we have spent four days at the waterpark and campgrounds. All the trips have been great, but the long summer trip was AMAZING.
We could wake up, casually eat breakfast, walk over to the waterpark, go down all our favorites before the crowds arrived… head back to the cabin for breaks… and back to the swim in the afternoon. The evenings were filled with campfires, outdoor movies, golf, laser tag, corn hole, playgrounds, horseshoes and more.
The kids got to do all the fun camp activities and play at the waterpark… and I got to have everyone together and away from the distractions at home.
AND I like that big families can stay comfortably and for not a ton of money. At hotels, a family of six is supposed to pay extra for two of the kids or get two rooms or just quietly cram everyone in. At Splashway you can bring the family plus grandma plus some friends and all stay together.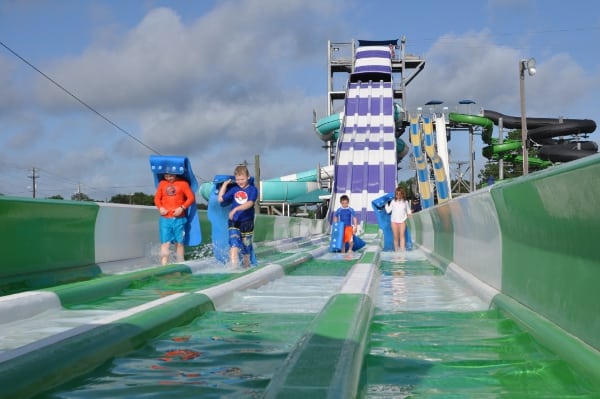 This trip was definitely a highlight of our summer so far. Our week happened to be a very very busy week at the waterpark, but with our cabin, cabana and multiple day tickets, we did not mind. We had plenty of time for everything… and when things go too busy, we found something different to do.
I have been asking the kids their favorite part of the vacation… and all they can tell me is EVERYTHING! And they want to know when we will go back!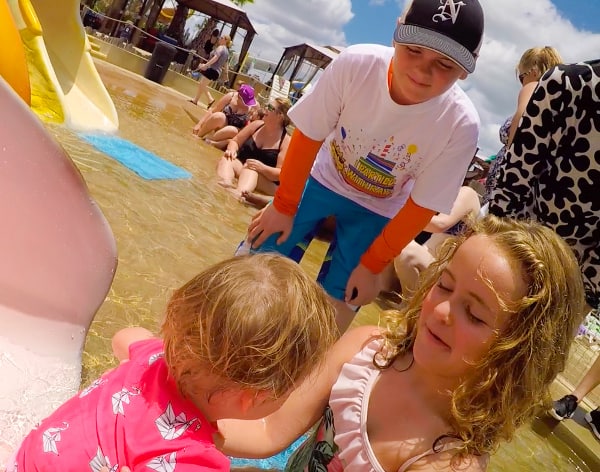 If you plan to go to Splashway Waterpark & Campground, here is what we learned:
Use code BigKidSmallCity for $5 off your full priced ticket!
You can now load up your Splash Cash wristband, lock away your wallet and buy food, drinks, activities and merchandise from all over the waterpark and campgrounds. This is very convenient and a good way to stay on budget!
All the big slides, except 2, are for kids 42″ and above. (The others are for 48″ and above.)
There are 2 toddler slide areas and lots of slides for kids between toddler and 42″.
Parking is FREE!
Life Jackets and Tubes are free to use.
You can bring in COOLERS! Food is also for sale and you can use any payment form… including your wristband. (Bring one on wheels to get it across the park.)
There are free grills to cook your own lunch. (First come first served.)
Lockers are available to rent. If you rent a cabana instead, there are locked boxes you can use.
Arrive by 9:30am. You cannot go in the water until opening, but you might get in early, be able to find a table/cabana and be at your favorite slide at opening. Do your favorite rides first. Ray's Riptide and Loco Mono had the biggest line… so do it early if you can.
We went on a weekday with a promotion going on. There were crowds… but still no worse than other Houston waterparks on an average day.
There a picnic tables all over the park and people just claim tables with their coolers… and come back when they are hungry.
Consider wearing water shoes. The sidewalks are hot!
Lifeguards are everywhere. But, of course, you have to watch your kids!
Have a meet up spot planned in advance… just in case you get separated!
This is a lot of walking and climbing! The stairs and ramps to the top of the slides can take you several stories in the air.
Life vests are available for free, all over the park. You can also bring in your own devices.
Strollers are allowed in the park.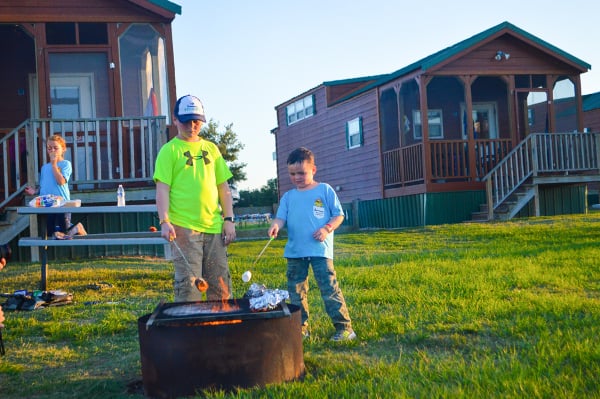 If you want to rent the cabins, more tips are below:
The cabins come with 3 queen beds and 2 full beds. The mattresses and pillows are covered in a slick cleanable cover and they NOW rent linens. (This is great because you don't have to haul as much or do extra laundry when you get home!)
The cabins are air conditioned with a full kitchen, bathroom, bedroom, loft, screened in porch and satellite TV.
Splashway also has spaces for tents and RVs. They have cabins that sleep 12 and smaller cottages.
You need to bring soap and shampoo. (Linens are now available to rent!)
The kitchen is fully stocked with pots and plates and silverware… but you need to wash and return everything you use!
The campgrounds have a new putt putt golf course, a high tech laser tag course, pedal cars and pedal boats to rent.
The campgrounds also have lots of free things to do including hikes, fishing, playgrounds, games in the family center, basketball, sand volleyball and more.
If you have room in your car, bring bikes and balls so you have even more to do!
The really cool campers seem to bring rope lights to decorate their cabins, RVs, golf carts and bikes… and one of these days we'll be the cool campers!
This campground is nothing like Lake Houston Wilderness Park. If you want wilderness, this is not it. If you want fun, we found it here!
Do not expect to get lots of groceries in Sheridan. There is a convenience store, but the closes real grocery store is probably 20 minutes away. Also, if you need just a couple items, likely the camp store has what you need.
If you plan to go in the winter, read THIS post!
Take a look at more pictures below… and decide if Splashway Waterpark & Campground is right for you!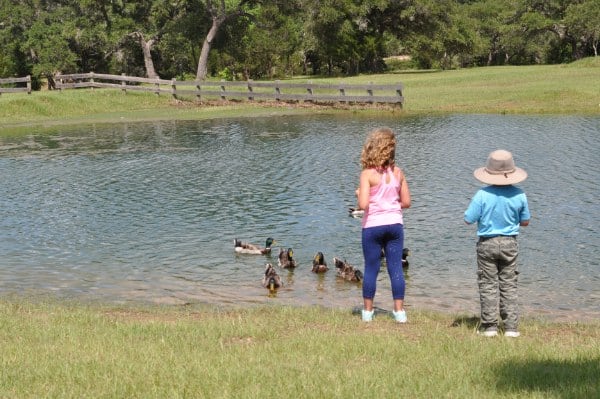 If you need a list of things to bring, here's what we packed. (But remember, I'm not a real camping pro!)

Maybe the most essential:

Bug Spray
Sun Screen
Water

For the cabin:
For the Fire:

Firewood (also available at the Camp Store)
Lighter/Matches
Lighter Fluid
Leather Gloves
Stick for roasting marshmallows

 Groceries:

Bread
Cheese and Turkey
Peanut Butter
Marshmallows
Graham Crackers
Chocolate
Water
Snacks (Granola Bars, Trail Mix)
Watermelon
Supplies for Foil Dinners

Foil
Tongs (for taking them off the fire)
Vegetables
Hot Dogs
Butter
Salt

Cooking Supplies:

Knife
Veggie Peeler
Cutting Board
Paper Towels
Paper Plates
Sporks
Cups/Water Bottles
Plastic Bags (for storing food)
Cooler

More supplies:

Flash Lights
Duct Tape
Pocket Knife
Hand Sanitizer
Trash Bags
Deck of Cards
Phone/Charger

For the waterpark:

Flip Flops
Swim Suits
Goggles
Towels
Cooler with water, sandwiches and watermelon
Swim bag
Take a look at more pictures below… and decide if Splashway Waterpark & Campground is right for you… and use code BigKidSmallCity for $5 off your full priced ticket!