Every Houston area parent can appreciate an indoor, air conditioned playground... but visiting them can be very EXPENSIVE. But did you know that there are a lot of FREE indoor playground Houston? And no memberships required!
Fun2Go Misters has visited each one and prepared a list for us! Scroll to the bottom for the map.
(Update for 2021... some playgrounds have reopened but have new rules and hours. Check before you go!)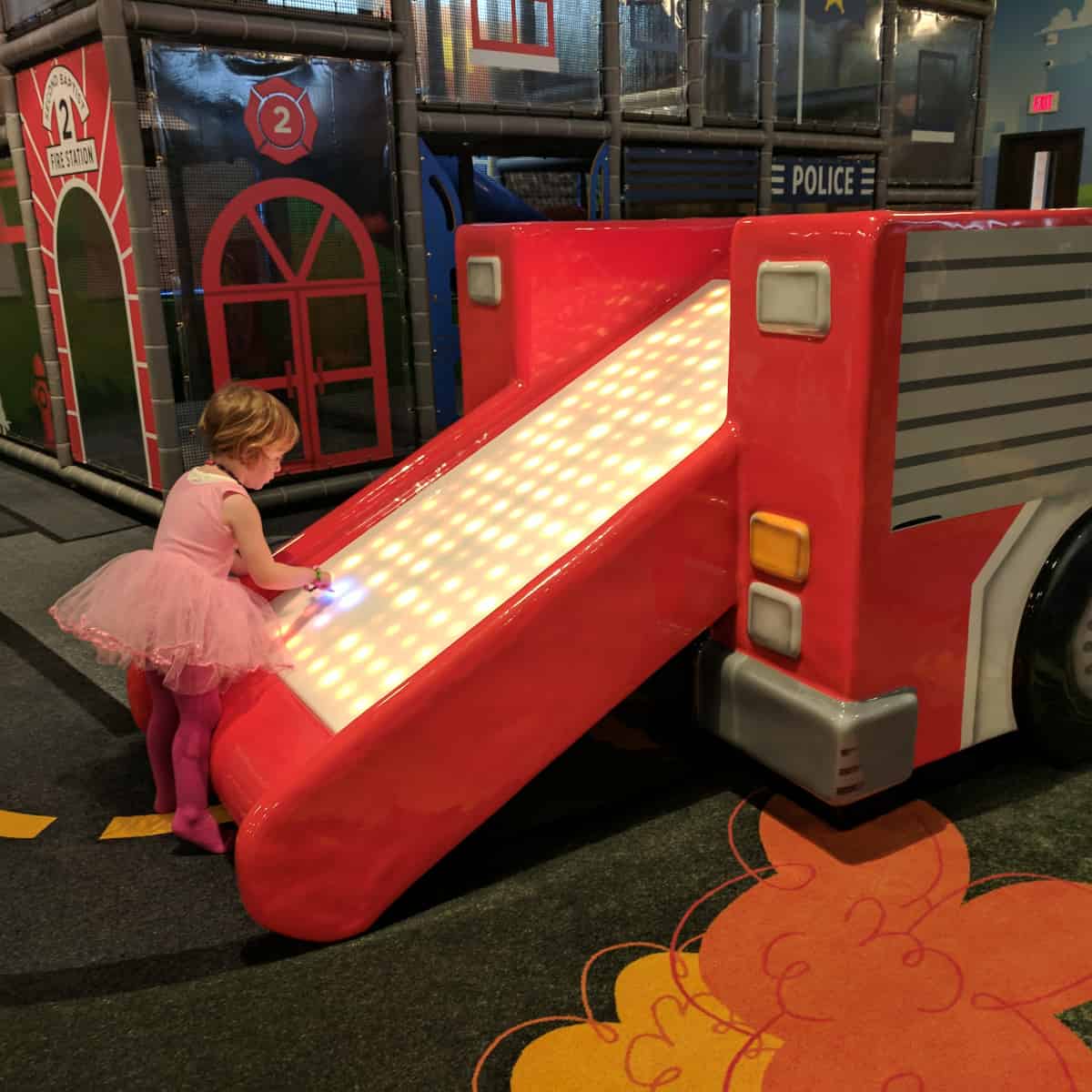 Do you know of more? Please let us know because we'll keep adding to the list!
Also, double check the links before you go... just in case the hours have changed (and we've noticed that hour change a lot!).
Jump to:
1201 Silber Rd, Houston, TX 77055
Open to the public Mondays and Fridays from 10:00 am to 3:00 pm (until they reach capacity). Check the calendar for specific days and hours. (You can also subscribe for calendar updates HERE.)  Admittance is on a first come-first served basis. Capacity if often reached in the early morning and there is more room in the afternoons.
You need socks, but if you forget them, the church has clean socks to borrow. You can also bring food, but you need to eat it next door.
There is also a great outdoor playground.
Update: Closed since pandemic started.
1134 Old Alvin Rd, Pearland, TX 77581
Open to the public Wednesdays and Fridays, 9:30am to 12:00pm.
Bring socks and your insurance card (needed for waiver). No food is allowed.
1320 S Main St, Houston, TX 77002
Open to the public, Tuesdays through Thursdays, 9:00am – 12:00pm. Kids must be five and under.
Free parking is available at lot at the southeast corner of Travis and Polk Streets, in the spots marked "Reserved". Sign in at our Welcome Desk upon arrival.
7401 Katy Fwy, Houston, TX 77024
The play area in the Fitness & Recreation Center. The sign on the large structure says ages 3-11 years old. There is a smaller structure available for children under the age of 3 as well.
The playground and game room area is accessible from the Fitness & Recreation Building. There is a coffee station (available Sundays) and vending machine…. plus a restroom with a changing station. The equipment to use for the game room is available for check out at the Front Desk.
There is also a Café where you can purchase food right down the hall from the Fitness & Recreation Front Desk. It is open Monday – Friday 7:30a – 1:30p.
Stop by the Front Desk for more information on summer hours and look HERE!
19901 Townsen Blvd, Humble, TX 77338
Humble First Baptist's playground was damaged by Harvey... but it has reopened! The playground is free for kids 12 months to 5th grade, but you have to reserve a spot.
13186 Memorial Dr , Houston, Texas 77079
There are slides for little kids and a big structure for bigger kids. Check the Facebook page for summer hours!
3500 Woodland Hills Dr, Kingwood, TX 77339
The indoor playground is open to the community during certain hours. Summer Hours: Tuesday/Thursday- 2:30pm-4:00pm, Monday/Wednesday-8:30am-4:00pm, Friday- 10:00am-4:00pm, Closed Saturday and Sunday. School Year Hours(September-May): Monday/Thursday- 2:30pm-4:00pm, Tuesday/Wednesday- 12:30pm-4:00pm, Friday- 10:00am-4:00pm, Closed Saturday and Sunday.
No registration is required but you must enter through the Welcome Center. There is an area to eat outside.
1799 Woodland Hills Dr, Kingwood, TX 77339
The indoor playground is located in the Commons and is open to kids up to 6 years old. You must register and pick up a bracelet.
Summer Schedule, May 22 – September 8: Monday-Thursday – 9:00am-4:00pm, Friday – 9:00am-Noon. Call first to be sure it is open!
The outdoor playground is also accessible to the public.
900 Echo Ln, Houston, TX 77024
Open to the public, Monday through Thursday, 9:30am-3:30pm and Friday, 9:30am-12:30pm. This is for infants through elementary school aged kids.
For indoor playground access, enter through the covered doorway in the big parking lot (not by the outdoor play area). Press the doorbell to get in. The play area light's are motion activated... so just move to turn them on.
The outdoor playground is accessible all day.
303 Memorial City Way, Houston, TX 77024 (Inside the mall, near Sears.)
Open to the public every day, for kids under 48". It is said to be the world's largest indoor soft play area in a shopping center and fully ADA-accessible with a three-level, medieval castle with drawbridge and catapult surrounded by an Enchanted Forest, complete with wizards, knights and fire- breathing dragons.
13223 Southwest Fwy, Sugar Land, TX 77478
Open to kids in 5th grade or younger. Socks are required.
Hours are subject to change, but at the time of this post they are listed as Monday & Tuesday, 8:00am – 4:00pm, Wednesday, 11:00am –4:00pm, Thursday & Friday, 8:00am – 10:00am & 2:00pm – 4:00pm
1 Fellowship Dr, The Woodlands, TX 77384 
The multi-story play structure spans floor to ceiling of the 40-foot atrium. Open to the public, for toddlers through age 12, Monday-Friday, 8:00am – 4:00pm.
The Play Area has one section for ages 4 and under and another for older kids. Socks must be worn and are available for purchase. There is also a Café on location.
2200 Lake Woodlands Dr, The Woodlands, TX 77380
Safari Stop is open for free play, Monday – Friday, 12:00pm – 8:00pm, Saturday, 10:00am – 6:00pm, Sunday, 12:00pm – 6:00pm. It is located at the north end of the main building and is appropriate for children ages 3 through 9.
Park in lot #4 for the shortest walk. Socks are required. The outdoor playground is not for public use. On the day Fun2Go visited, the posted hours and the actual hours were a little different... so call before you go!
6400 Woodway Dr, Houston, TX 77057
Second City, Indoor Kids Playground, at Second Baptist Woodway Campus is now complete!
It is open 7 days a week... during the school day and around worship services on the weekend.
This big playground has soft equipment (like Memorial City Mall). There is a lot to do for little kids… with different areas with a space shuttle, ocean, farm, construction site, fire truck and police station. There is also an interactive light wall and slide… and interactive touchscreens with puzzles and coloring.
Kids must be under 48" and parents/adult relatives must accompany them (not babysitters!). Read more HERE.
Indoor Playground Houston Map:
Or find more to do in Houston.