Address:  Bayou Bend Collection and Gardens, 6003 Memorial Drive at Westcott Street, Houston, Texas 77007
Cost:   Detective Days Admission is $5 for adults, free for kids 12 and under
Appropriate Age:  Any Age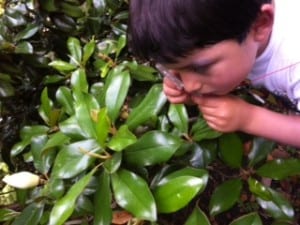 Bayou Bend is the Museum of Fine Arts Houston's house museum for American decorative arts and paintings. The house is the former home of Houston civic leader and philanthropist Ima Hogg and is on 14 acres of gardens in the River Oaks neighborhood.
And off they went. It was completely self-guided. Part of the kit was a list of trees to find (with clues), a magnifying glass, pencil and bottle of cold water. There are benches which you can rest on and lots of shady paths.
The whole thing took about an hour. At the end they got a certificate, which was pretty exciting for the kids.
Be sure to wear comfy shoes, sunscreen and bug spray. You will also want to pack a backpack with extra water and maybe an energy bar or two!
Alex highly recommends the adventure. Go right when it opens at 10:00am or in the late afternoon to avoid some of the Houston heat.
Have fun and tell us about your adventure!