For years now, we've been visiting a new Houston area park each week. Go HERE to see the map of them all! Thirteen of my favorite Houston Area Parks are: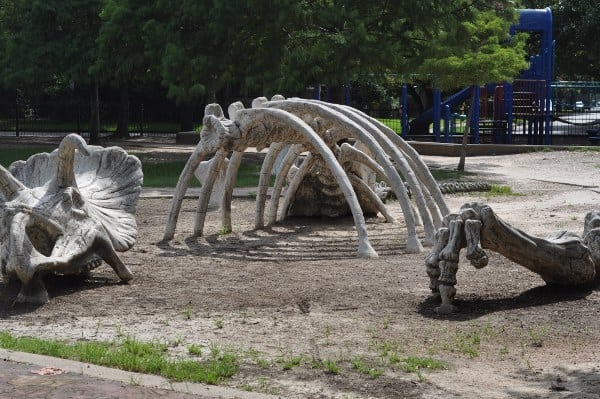 Travis Spark Park
– This park is in a nice Heights neighborhood and has a challenging play structure, rock wall, sandbox, fitness center, spinning center… and dinosaur bones! This Spark Park is open to the public after school hours and on weekends and holidays!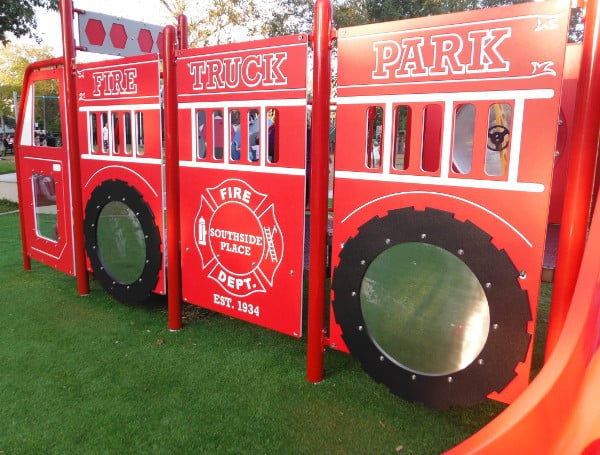 Fire Truck Park
 – When Southside's  first fire truck was retired in 1970, it was kept in this park, making it the Fire Truck Park. This truck and the other playground equipment came into disrepair after many years of use, so in 2012, a completely renovated Fire Truck Park was opened. And it is fantastic. For kids under 5 years old, there is a new fire truck play structure. All around the new fire truck is unique equipment, for big kids, that you do not you see at every Houston park. The merry-go-round is made from a tire, there are little "flowers" where the kids sit and spin themselves and there is a very unusual rock wall for the biggest kids.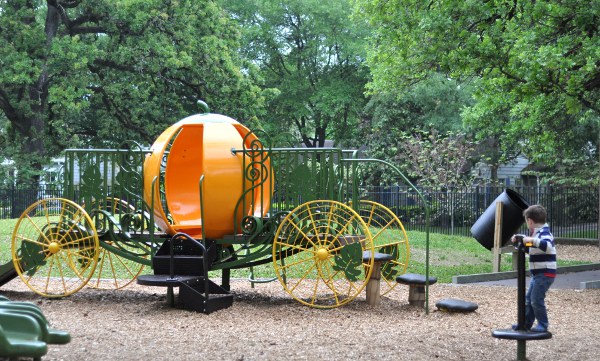 River Oaks Park (aka Pumpkin Park)
– Southside has the Firetruck… but River Oaks has the Pumpkin Carriage! You really need to see this public park, just off of Westheimer. There is a royal pumpkin carriage, big playground, small playground and some of the coolest ladders, monkey bars and more! The park also has a community center, wishing trees, trail, sand volleyball and many more things to do… all under giant oak trees.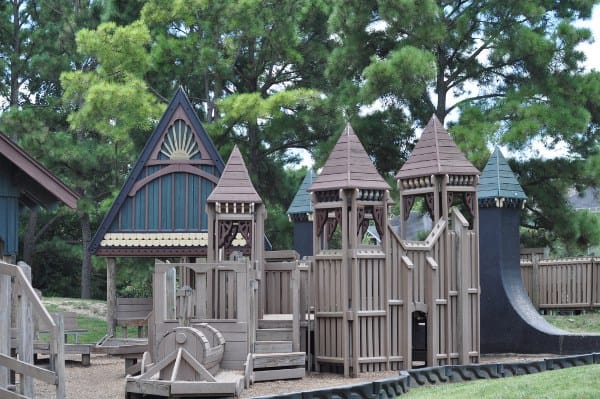 Donovan Park
 – This park in the Houston Heights does not have your average playground. It has a wooden fortress!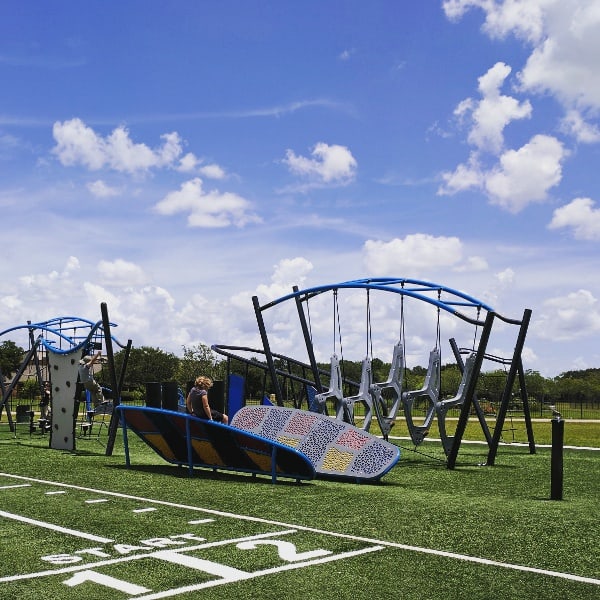 Tom Bass Park, Section 3, Challenge Course
– This permanent and public outdoor playground is a NFL themed ninja warrior course with 11 obstacles… complete with the timer button at the end. We go from Houston park to Houston park, making playgrounds into ninja courses… but Tom Bass Park actually has a ninja course!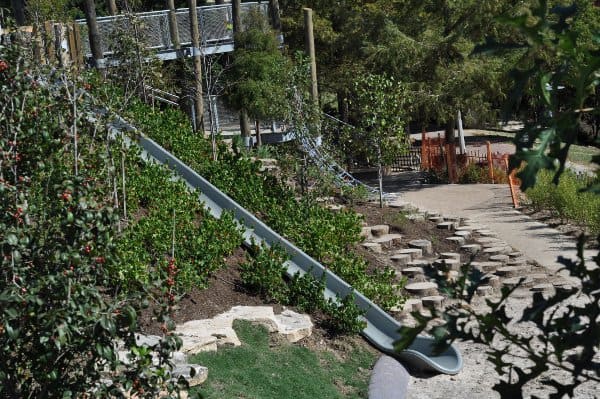 Fish Family Play Area at Buffalo Bayou Park
– This nature play area is along the banks of Buffalo Bayou. It has a slide, climbing structures, water features and drums build in to the landscape, but this park has an amazing view of the downtown skyline, access to the Buffalo Bayou trails, has free parking, new restrooms at the Water Works  building… and a newly uncovered historic cistern. It is as cool as it sounds.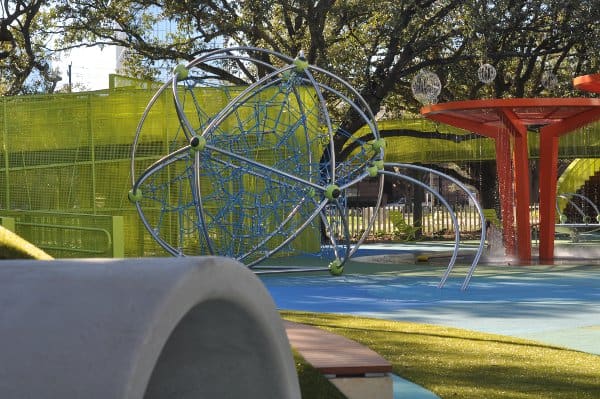 Levy Park
– This remodeled park is AMAZING. Tunnels, rock wall, spider web, reading carts and so much more.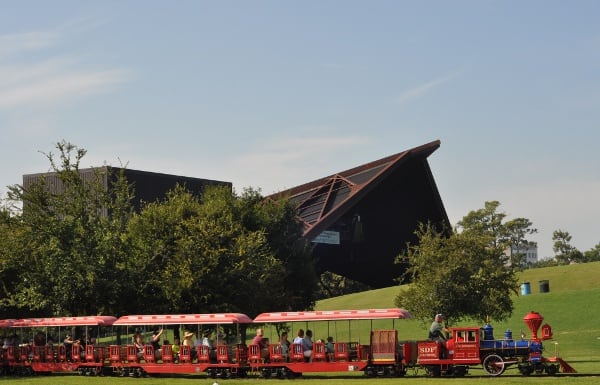 Hermann Park
 – This park is right in the middle of the Museum District and it would be easy to spend an entire day here. If you included the museums within walking distance of the park, it would be easy to spend an entire week here.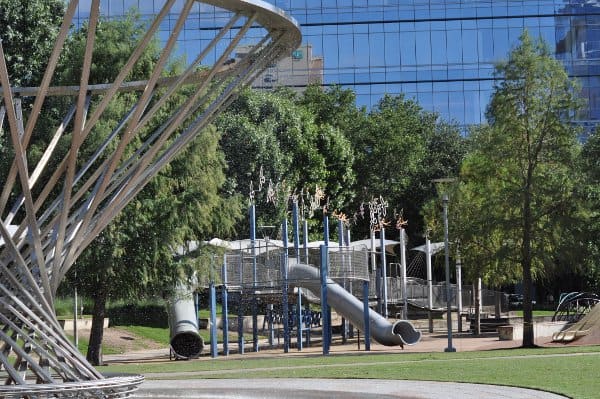 Discovery Green
 – Not only is there a playground, but there is a splashpad, misting tree, putting green, shuffleboard, reading room and library, listening vessels, stages, model boats, kayaks, ice skating, restaurants and lots of art!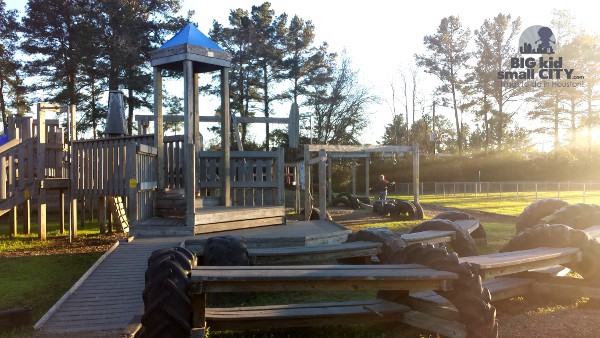 Jerry Matheson Park (Tomball)
– This park is unlike most in Houston. Wooden structures, giant tires, big zip lines. Plus, it is right next to
Juergens Park
with even more to do!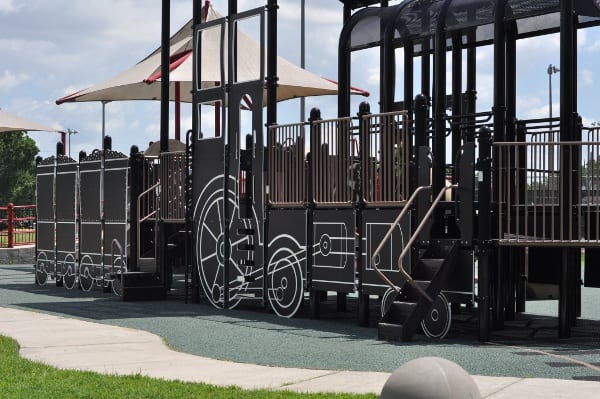 Katy Play Station (Katy)
– "Train Park" is the state's largest innovative playground for multiple-impaired and profoundly deaf children. The playground is designed to feature Katy's name sake the MKT Rail line and includes ramps and swings for kids of all abilities.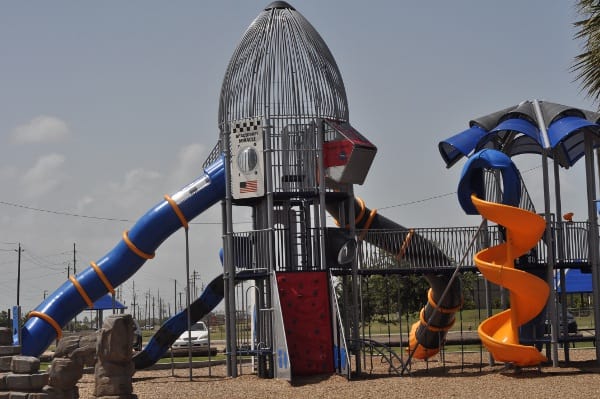 Flagship Park (Galveston)
 – This park has the coolest space shuttle playground. You must see the pictures!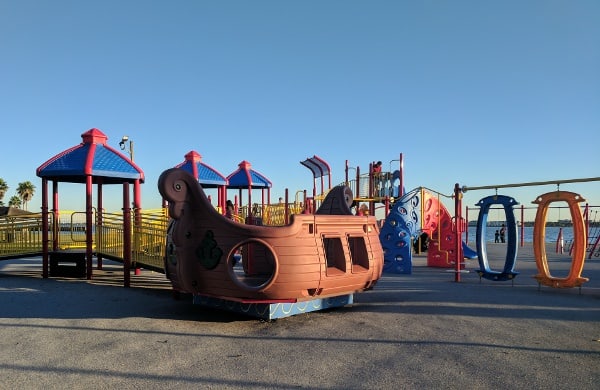 Clear Lake Park
– Just down the road from Space Center Houston is Clear Lake Park. This huge park is right on the water and has four big playgrounds (with amazing equipment), a splashpad, picnic pavilions, sports fields, a museum and more!
Find many more Houston parks here: