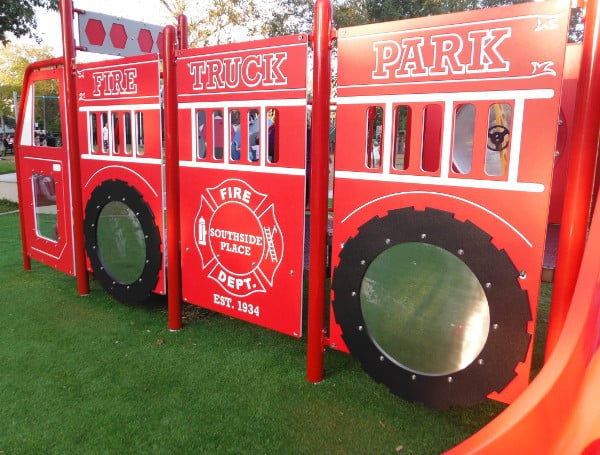 Address:
3743 Garnet Street, Houston, TX 77005
Cost:
Free
Appropriate Age:
  Any age
Our Review:  A friend invited us to their neighborhood park. When she told me it was named the Fire Truck Park, I threw the kids in the car and raced over. With a name like this, I knew it would be good for my 3 junior fire fighters.
The Fire Truck Park is located in Southside Place. Southside Place is a little city in the middle of Houston, located between University, Grammercy, Edloe and Auden. This city within a city has a mayor, city manager, 5 council members, police chief, police department and volunteer fire department. Next to the club house, tennis courts, softball field and pool is Fire Truck Park.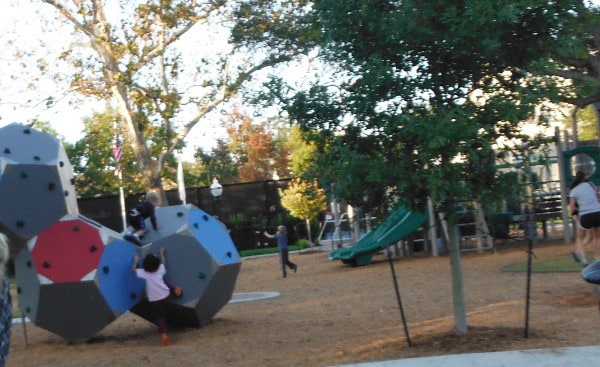 When the city's first fire truck was retired in 1970, it was kept in this park, making it the Fire Truck Park. This truck and the other playground equipment came into disrepair after many years of use, so in 2012, a
completely renovated
Fire Truck Park was opened. And it is fantastic.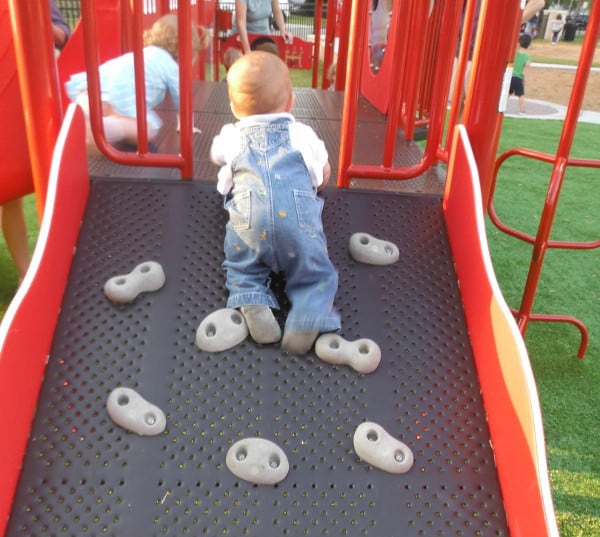 At 4:00pm on a nice Sunday afternoon, this park was hopping. Lots of families were out playing and socializing. There was a birthday party at the picnic tables, groups congregating and kids having fun. The equipment is new, the mulch and turf are soft and well maintained, and my favorite part, is that the park is fenced in with only 2 entrances. Moms can sit on the bench and see the kids across the park. Or, if you are like us, mom can watch the baby while the big kids run free.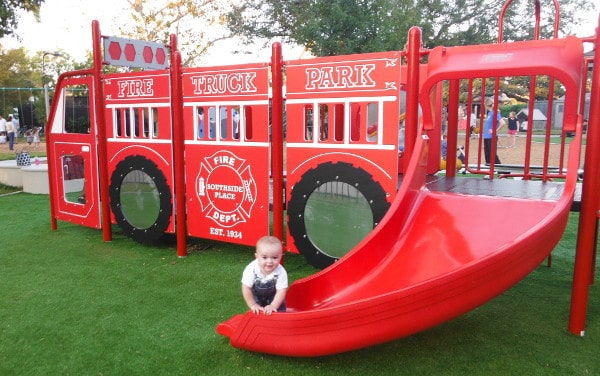 This park has something for everyone. For kids under 5 years old, there is a new fire truck play structure. It was perfect for James. He could crawl up the steps or "stone wall", slide down the little slide or drive the truck. The truck is on top of soft astro turf that is clean and easy for testing out this new thing called walking.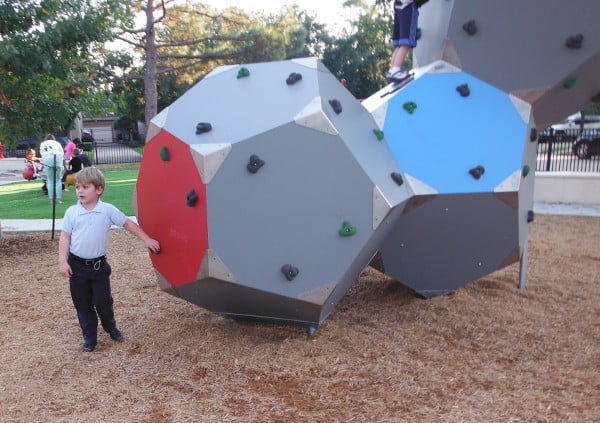 My big kids ran around the rest of the park between the huge rock wall, the big kid play ground, swings, merry-go-round, hillside slides and tire swing. Periodically they would run over making the fire engine siren sound and "drive" the fire truck to the next fire.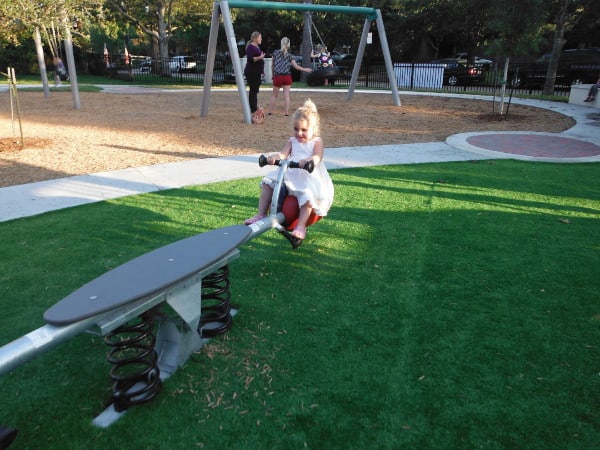 The equipment is very unique and not something you see at every Houston park. The merry-go-round is made from a tire, there are little "flowers" where the kids sit and spin themselves and there is a very unusual rock wall for the biggest kids.
The park is open from 7:00am to 10:00pm daily, but at dinner time the crowd started to head home. We did same but only after I promised the kids that we could come back soon.
To see more about this park, go HERE! To print your own Houston Parks Passport, go HERE!