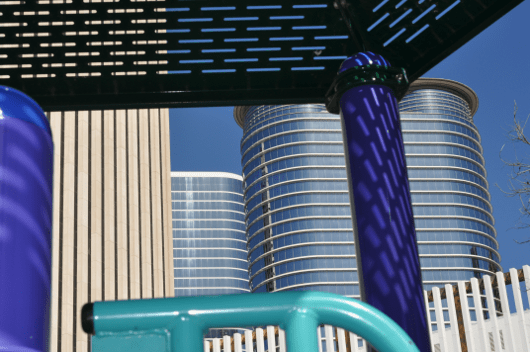 Looking for a fun and free activity to do with your kids? How about creating a

Houston Parks Passport

with a list of 10 parks you want to visit before school starts?
Do a search to find parks near your house, or use the resources below. Let the kids help pick the parks and then look forward to a new one each week! After you visit each park, stamp
your passport! (And if you can't do 10, do 7 or 5 or 3!)  Download you own passport HERE!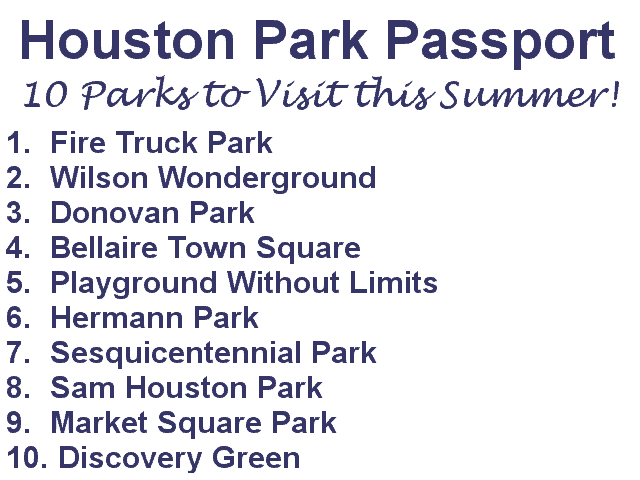 Find City of Houston Parks are HERE.
Find City of Houston Parks with Splashpads are HERE.
Find City of Houston Pools are HERE.
And find BigKidSmallCity's Favorite Parks here:
Wilson Wonderground Spark Park - I've reviewed a lot of Houston parks, and I'm here to say that the Wilson Wonderground Spark Park is one heck of a park. This wonderground has a traditional play structure, but you hardly even notice the slides and ladders and poles because the rest of the park is so great. There is a "palace", a pergola, picnic tables, a couple sand areas, music stations, mini-track, soccer fields, gardens, mosaics and lots of logs for climbing.
Fire Truck Park - When Southside's  first fire truck was retired in 1970, it was kept in this park, making it the Fire Truck Park. This truck and the other playground equipment came into disrepair after many years of use, so in 2012, a completely renovated Fire Truck Park was opened. And it is fantastic. For kids under 5 years old, there is a new fire truck play structure. All around the new fire truck is unique equipment, for big kids, that you do not you see at every Houston park. The merry-go-round is made from a tire, there are little "flowers" where the kids sit and spin themselves and there is a very unusual rock wall for the biggest kids.
Fleming Park - Located just to the north of Rice University, this park has character and lots of fun things to do. The play equipment is all wood and metal and the kids love climbing the stairs and chain ladder; crossing the bridges; and sliding down the slides, fireman's pole and helix.
Ervan Chew Park - These are 2 play structures under giant oak trees, a splashpad, dog park, basketball court and baseball field. The splashpad is open year round, with a button to turn on the water.
Menil Collection Park - Just east of the Menil Collection and west of the Rothko Chapel is a nice green park filled with giant old oak trees and one red swing. This is the park to go to if you are looking to relax, have a picnic and climb trees. There is no play structure but there is plenty of space to run around or throw a football.
Donovan Park - This park in the Houston Heights does not have your average playground. It has a wooden fortress!
Bellaire Town Square -  There are swings, spring riders, a stationary train, and a traditional play structure for small children, but the best part is the larger play structure. Not only is it fun, it is also a challenge. Spinning hoops, spider webs of ropes for climbing, balance boards, and suspended rings to move through are some of the elements that keeps kids engaged and problem-solving.
Playground Without Limits at Metropolitan Multi-Service Center - This playground is shaded, near a bathroom, rarely crowded and full of unusual equipment! The play structure is huge with ramps, steps, ladders, slides, monkey bars, music, bridges, boats, balance beams and so much more. It is accessible for kids in wheelchairs and also easy for crawling babies to wonder along paths and try the built in musical instruments.
Sesquicentennial Park -  This park runs along the bayou, in the theater district and is a great place to explore. It is steps away from the theaters and skyscrapers but feels completely different than the rest of Downtown.
Sam Houston Park - This is Houston's oldest park. It is located just behind City Hall in Downtown and is a huge piece of green space in the middle of skyscrapers. It has many historic houses and buildings, a pond, ducks, a bridge, swings and lots of room to run. The only question is, why aren't more people here? Unlike Discovery Green on the other side of Downtown, this park is mostly empty!
Market Square Park - Market Square Park is in Downtown's Historic District and original town center. The park has fountains, gardens, art work, a Niko Nikos cafe, shaded seating, trees to climb, grass to run in and two fenced dog areas. The park is only one block by one block, but a lot is packed into this urban space!
Hermann Park - This park is right in the middle of the Museum District and it would be easy to spend an entire day here. If you included the museums within walking distance of the park, it would be easy to spend an entire week here.
Discovery Green - Not only is there a playground, but there is a splashpad, misting tree, putting green, shuffleboard, reading room and library, listening vessels, stages, model boats, kayaks, ice skating, restaurants and lots of art!
See all the Houston parks we've discovered HERE!
If you are looking for more fun in Houston, a list of Houston Events is published each week, HERE. To get it delivered to your email inbox each Thursday, so you know what is happening over the weekend for families, go HERE. For daily reminders, be sure to "like" BigKidSmallCity on Facebook, HERE.
So... what's on your list?! Print your own form HERE! And remember to check off this car checklist before you head out!