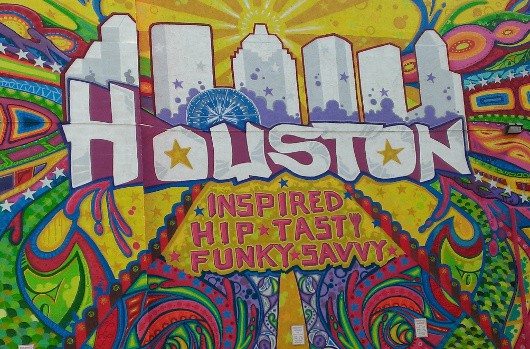 Address:
 301 Milam Houston, Texas 77002 (Milam and Preston)
Cost:
 Free
Appropriate Age:
 Any age. Dogs and people welcome.
Market Square Park is one of our favorite Houston parks, and we've reviewed it many times before. That said, it is missing from the weekly park series so I want to tell you all about it again!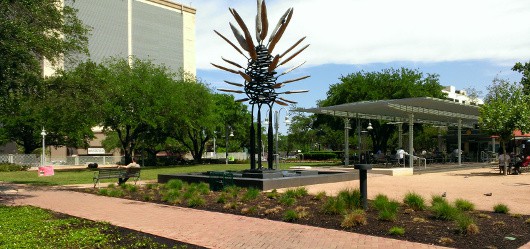 Market Square Park
 is in Downtown's Historic District and original town center. In 1836 this park was started as Congress Square and was renamed a few years later to Market Square.
Market Square "burned through" 3 City Hall buildings and finally became a parking lot. In 2010, the renovated park was reopened. And it is awesome!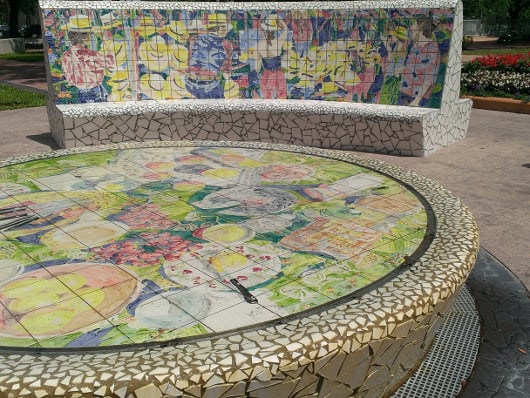 The park has fountains, gardens, art work, a
Niko Nikos
cafe, shaded seating, trees to climb, grass to run in and two fenced dog areas. The park is only one block by one block, but a lot is packed into this urban space! And right across the street is my favorite
"Houston is Inspired" mural
by Gonzo247!
Market Square Park is about ten blocks from Discovery Green, but it has an attitude all its own. The park is busy but not crowded. There are frequent events, but on a much smaller scale. All in all, it is much calmer and a good place to relax with the family.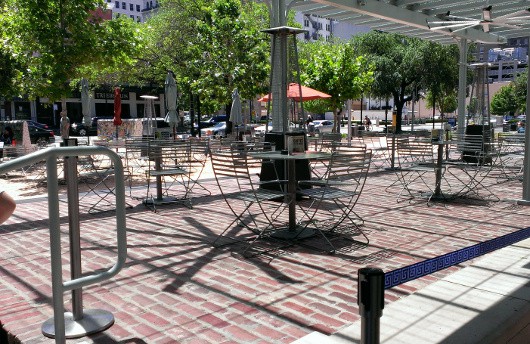 My kids and I visit this park frequently. We grab lunch at Niko Nikos and then I sip iced tea as they run and climb trees. It's easy to watch them from the raised patio.
After lunch we walk the few blocks to our favorite mysterious red button on the bayou. We press it and giggle until we can take no more and head down to the bayou trail.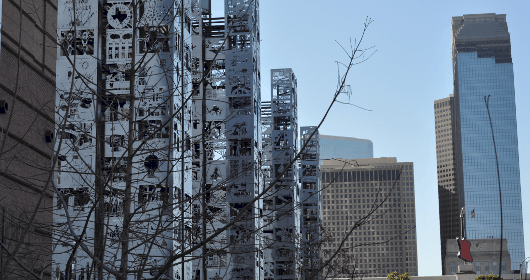 From here, we either wonder to the
waterfall
at the Wortham Center or slip in the back bayou entrance to the
Downtown Aquarium
. When it's warm, we play in the splashpad (which is free) before heading back to Market Square.
At Market Square, metered street parking is available and is free after 6:00pm or on Sunday. There is a hidden bathroom in the Niko Nikos building. If you ask the staff, they can unlock the unmarked door.
For more details on the park, go HERE!