When I started this website in 2011, I wrote about the Tunnel System under Downtown Houston. Now in 2019, that post is super popular (because who doesn't want to see the world under the downtown streets?). So, for those heading down to the tunnels, I'm bringing back the Half-Day in Houston series… to give you more to do in the area!
In this Half Day in Houston series, find a place to park, play, explore and eat… all in one spot.
Look below for a few tunnel trip options and a map of the walking routes. There are a lot more places to park and explore… and this is just to get you started. (Find more to do in Downtown Houston HERE.)
Also note that this adventure needs to be done on a weekday, during working hours, if you want to enter the tunnels.
Park or Ride:
For this urban Downtown adventure, take the METRORail to add to the fun. You can park anywhere along the line… the museum district can be congested but has several $5 lots along Binz.
If you don't have time for the METRORail today, just drive and park in the paid lots or metered parking.
Suggested parking spots: Metered parking by Discovery Green or the garage under the Central Library.
(There are a lot of other good options… so if you prefer, just look at the MAP and pick a spot.)
Explore: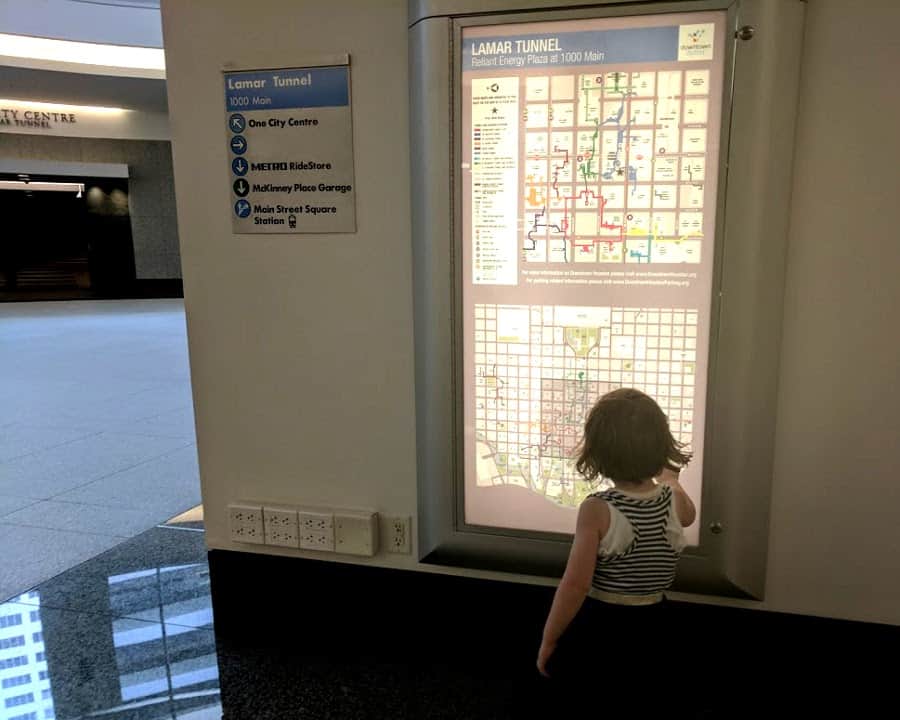 1. Miles of Tunnels – Under Downtown Houston, See MAP – Weekdays Only – Free
Under Downtown Houston there is a 7 mile, climate controlled, system of tunnels linking office buildings, hotels, banks, restaurants, retail stores and the Theater District. Go HERE for a map. These tunnels are usually open to the public from 6:00am – 6:00pm on weekdays, but many of the restaurants close after lunch (by 2:00pm).
The tunnels contain food courts, gift shops, banks, copy centers and more and are mostly located in the basement part of office buildings.
You can get to the tunnels from street level stairs/elevators and inside many towers in Downtown.
If you are at the Central Library, walk past the library plaza and City Hall reflecting pool and enter the tunnel at Wells Fargo. (Thanks Matt for this tip!).
If you are at Main Street Square METRORail Station, look where the train tracks go over the water fountain. There is a building with Corner Bakery and UBS Sign. You can go in the lobby and take the elevator or escalator to the basement.
If you are by Discovery Green, walk over to the Shops at Houston Center. In the lobby by Jos A Bank, there is an escalator to the basement.
Once you are in the tunnels, look at the maps and signs on the wall to navigate. You can also find the tunnel map HERE.
Depending on where you park and enter the tunnels, you can change the order of the following activities! All of them are on ground level, close to the tunnels.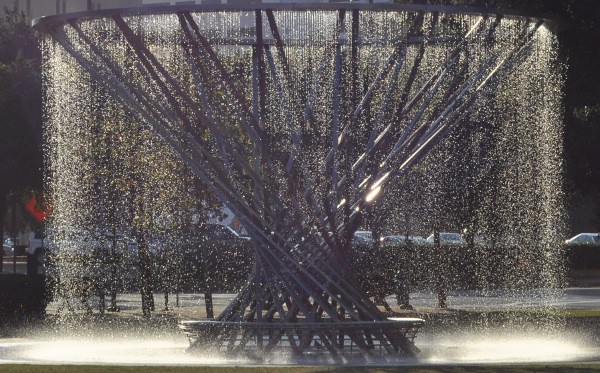 2. Discovery Green – 1500 McKinney Street, Houston, TX 77010 – Free
Play at the John P. McGovern Playground. The play structure has ropes, bridges and slides. Once the kids are hot, go next door to the splashpad!
The splashpad is on a timer that starts the fountains out small… and gets bigger and bigger. Let the kids cool off while you relax and watch from the deck (or splash with them!)
Then find a garden that most don't know is a part of the park. Over by the Hilton, you will find these amazing Listening Vessels! These 2 limestone sculptures have concave interiors that focus sound waves. You can sit in 1 vessel and be heard in the 2nd vessel that is 70 feet away. Read more about them HERE.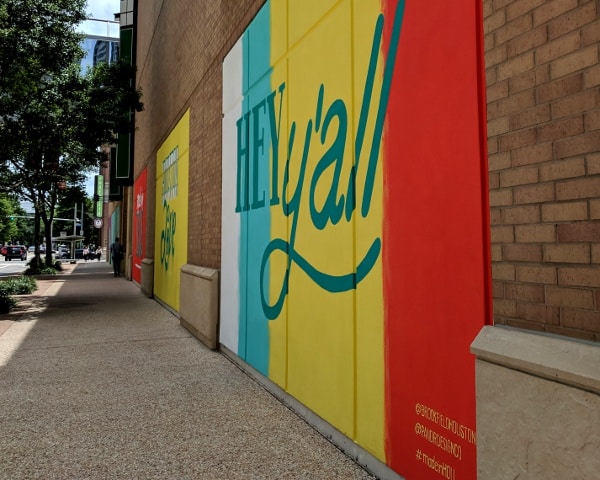 3. Bayou Themed Murals – 1200 McKinney St, Houston, TX 77010 – Free
As you walk from Discovery Green to the Shops at Houston Center, take some pictures at the murals on McKinney.
The murals were commissioned by Brookfield Properties to create fun experiences for visitors and to encourage a more walkable and bike-able downtown.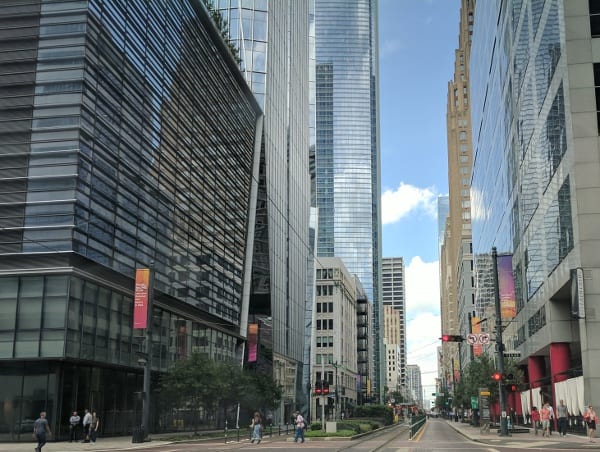 4. Art Blocks at Main Street Square – McKinney Street and Main Street, Houston, TX 77010 – Free
Art is EVERYWHERE in Downtown Houston! The Art Blocks projects are temporary exhibits that are constantly change… and they
compliment the more than 30 permanent public art installations.
See what you can find by Main Street!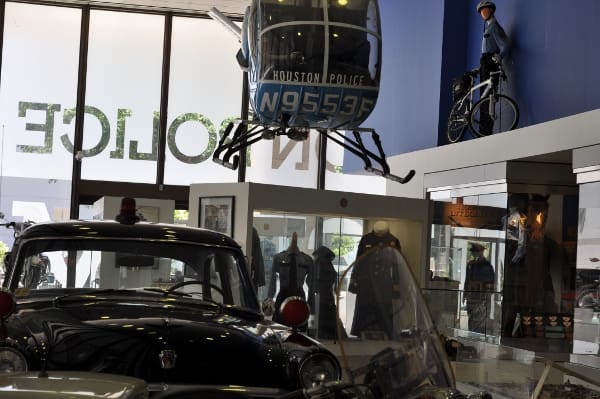 5. Houston Police Museum – 1200 Travis St, Houston, TX 77002 – Free
The Houston Police Museum is small… but let me tell you why we like it.
It is located on the first floor of a real police station… meaning you get to walk through the metal detector, talk to real police officers and be a part of the action.
The Houston Police Museum is located in the lobby of the Houston Police Department headquarters and includes a full size police car, a helicopter mounted on the ceiling, badges, uniforms and artifacts from the Honor Guard, SWAT and Mounted Patrol.
6. City Hall & Julia Ideson Library – 550 McKinney St, Houston, TX 77002 – Free
Right next to City Hall is the Spanish revival style Julia Ideson Library. It opened in 1926 as the Houston Central Library and it was to be the centerpiece of a 5 building civic center. Due to the Great Depression, this vision was not realized and the other buildings were built in the modern style of the 1930s.
The Julia Ideson building was the central library until it was replaced by the larger library next door in 1976. Now it is home of the Houston Metropolitan Research Center and the most beautiful children's reading room that includes the original furniture, and many of the original books, from 1926.
Oh, and it's rumored that this building is haunted by a friendly violin playing ghost.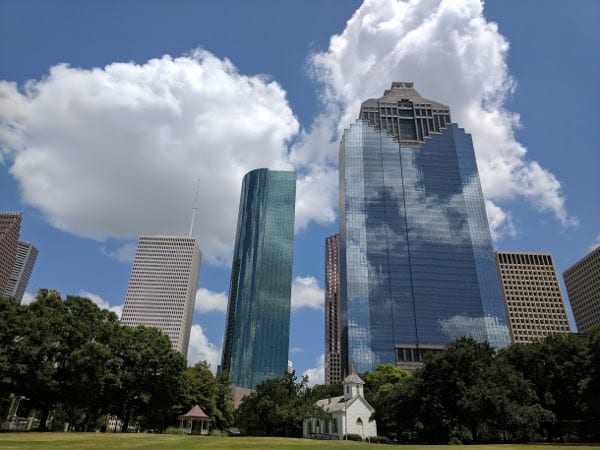 7.Sam Houston Park – 1000 Bagby St, Houston, TX 77002 – Free
Sam Houston Park is Houston's oldest park. It is located just behind City Hall in Downtown and is a huge piece of green space in the middle of skyscrapers.
You can tour the park and take an audio tour of the historic houses (via cell phone) for free. For a small fee, you can visit the Heritage Society next door.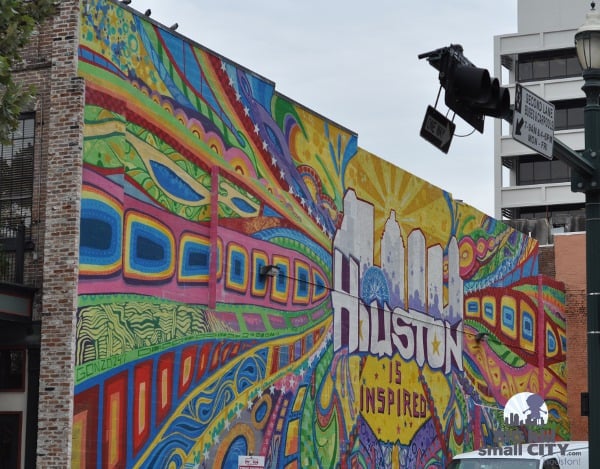 8. Market Square Park & Houston is Inspired Mural – 301 Milam St, Houston, TX 77002 – Free
Market Square Park is in Downtown's Historic District and original town center. In 1836 this park was started as Congress Square and was renamed a few years later to Market Square.
Market Square "burned through" three City Hall buildings and finally became a parking lot. In 2010, the renovated park was reopened.
The park has fountains, gardens, art work, a Niko Nikos cafe, shaded seating, grass to run in and two fenced dog areas. The park is only one block by one block, but a lot is packed into this urban space! And right across the street is my favorite "Houston is Inspired" mural by Gonzo247!
9. Burp the Bayou – Preston Street Bridge, Over Bayou – Free (12/30/19 Update: The bubble hasn't been working every day, but there are plenty of other fun things to do!)
Have you heard about the Big Bubble in the Buffalo Bayou? Have you seen the mysterious red button on the Preston Street Bridge? A friend told us that their 5 year old's favorite thing to do in Houston was to, "burp the bayou", and we just had to know what this meant.
In the middle of the brick column on the south(ish) side of the Preston Street Bridge, is a little red button. When you press it, the water it bayou will bubble for several seconds. I realize that this is just a button and some bubbles, but if you are going to visit it, you really have all the materials you need for a great adventure.
First off, there is no sign above this little button. It is just a mysterious red button in the middle of Downtown Houston. You don't know whether you should press it or not. And if you do press it, what will happen? Where should you look? And say you see or hear the bubbles, what is causing it? Did you wake a bayou monster? And if a boat is traveling down the river, what would happen if you timed the bubbles just right?
For best results, tell your kids you hear there is a mysterious red button in Downtown Houston and you need to find out what it does. Get them close to the bridge and see if they can find it. Once you find it, ask for ideas on what it might do and see who is brave enough to push it.
Once pressed, try to find the bubbles and ask what could be causing them. Finish up with several minutes of pressing the button, running to the side of the bridge, watching the bubbles and giggling with delight. Learn all about it HERE!
AND know two things… this is quirky. We like quirky things. And second, when there is a lot of rain or flooding, the bubbles may not work. You've been warned!
Eat:
Find a spot to eat in the tunnels… just do it before 2:00pm! HERE are the restaurants at tunnel level.
Downtown Walking Map: