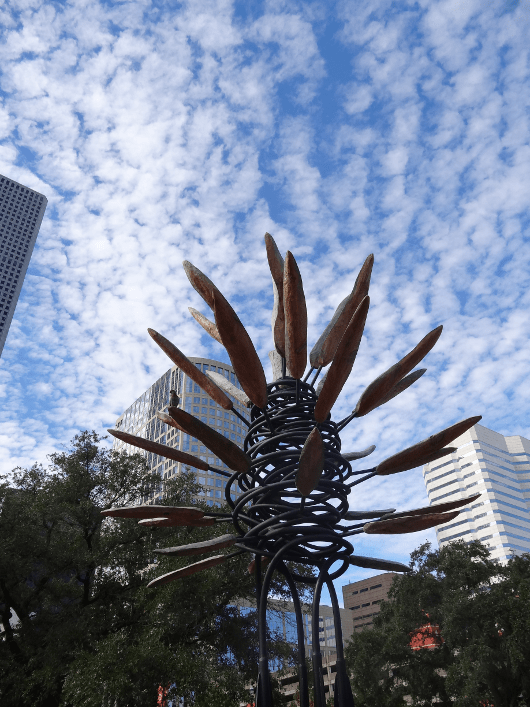 Address:
301 Milam Houston, Texas 77002 (Milam and Preston)
Cost:
Free to visit. Reasonable food & drinks for purchase.
Appropriate Age:
Any age. Dogs and people welcome.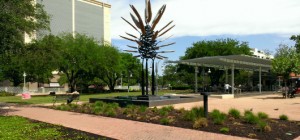 Market Square Park is in Downtown's Historic District and original town center. In 1836 this park was started as Congress Square and was renamed a few years later to Market Square.
Market Square "burned through" 3 City Hall buildings and finally became a parking lot. A revitalization began but the oil bust of the 1980s left this area in shambles. It wasn't until the 2000s that this historic park was redeveloped. In 2010, the renovated park was reopened. And what a great job they did. Read the full history HERE.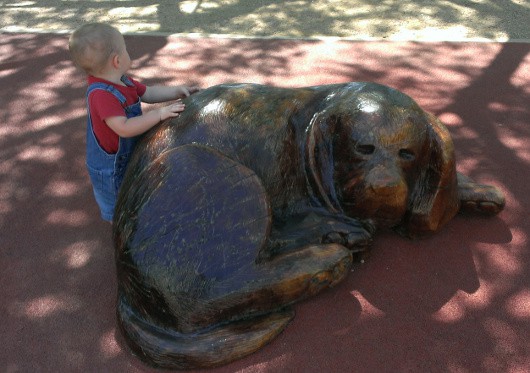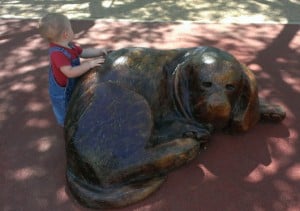 The park has become a magnet for active Houston residents. Visitors can run in the grass, rest on the benches, gaze at the artwork, grab food at the cafe and dine under the pergola.
Kids can play and climb trees while the parents eat. Or you can let the dogs play off-leash in the big dog run. There are fountains, gardens and a big carved pup to captivate visitors of all ages.
The Market Square Park Calendar is full of movies and concerts. Be sure to check the schedule and prepare to be amazed by this urban oasis in the old civic center. Pack a picnic if you like, or stop by Niko Nikos any day of the week.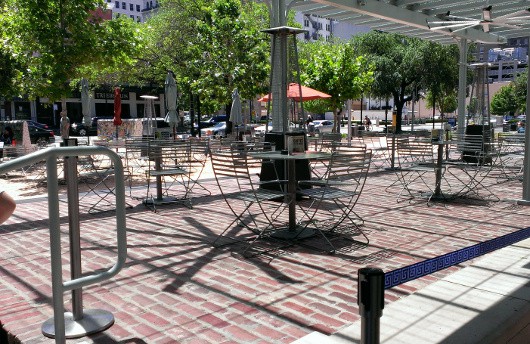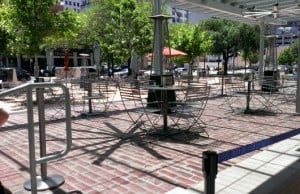 Niko Niko's at Market Square is a Greek café where you order at the window and take your food to the patio. You can order breakfast, lunch or dinner, coffee and alcohol.
Look for the menu HERE. The  menu is smaller than the Montrose location, but then again, the space is smaller too. Niko Nikos at Market Square caters to busy people that are on the run.
We like to order the Felafel Sandwich ($6), Hummus and Pita Chips ($6) and Iced Tea ($1.95). Iced Tea is the only drink that can be refilled. Sodas come in a bottle. The fancy coffees, beers and frozen drinks look fantastic.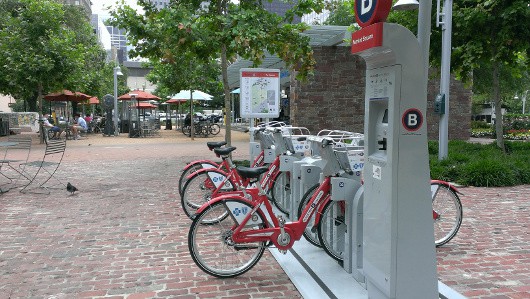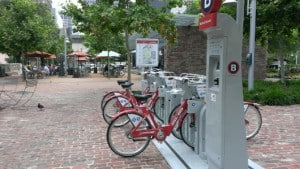 The kids menu includes the Jimmy Gyro, Pitzza, Mini Chicken Kebob Pita and Grilled Cheese Pita, all for $5.50. The kids meals come with apple sauce but no drink.
Niko Nikos has high chairs, coloring pages and crayons. And a huge park where the kids can run.
It is not marked but Niko Nikos has a restroom in the main building. Patrons can ask the staff to unlock it.
Right behind the cafe are the Houston B Cycles bikes that anyone can rent for $5 (or less). Rent one and return it to any B Cycle location. The Buffalo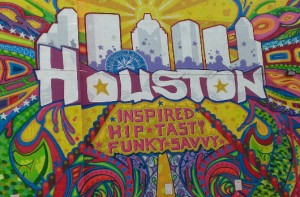 Bayou Trails are just a couple blocks away and perfect for bike riding. Or ride over to Discovery Green, another parking lot turned urban oasis, just across Downtown.
Before you leave Market Square Park, be sure to check out the 30 foot high "Houston is Inspired" mural on Preston Street by GONZO247. We always feel a little "inspired" after visiting this part of Downtown Houston.