Address: Preston Street Bridge, Preston and Smith, Downtown Houston
Cost: Free
Appropriate Age: Any age
(12/30/19: This isn't always working... so plan on THESE close by activities to save the day!)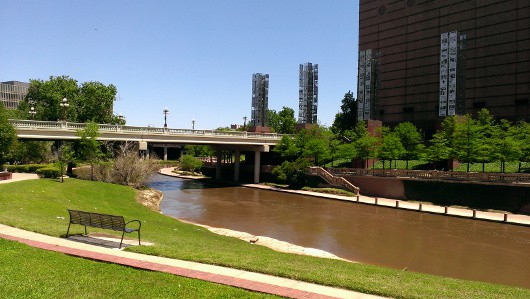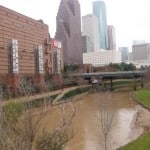 Have you heard about the Big Bubble in the Buffalo Bayou? Have you seen the mysterious red button on the Preston Street Bridge? A friend told us that their 5 year old's favorite thing to do in Houston was to, "burp the bayou", and we just had to know what this meant.
In the middle of the brick column on the south(ish) side of the Preston Street Bridge, is a little red button. When you press it, the water it bayou will bubble for several seconds. I realize that this is just a button and some bubbles, but if you are going to visit it, you really have all the materials you need for a great adventure.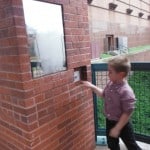 First off, there is no sign above this little button. It is just a mysterious red button in the middle of Downtown Houston. You don't know whether you should press it or not. And if you do press it, what will happen? Where should you look? And say you see or hear the bubbles, what is causing it? Did you wake a bayou monster? And if a boat is traveling down the river, what would happen if you timed the bubbles just right?
For best results, tell your kids you hear there is a mysterious red button in Downtown Houston and you need to find out what it does. Get them close to the bridge and see if they can find it.
Once you find it, ask for ideas on what it might do and see who is brave enough to push it.
Once pressed, try to find the bubbles and ask what could be causing them. Finish up with several minutes of pressing the button, running to the side of the bridge, watching the bubbles and giggling with delight.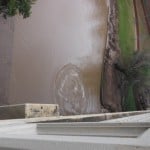 To get here, drive or take METRORail to the Preston Station. Walk a few blocks west(ish) towards the
Downtown Aquarium
until you are over the water. On the southeast(ish) side of the bridge you will see the little red button. The water on the south side of the bridge will bubble. (The directions assume/pretend the METRORail tracks and downtown streets go North and South, which is not exactly true, but easier to explain.)
The bubbles are to aerate the slow moving water. The water is aerated automatically throughout the day and whenever a brave passerby presses the button.
Go HERE to see what others are saying about this mysterious big bubble. Go HERE to get things to do in Houston, like this goofy adventure, in your inbox each week! And go (affiliate) HERE to learn all about Houston's Bayous.