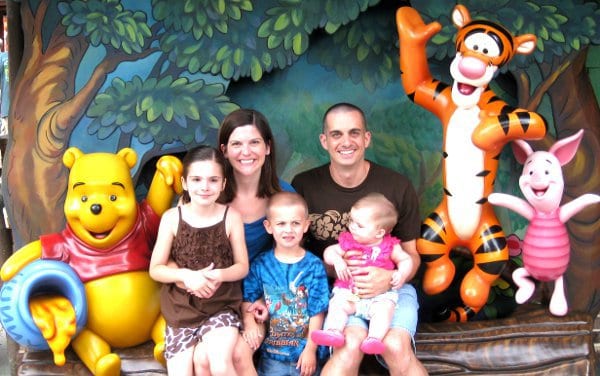 If you are like us, you've thought about a family vacation to
Walt Disney World
, but want it to be perfect. For the money and the travel, it's important to me that the visit be magical. Lucky for us, Emily with
365 Things to Do in Houston
 knows a lot about taking kids to Disney World!
So... what age is best for your child's first trip to Disney? You don't want the visit to be too early... but you also don't want to wait until the youngest is the "perfect age" and miss out on the oldest kid's "perfect age"... So what ages are good to start your family Disney adventures?
This post is on deciding the best age for your child's first visit to Disney! So you can follow along, here are all 7 steps to planning your perfect vacation:
Step One – Decide on a date and length of stay!
Step Two – Decide on what age is best for your child's first Disney visit! - Read below!
Step Three – Select the best place to stay near Disney! 
Step Four – Decide on the best Disney tickets to purchase. 
Step Five – Make the visit easier and consider the Dining Plan. 
Step Six – Pick our your Disney Experiences for the best visit ever. 
Step Seven – Make Disney reservations as early as possible. 
Step Two – Decide on what age is best for your child's first Disney visit! 
Our first trip, we had an almost 3 year old and a 8 month old and went with extended family. It worked out beautifully. The oldest did not nap anymore so that was not a concern and the baby was young enough to still be able to nap in our stroller.
Extended family members would stay with the baby when needed (although Disney does provide a wonderful option for parents called "baby swap" that allows adults to wait in line together, have one adult ride while the other stays with the child not going on the ride, and then immediately swap out afterwards so both adults get a chance to go on the ride).
Also, at 8 months, my youngest could sit up in high chairs and happily munch on goldfish and more at meals which helped when we were eating. I brought plenty of baby food, bottles, and snacks in an insulated bag. We were set!
And everything was so magical to our oldest. She met her favorite princess Mulan who treated her like a princess. Both my husband and I got very choked up when she met Mulan... She met her hero. This moment was when I was officially hooked again on Disney World trips.
We did not return to the parks until the baby was at least 2 and a half. He still napped regularly, but could skip naps and do okay. He was also a good listener and did not have any desire to run off. At this age, we rented a double stroller from the park instead of bringing our own which worked well when our now 4 year old got tired of walking.
The love of the characters and the magic were still there, just even better as the kids started understanding and enjoying more rides. Our family went back again when the kids were 6 years old, almost 4 years old, and 6 months old and found the same success as before. Personally I think if you have a preschooler and a baby, going to the parks when the baby is in that 6-12 month old window is a fantastic opportunity not to be missed.
Otherwise, I would suggest not going again until the youngest is at least 2 and a half and only if they can handle the messed up napping schedule and be a good listener and rule follower. It is not worth the stress at that time if your toddler is an explorer. Just wait another year and it will be worth it.
Now, as my kids are 10, 8, and 5, we experience the parks in a whole new way. They love the thrill rides, their energy levels last longer, they learn more (yes, there are tons of learning opportunities!), and the list goes on. I do not think there is too old of an age to go to Disney World. Different ages just provide different experiences... another reason I keep wanting to go back!