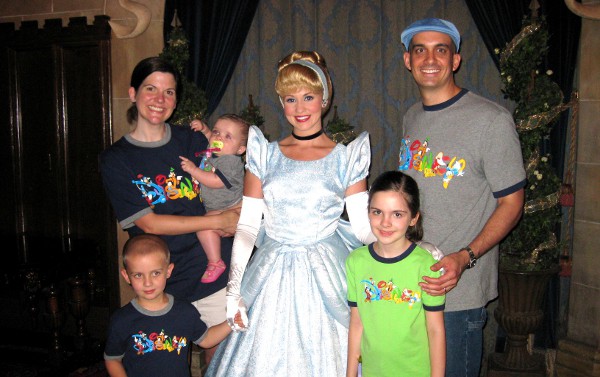 If you are like us, you've thought about a family vacation to
Walt Disney World
, but want it to be perfect. For the money and the travel, it's important to me that the visit be magical. Lucky for us, Emily with
365 Things to Do in Houston
 knows a lot about taking kids to Disney World!
More than the rides, I am interested in the experiences. I want to see my daughter light up as she is transformed into a princess and I want my son to beam with pride as he earns badges and becomes a real Wilderness Explorer. So, what do I need I need to plan for before our trip?
This post is on picking the best Disney Experiences! So you can follow along, here are all 7 steps to planning your perfect vacation:
Step One – Decide on a date and length of stay!
Step Two – Decide on what age is best for your child's first Disney visit!
Step Three – Select the best place to stay near Disney! 
Step Four – Decide on the best Disney tickets to purchase. 
Step Five – Make the visit easier and consider the Dining Plan.
Step Six – Pick our your Disney Experiences for the best visit ever. - Read below!
Step Seven – Make Disney reservations as early as possible. 
Step Six – Pick our your Disney Experiences for the best visit ever. 
There is so much more to the Disney Parks than just the rides and the shows. Disney prides itself on creating memories and they provide many different opportunities to do so. Here are a few of the experiences my family has enjoyed over the years.
Keep reading to learn about:
Meeting the characters (for brave and timid kids)
Photo and Autograph books (plus bags and pens)
PhotoPass Cards
Becoming the Characters (Princesses, pirates and more)
Starwars Weekends
Steering your kids toward (and away from) the many souvenir collections
Trading pins with cast members
Interactive Quests
Holiday Festivities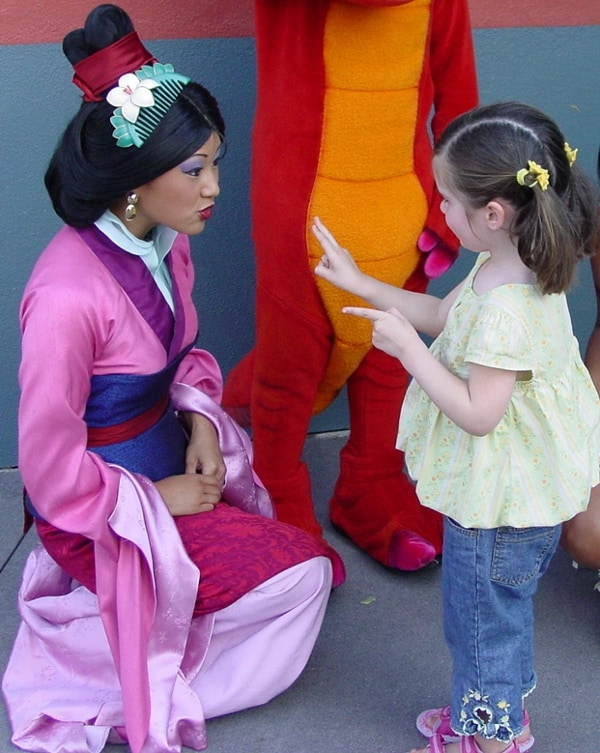 Meeting Characters:
This has been one of the highlights of our trips over the years. As I mentioned in the beginning,
the moment our oldest daughter met Mulan for the first time still stands out as one of our favorite Disney memories.
  She was almost 3 years old and Mulan was her favorite princess and hero at that time. And even as our daughter has gotten older, she still makes a point of meeting Mulan and taking a picture with her during every trip. I definitely encourage you to take advantage of these moments and to be prepared.
First, purchase an official Photo and Autograph book. You can get these in advance at The Disney Store, on their website, or at almost any store at Walt Disney World. We typically have the kids pick out an autograph book from the hotel gift shop on the day of our arrival. It has become one of our traditions and a great activity after a day of travel.
I highly encourage you to get autograph books that include a photo spot, especially with younger kids. These books end up being great souvenirs and serve as a mini photo album of the trip. My little ones happily "read" the autographs and enjoyed the corresponding pictures of each character. The stores do sell plain autograph books and they do have more actual pages allowing for more autographs. We did try this one year, but the kids only revisit the books with the photos, even now at the ages of 10, 8, and 5.
Another important advance purchase is a pen that does not smear. During our first trip, I brought Sharpies thinking this was a good choice. However, many of the characters' "hands" would still cause the ink to smear making for a slightly messy signature. The parks do sell fun pens that can be purchased with the autograph books, but make sure to test it for smearing.
I also encourage bringing a large Ziploc bag (or two) from home. There are occasional rain showers and many opportunities to get splashed on rides or at cooling stations. It is nice to be able to seal the autograph book up if needed, even if kept within a backpack.
Also, for any scrapbookers out there, one year I brought a pad of colored "mat stack" sheets on the trip and had the characters autograph a sheet from it as well. Once we had returned from the trip, I was able to include their autographs in my scrapbook. It was such a neat effect to have the signature with photos of the characters hugging the kids, signing the book, and then posing with them afterwards.
One thing to mention is that our middle child was much more unsettled about meeting the characters when he was two. (Although as an infant, he seemed more comfortable with it.)  All our attempts to get pictures with all of his favorite characters had him crying or pulling away.
So, we learned a few things that helped improve everyone's experience that trip. If enjoying a character meal, do not place your child on the outside of the table where the characters will be meeting them. Seat your nervous little ones on the inside, away from the main pathway, where they can watch and wave at the characters but still have plenty of personal space. Also, if your child is feeling brave enough to get close enough for a picture, get in the picture with the kids but place your nervous one in your arms and on the opposite side of the character. We were able to catch a few good pictures by the end of the trip using this method.
Next, at most character experiences, you will encounter an official PhotoPass Photographer. You are still welcome to take pictures with your camera. However, these photographers are there to also offer their services. The photographers will typically ask if you have a PhotoPass card.
The first time this happens, definitely accept the card from them. They will link any pictures they take of your family's character interactions to this account. You will keep the card and then hand it to the next photographer next time this happens. New photos will then be added to your account and so on.
You can have multiple PhotoPass cards if need be (yes, we have been known to leave them back at the hotel the following day), and you are under no obligation to buy any pictures they take. However, having another set of pictures to choose from is a rather nice option. As we all know, kids are challenging to photograph. Photopass has proved to be a "life saver" after we have gone through our photos after our trip and found that one of the kids has their eyes closed with their favorite character.
The photographers are always great at getting family shots (without characters) too. Family pictures in front of the castle are always a tradition on our trips. You can view all the pictures at various spots around the parks and at home on your computer. You can purchase all the photos, select just a few prints, or create an album complete with Disney clipart.
Finally, like I mentioned in the Dining Plan step, I believe that character meals are a wonderful alternative to waiting in line. The parks have improved their Character Experiences over the years and many of the "top" characters have permanent meeting spots with interactive waiting areas and/or FastPass options. However, you can make advance dining reservations at a different restaurant every day and get most of the "top" characters in at just a few delicious meals.
For example, Mickey Mouse, Minnie Mouse, Donald Duck, Goofy, and Pluto are all part of a meal at Chef Mickey's at The Contemporary Resort. (Explore the website and/or the guide book for character specifics for other meals.)  By combining meals with character experiences, it frees up more time for other fun activities and makes the lines to meet other characters more tolerable.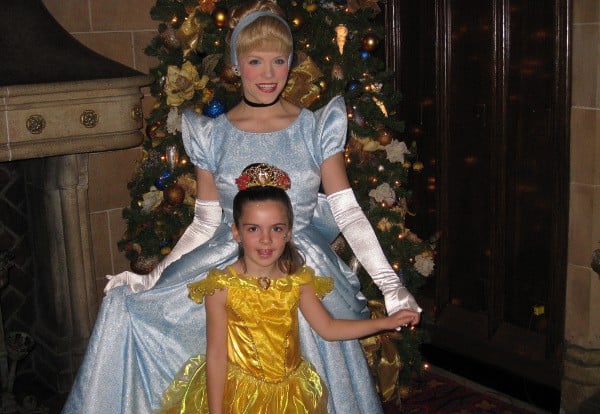 Becoming Characters:
A trip to Walt Disney World is not just about meeting the characters. Your kids can become the characters in a variety of "dress up" opportunities.
Visiting Bibbid Bobbidi Boutique is the quintessential Disney dress up experience for your little one. This is where your daughter can be transformed into a princess with every bit of "magic" that you can imagine. There are a variety of packages to choose from covering an assortment of hairstyles and accessories (and prices).
The most expensive choice includes the price of a costume and a photo package. We have chosen to go with that option with our daughters as it seems to enhance the experience, truly creating the "fairy godmother-in-training's" magical transformation. However, a great money saving option is to bring your own princess dress from home.
This is the one place where it is normal to find countless girls dressed in their very best princess attire traipsing through the parks (Bibbid Bobbidi Boutique created or not). And if your son is interested in being "knighted," Bibbidi Bobbidi Boutique also offers The Knight Package, a simple, low cost option that includes a funky gel hairstyle, some confetti, and a sword and shield.
Bibbidi Bobbidi Boutique has two locations and advanced reservations are a MUST. Just like dining reservations, you can call 180 days in advance from the start of your stay. Although they sometimes have availability closer to your trip, the farther out you make your reservations, the better it is and the more options you have.
No princess fans in your family? Never fear, The Pirates League is here. This is a great alternative to Bibbidi Bobbidi Boutique located near The Pirates of Caribbean ride in Magic Kingdom. Here kids (and even adults) can join the "Pirates League" by being transformed into their preference of swashbuckler, from a fierce looking pirate to Disney Junior's very own Jake. Girls have some great options too with a pirate or mermaid look to choose from.
During our last trip, my oldest daughter felt "too cool" to dress up like a princess and found The Pirates League to be the perfect answer. It was mainly hair and makeup with a few fun accessories, just the right combination of dress up and magic. Once again, advanced reservations are needed. I do not think The Pirates League has the same demand as Bibbidi Bobbidi Boutique, but the sooner you make the reservations, the better.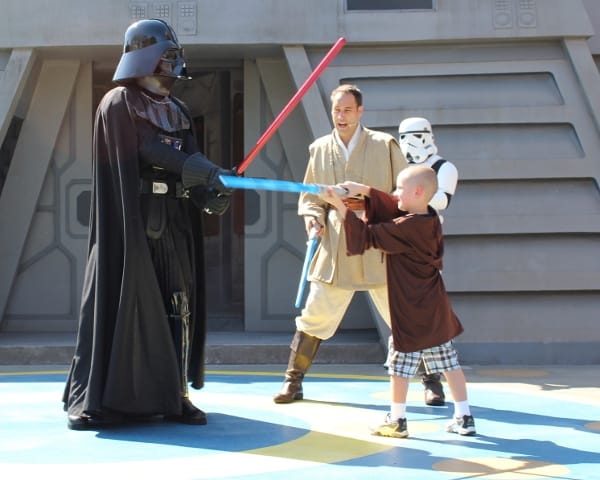 Star Wars:
I am proud to admit that we are a Star Wars family, which made it all that more exciting when we "accidentally" experienced
Star Wars Weekends at Hollywood Studios
during one of our summer Disney trips. I had read about it before and thought it sounded neat, but our vacation time was not purposely selected for this event. It was just a good time for our extended family to join us.
So there we were, waiting to enter the park on a Saturday in June when we spotted a Storm Trooper standing guard above the entrance. Immediately we discovered the fun of Star Wars Weekend. Throughout the park, Star Wars characters were seen walking around. Guests were dressed up in their favorite Star Wars gear as well. Even Mickey Mouse and his friends were dressed for the occasion!
Our favorite part was watching the parade, which included featured actors and actresses along with the characters, come to a conclusion with the arrival of Darth Vader and his Storm Troopers marching down the path to "The Imperial March".
Needless to say, this accidental discovery quickly became inspiration for our next Disney trip, this time purposely choosing a dates that overlapped a Star Wars Weekend to enjoy all the festivities. And since our last trip, Disney has started having Star Wars character meals during this time frame too.
You can eat breakfast with actual Star Wars characters or dinner with Mickey and friends dressed up in Star Wars costumes. What a fun way to further enjoy Star Wars Weekends! If you are a Star Wars family like us and are interested in experiencing this intergalactic fun, it is important that you know crowds are a little higher during Star Wars Weekends. I did find that it was a little more manageable when going to Hollywood Studios on a Friday instead of the Saturday or Sunday option.
Star Wars Weekends is not the only fun experience for Star Wars fans though. Besides the Star Wars themed area of Hollywood Studios (which is rumored to expand as the new movies are in the works) that includes one of our favorite Disney World rides (Star Tours), Jedi Training Academy is held every day throughout the year. It is a first come, first serve sign up process, but worth the early morning rush to the park to get a spot for your Padawan.
This has been the highlight for our son over the past few trips, as he learns some lightsaber skills, helps battle Darth Vader, and becomes an official Jedi. And as parents, seeing his whole face light up he soaks in and enjoys all the details of his Jedi Training has been one of our favorite Disney memories.
Finally, you will find another fun, yet simple Star Wars activity in the Hollywood Studios store Tatooine Traders, located at the exit of the Star Tours ride. Here you can build your very own Astromech Droid (think R2D2) action figure, complete with a Disney themed hat if desired. These little droids have joined my son's Star Wars toy universe and have proven to be a great, interactive souvenir over the years. You can also build your own lightsaber at Tatooine Traders, another highlight for Star Wars fans young and old. So as you leave the Star Tours ride, stop to look around this store and consider creating some iconic souvenirs.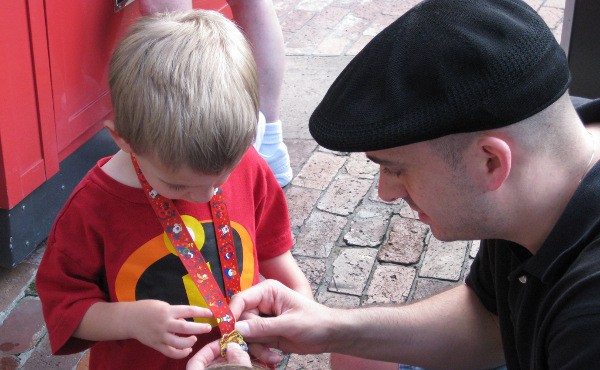 Collections:
As you are probably all aware, Disney is the master at merchandising. And Walt Disney World is full of amazing stuff to commemorate your trip. There is definitely a souvenir for every person and personality. However, as a mom, I want to prepare you for the possible collections your children may discover they "need" immediately upon seeing it at every store at the parks.
With a little advance warning, you might be able to develop a plan and steer your children in a more desired direction that fits your family's needs and wants.
Magic Bands Accessories – As Disney has now combined your ticket, room key, payment form, and fastpass into one amazing Magic Band, your will find tons of options to decorate and personalize your band. Magic Bandits are the easiest and most common (and they remind me of the Jibbitz you can buy to decorate Crocs).
Pins and lanyards – Perhaps one of the longer running collections at the parks, guests and cast members (Disney World employees) wear lanyards covered with pins. Pins can be collected or traded (all cast members can be asked). When my kids were little, we bought them lanyards and let them select favorite character pins each day to decorate the lanyards. Then as they have gotten older, they have chosen different themes to focus on during our trips.
For example, my son picked Star Wars themed pins, my youngest daughter wanted only princesses pins, and my oldest daughter picked her pins for each of her favorite rides. Lanyards can be purchased at most stores (including the hotel gift shops) so it can be an early purchase like the autograph books at the start of your trip. There are even a couple of starter pack options you can order from The Disney Store's website if interested, like this pirate themed one. Definitely have a plan established before your trip though so you won't hear a constant "Can I get another pin?" each day.
Disney Racers - This is one of our favorite souvenirs for the kids and yet probably not as well known. Disney Racers are matchbox cars inspired by Disney characters or Disney Parks rides. Not only are Disney Racers easy to fit in a bag or suitcase for the trip home (something to consider when traveling), they are an affordable and fun option for kids.
Duffy the Disney Bear – Duffy is a cute, stuffed bear available at most stores in the parks and online. He has a back story and is even a character you can meet at Epcot. There are a variety of outfits and accessories you can buy for Duffy (think Build-A-Bear) and your kids will see them everywhere. I think it is a great collection choice for your child who always wants a stuffed animal. You can get one bear and dress it up a variety of ways instead of purchasing multiple stuffed animals.
Vinylmation – These little figurines are found at almost every store, but not something we have purchased yet. However this might change during our next trip. Vinylmation figurines might be more appealing to older kids with their funky style.
Coins – Walt Disney World is filled with Disney themed pressed coin machines throughout the parks and the hotels. This is an easy, interactive and inexpensive souvenir if you come prepared with some extra coins. And now you can actually purchase a holder for your pressed coin collection from many of the stores in the park. It is a small, vinyl book with clear, mini pockets to display and keep pressed pennies and even quarters. Here is an example of one that we own.
There are many other areas of merchandise to collect and enjoy that you and your kids may discover during your trip. Charm bracelets, Christmas ornaments, hats, and even artwork are just a few other souvenir collections that come to mind. Hopefully this added awareness will help you be prepared when navigating the stores with the kids!
Interactive Quests:
On our last trip, I discovered Disney World had five interactive "quests" at three of their parks. Each of these quests gives guests a different mission or way to explore the parks. Although we have not yet done all of these, I think they are such a fun way to make your Disney trip more memorable, especially with school aged children.
You can be a Sorcerer of the Magic Kingdom or go on a Pirate Adventure to hunt for the Treasure of the Seven Seas in Adventureland. At Epcot, you can join Agent P's mission to stop Dr. Doofenshmirtz's evil plans (inspired by The Disney Channel's "Phineas and Ferb") as you explore the World Showcase. Or, your kids can collect stamps and enjoy a craft at any or all of the 11 Kidcot Fun Stops. Finally, inspired by the Disney Pixar movie "Up," guests can become official Wilderness Explorers by earning badges through fact finding challenges at Animal Kingdom.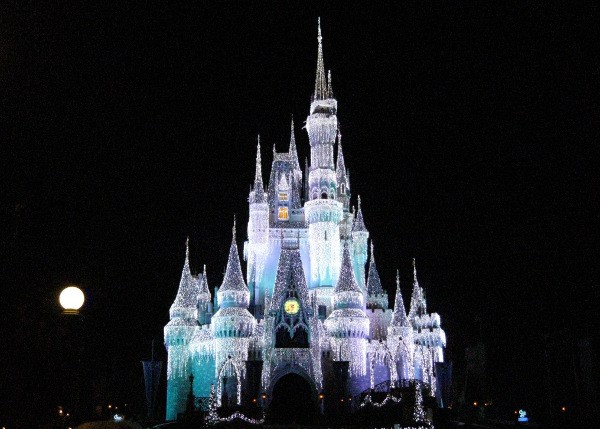 Holiday Festivities:  
Visiting Walt Disney World during the
holidays
is truly magical. The entire resort completely transforms into a holiday wonderland. Christmas decorations go up soon after Halloween, so if you are given an opportunity to visit the parks in November or December, you will still get to enjoy the festive atmosphere.
One of our trips was during the holiday season when my kids were 2 and 4 years old. They loved the blending of Disney and Christmas magic! We did attend Mickey's Very Merry Christmas Party one night (a separate ticket) to see it snow on Main Street and enjoy hot cocoa and cookies while watching the nighttime Christmas parade.
Yes, it was just as picturesque and neat as it sounds, but it was also very crowded and overwhelming to our tired toddler and preschooler. Much of the event was lost on them as they were fighting to stay awake. So as magical as this event was, I encourage you to wait until your kids are older to fully enjoy the experience.
Halloween brings some extra festivities as well with Mickey's Not–So-Scary Halloween Party. Yes, it is "not so scary" so little ones can enjoy it. However, it is similar to the Christmas Party (separate ticket to attend the nighttime party) so I would also encourage you to wait until after the toddler/preschooler years to take the whole family to it.
Finally, Epcot hosts two amazing festivals each year - the International Food and Wine Festival in the fall and the International Flower and Garden Festival in the spring. These two festivals obviously appeal more to adults, but having been during the spring multiple times, the kids do enjoy seeing all of the extra flowers and topiaries around the park. The Flower and Garden Festival also typically includes a small, Disney inspired playground in the park too, which is a great place for your toddler to wiggle and move while older siblings go on the "big kid" rides.