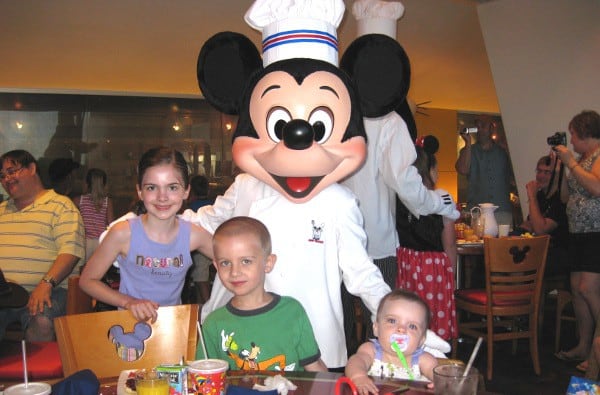 If you are like us, you've thought about a family vacation to
Walt Disney World
, but want it to be perfect. For the money and the travel, it's important to me that the visit be magical. Lucky for us, Emily with
365 Things to Do in Houston
 knows a lot about taking kids to Disney World!
The part of the Disney vacation I'm excited about is not the rides... it's the magic and the dining. I want to see the Pirates of the Caribbean and get "It's a Small World" stuck in my head... but what I really want is to take my kids to brunch and have their favorite characters stop by their table. And how cool would it be to go breakfast in the park, before it is even open to the public? And can you imagine dining at a fancy French restaurant, with worn out kids, and not getting one sideways glance? Emily tells us how to do all of this!
This post is on deciding on the Dining Plan! So you can follow along, here are all 7 steps to planning your perfect vacation:
Step One – Decide on a date and length of stay!
Step Two – Decide on what age is best for your child's first Disney visit!
Step Three – Select the best place to stay near Disney! 
Step Four – Decide on the best Disney tickets to purchase. 
Step Five – Make the visit easier and consider the Dining Plan. - Look below!
Step Six – Pick our your Disney Experiences for the best visit ever. 
Step Seven – Make Disney reservations as early as possible. 
Step Five – Make the visit easier and consider the Dining Plan!
The dining plan is a tricky part of trip planning. Here is a link to the official description and details. Some people love it and some people don't. And then it can also be very confusing and overwhelming deciding on what is best for your family. I will give you our opinion and a few suggestions that will hopefully help you decide.
We absolutely LOVE the dining plan. In my family's opinion, (immediate and extended), it makes everything so much easier. You have one card (now magic bands) that serves as your room key, ticket, and meal card, and you don't have to worry about pulling out cash for each meal or a pricey credit card bill in a few months. It is all paid for with your plan.
And, like most tourist destinations, Disney does mark up the price of food and drink items considerably. So, what might be a $6 meal at McDonald's ends up being a $12 meal at a "quick service" place at the parks.
We also really like eating "table service" meals while at Disney World. It is one of our favorite parts of our Disney trips. It is a nice break in the day and there are so many great restaurants at the parks.
I also love that we can essentially have a fine dining experience in very casual clothing with young, picky, and typically tired children, and it is seen as normal. I don't think I would have ever eaten at a French restaurant with my kids before Disney World! The kids menus gave them healthy and appealing options and we were not out of place.
Also, by getting the meal plan, you are essentially paying a set price for your meals per day. So, when eating a "table service" meal, you get a great deal more value for your plan. Most of these meals cost way more than what you pay per person for the meal plan. We ate several, very expensive meals and only had to pay for the tip (and alcohol when applicable). Those meals alone made the dining plan worth while.
Table service meals are also a great way to meet and interact with the characters while at the park. At character meals (which are always table service meals), the characters come to your table so there is no waiting in line - a much nicer way to experience your favorite characters.
The breakfast buffets are all really yummy too. Some of our favorite foods were eaten at the breakfast buffets. And these count as table service meals, so once again these make the plan worth it. I did find a website a few years ago that gives you the price per day and it helps give you an idea how easy it would be to eat more than that amount.
The "snack" options can be confusing. Some people feel they don't use them all. But, we always end up using them throughout the trip, even if we have to stock up on water bottles and other "treats" that can be packed in suitcases for our travels (like specialty rice krispy treats or bags of pretzels) to use up any remaining ones.
I don't think people realize that you are alloted so many meals and snacks per night of your reservation, but that it doesn't matter what day you use them. It is just a total count for your whole stay, including the day you arrive. Once we learned that, we were able to plan our meals accordingly.
So, now to help you decide what is best for your family...
1. Do table service meals sound appealing to you?
If yes, I would do either the Disney Dining Plan or the Deluxe Disney Dining Plan without a doubt and plan to eat at least one table service meal once a day (or more).
2. Are you big breakfast eaters?
If yes, I would definitely get the Deluxe Dining Plan that would entitle you to more than one table service meal a day (breakfast buffets and a table service meal for lunch or dinner).
3. Does your family have any desire to see the characters?
If yes, I would do the Disney Dining Plan or the Deluxe Disney Dining Plan that includes the table service meals.
4. Would you rather stick to fast food and not mess with sit down restaurants?
If yes, the Disney Quick Service Dining Plan is a good option but not a must. It would cover some of the costs but not keep you trapped. Check this to see if the price per person sounds like it is worth the value to you.
Making Advance Dining Reservations...
When we go to Disney World, we get the Deluxe Dining Plan that allows us to have multiple table service meals a day. Once again, we love the meals as much as the rides.
Meal times are very important to me as a mom since kids are much happier when they have eaten. I have learned through experience that the timing of the reservation does matter. Even with reservations, you may have to wait 10-15 minutes before being seated. And then a true "table service" meal can last up two hours, so you almost want to plan your meal times with the end time in mind, not just the beginning.
I also have learned that no matter how tired the kids are, when they are young, they will continue to wake up at an early hour. Go with that and start early.
Also, when your breakfast is at a restaurant in the park, you are allowed to enter the park before it opens and get a neat perspective of everything before the crowds arrive. Some of our favorite pictures are done during this before hours time.
So with all of this in mind, here is my plan for each day…
Table Service/Breakfast Buffet - around 8 or 8:30am (depending on location or how far away the restaurant is from the hotel since you have to allow time to get there)
Quick Service meal for lunch or an assortment of snacks - mid-day
Table Service meal for dinner – around 5 or 5:30pm
Depending on reservation availability and where we want to eat, we sometimes will end up having to switch it up a bit…
Quick Service meal at the hotel for a light breakfast before heading out
Table Service lunch - around 11-11:30am (you make this as early as possible so you have time to eat and be hungry again for dinner)
Table Service meal for dinner – around 5 or 5:30pm
Selecting the restaurants…
Way in advance, we go through our guidebook or the website reading the restaurant descriptions and menus and make a list of our top choices according to park location. Many of our favorite restaurants are hard to get reservations at, so it is important to start with those when making your advance dining reservations and let the availability of those restaurants determine the plan for the rest of the day.
For example, eating breakfast at Cinderella's Castle is a must if you have a princess fan in your family. So when I call to make reservations, I ask for our preferred early morning time. Whatever day we get those reservations is the day that we visit Magic Kingdom and then I try to get a dinner at another desired Magic Kingdom restaurant.
Then, we move on to our top choice for an Epcot meal and so on. Once we have the top restaurant reservations made and a tentative itinerary for park visits, we fill in the other meals. We also make a point of enjoying a Table Service meal at or near our hotel for the night of our arrival. After a long day of travel and fast food, it is such a nice treat and a great way to start the trip.
I can give you a list of our preferred restaurants if you are interested and I do strongly recommend you go online or call to make the reservations as soon as you decide on your dates. Reservations can be made up to 180 days prior to your arrival date and some of the top places book fast, especially the character meals. So the farther out you can make your vacation plans, the better.