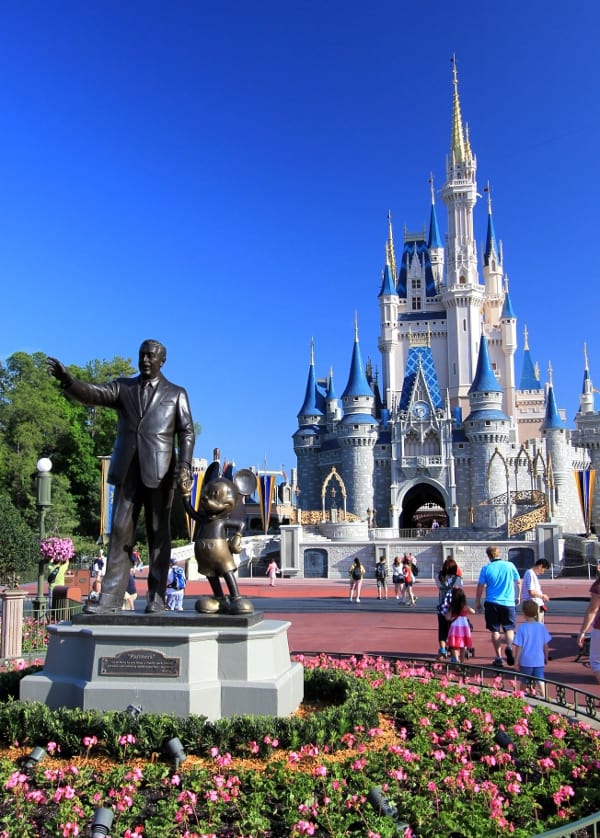 Since I've had kids, I've been thinking about taking them to Walt Disney World. And I just keep thinking about it because I don't know where to start with planning the perfect trip. If we are going to spend the money and haul everyone to Florida, I want it to be magical... and lucky for me, I just ran in to Emily with
365 Things to Do in Houston
.
Emily knows Disney! Read on to learn about:
A good length for your Disney vacation.
The different Disney Parks to explore with the kids.
The best time of year to visit for smaller crowds, good weather and good "Disney Experiences"!
The "Baby Swap" ride policy.
The best ages for first trips to Disney.
The best hotels and best transportation for all ages.
How to pick the right Disney tickets.
How to make your reservations, to stop thinking about the trip and how to make it happen.
In her own words, Emily tells us about how she fell in love with Disney, again, through the eyes of her children... and the 7 Easy Steps to the perfect vacation!
I still vividly remember the first time I went to Walt Disney World. It was June 1984, the summer after 3rd grade. My family of 5 went on a three-day road trip from McAllen to Orlando. We had lots of experience visiting Six Flags and Astroworld here in Texas, but I do not think we fully knew what to expect with Disney World.
After our first day at the park, we were hooked, and after a week there, we had a new standard of vacation experiences. Every year after that, my older brother and I campaigned for a return trip. We were finally successful in our efforts and returned when I was in middle school (this time, thankfully, by plane) and again in high school. I also was lucky enough to go back again while in college. Each trip was just as fun and memorable as the last!
Then in 2007, I returned to Walt Disney World, but this time as a mother of young children, and I quickly discovered my new passion. There is no doubt that Disney trips are magical to kids. However, experiencing Disney World through the eyes of your children is even more magical. And with every new passion, I became very interested in learning how to enjoy the parks more fully and truly immersed myself in all things Disney travel.
Three kids and 5 Disney trips later, I am now our family's official travel planner and love planning Disney trips almost as much as visiting the parks. I am thrilled to be able to share my experiences and advice with other parents. I hope I can simplify the planning process and help make your family Disney vacations more fun and more magical.
First of all, my favorite guidebook is Birnbaum Guides Official Guide to Walt Disney World. They release a new edition each fall and these books do a great job of providing basic information in an easy to read format. I would recommend getting it to assist you in your planning and to help make more sense of my advice.
Below are the 7 Easy Steps to Planning your perfect trip!
Step One – Decide on a date and length of stay!
There are 4 parks at Walt Disney World – Magic Kingdom, Epcot, Hollywood Studios, and Animal Kingdom. If you are interested in visiting all four, I recommend having at least one full day per park with an additional day to allow you to go back and do things you might have missed or want to do again. If you have more time, there are also two water parks (Blizzard Beach and Typhoon Lagoon) and a very cool shopping/dining/entertainment area (no ticket required) called Downtown Disney.
We really enjoy visiting Downtown Disney and try to schedule in a half-day or late afternoon/evening to visit it. So in my opinion, 4 full days at the parks is a good bare minimum, 5 days gives you a little more wiggle room, and 6 or more days allow you to take it all in at your own pace.
We typically do not visit the parks on our arrival day or departure day. We drive and honestly do not feel up to it. However, if you fly, you may arrive early enough and want to get a head start on the parks. This is definitely something to keep in mind when making your reservations since your hotel stay might vary from your park admission days.
When deciding on when to visit Disney World, there are pros and cons for any time of year and countless websites and books that can show you weather and crowd trends for any given week. Our family has gone twice during spring break, twice during the first week of summer vacation, and once in early December.
Spring Break is an enjoyable time to visit. The weather is nice and if you have school age children, it provides a full week to be at the parks without interfering with school attendance. Crowds can get big depending on the proximity to Easter, but our spring break is always mid to late March and it tends to still be very manageable.
Visiting during the first week of summer can be rather hot and humid. However, it allows for the most flexibility with our stay and also has the added bonus of coinciding with Star Wars Weekends which is very exciting in our family. (More on that later in "Experiences"!)We also just plan to be hot and sweaty during these trips, and also incorporate pool time and water rides into our daily routine.
My favorite time to visit though was during the first part of December. My kids were not in elementary school yet so attendance was not a concern. We specifically chose this week to avoid the holiday crowds, but enjoy the festive decorations, holiday activities, and incredible weather. It was wonderful!
Step Two – Decide on what children's age is best for a Disney visit! 
Step Three – Select the best place to stay near Disney!
Step Four – Decide on the best Disney tickets to purchase. 
Step Five – Make the visit easier and consider the Dining Plan. 
Step Six – Pick our your Disney Experiences for the best visit ever.
Step Seven – Make Disney reservations as early as possible.