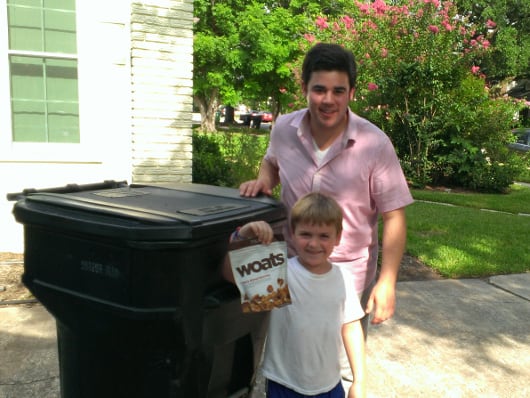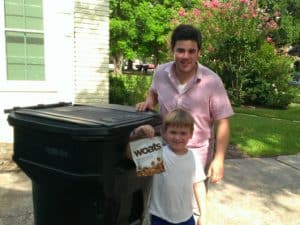 In February 2012, Joe started his own little Garbage Can Curbside Service. He asked our neighbors if he could roll out, and then back in, their garbage cans on trash day. In return, they would pay him 25¢ each week.
Through the job, Joe has learned many life lessons. He has learned to be reliable, that you cannot just quit, that hard work brings you recognition and the value of money.
You can get the free download HERE on the benefits we've seen from Joe starting a small business and how to start your own. As stated in this booklet, it is our opinion that a childhood business is not started to save money. It is started to reveal human behavior in regards to money and opportunity. Once experienced, the child can know what behavior works and self-correct what does not work.
And this has been effective for us. But now we have had a lot of experiences, and corrected our behavior, and are ready to learn more.
We have been fortunate to be in contact with several successful entrepreneurs and business owners who have encouraged Joe to start 3 funds:  Spending Fund, Giving Fund and Wealth Fund. Joe has done very well at this. He tucks away money without question, he spends money freely on Legos and he gives generously to US Soldiers.
But now it has occurred to me that Joe will soon know more than me. Not that he will think he knows more than me, but that he will, in fact, have a better visceral understanding of entrepreneurship than me. After all, I did not start a business as a child. And as an young adult, I went to work for someone else.
We needed someone to help guide Joe. Just as we were looking for a mentor, we met Justin Anderson.
As a teenager, Justin was eating granola and broke off a bracket of his braces. This inspired him to create a softer snack and, by the time he was 16 years, he had started his own company. Now he is the Founder and President of WOATS.
WOATS mission "is to inspire kids and young adults to discover and harness their passions, make a difference in their communities and change the world for the better". How cool is that?
Justin reaches out to kids with big ideas and he stopped by our house to pull out trash cans with Joe. He offered his encouragement and his time to help Joe the Garbage Man.
And it's not just Joe the Garbage Man. WOATS will work with schools and kids everywhere to "harness their inner oat"! Just go HERE to learn more.
This is just what we were looking for. I just didn't know it would come in the form of whole grain oats.