Hello BigKidSmallCity readers! I have missed cooking and blogging with you. It's been a long while, and I am happy to be back; my girls are too. They were incredibly excited to be doing a post again. Hope you enjoy this one!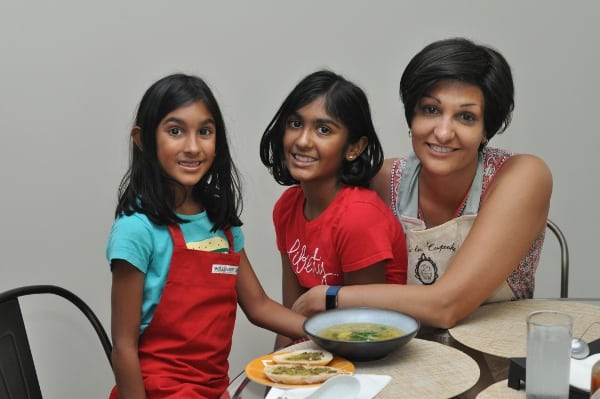 This past winter, I purchased a recipe book for a friend. It was a beautiful and vibrant recipe book with excellent reviews. It seemed well-written and a great gift for someone who cooks. My friend LOVED it and raved about it (affiliate
The Love & Lemons Cookbook
).
She cooked for many days from it, and even bought one for another friend. Her ringing endorsement convinced me to buy one for myself as well. I also liked that the author was from Texas and liked to support local farm shares.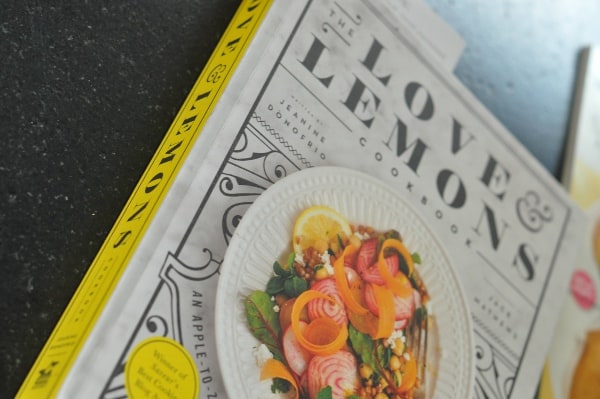 So when I got the book a few months ago, I flipped through it and loved looking at the pictures. Such gorgeous pictures of food…and then I shelved the book.
Yes, I am admitting it. Sound familiar?
I finally opened the book again this past weekend. I asked my younger daughter to flip through it with me and help me pick a recipe for dinner. I remembered that all the recipes were sorted in chapters by fruit and vegetable and that the recipes were vegetarian. Since we had to go to the grocery store that afternoon, it was perfect timing.
She stopped on a page that showed soup. I wasn't sure the girls would eat leeks, but was willing to try. We wrote down the ingredients along with our weekly grocery list and headed out. I did forget the sage because I lost my grocery list while shopping, but I decided to substitute with complex and deep herbs like an Italian spice mix and fennel seeds.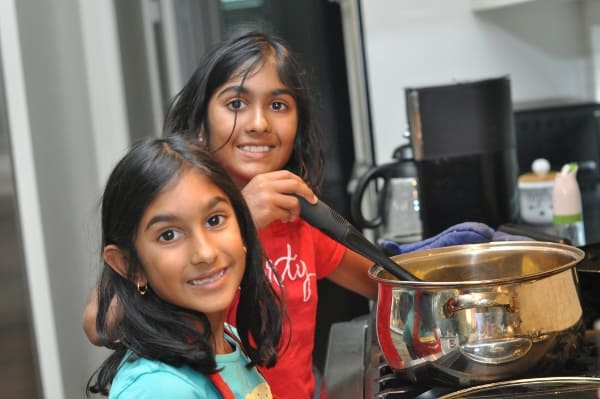 My younger daughter helped me prep and the older one helped cook. The recipe was surprisingly quick, but very flavorful for the short cooking time! It was not difficult at all to prep or cook and the kids had loads of fun helping. We would definitely make this recipe again. If you absolutely must have meat, you could add shredded rotisserie chicken at the end to each bowl. This recipe serves a family of 4-5 people.
We will definitely be cooking from the Love & Lemons cookbook again. If you don't buy cookbooks, you can check out Jeanine Donofrio's blog at loveandlemons.com, or her Facebook page called Love and Lemons.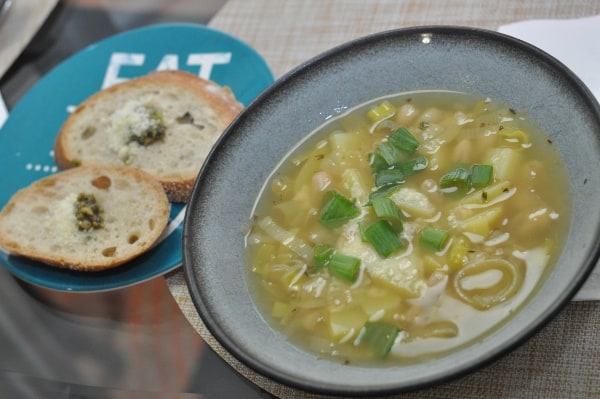 Recipe:

2 medium sized leeks
2 teaspoons extra-virgin olive oil
3 yukon gold potatoes, chopped into bite-sized cubes
4 garlic cloves, minced
Pinch of fennel seed
Pinch of dried Italian herbs
⅓ cup dry white wine
4 cups vegetable broth
¼ cup water
~3 tbsps fresh thyme leaves
1 can cannellini beans, drained and rinsed
1.5 tbsp fresh lemon juice
Store-bought pesto
Sliced French bread
Sea salt and freshly ground black pepper
Chopped green onion
Chopped fresh parsley
Finely grated parmesan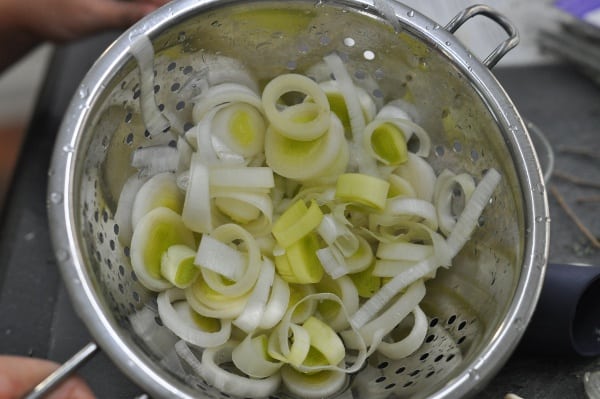 Slice the white parts of the leek into rings. Using a strainer, rinse the leeks thoroughly.
Heat the olive oil in a large pot over medium heat. Add the leeks and a pinch of salt and pepper. Stir and cook until the leeks begin to soften, about 2-3 minutes.
Add the potatoes and another few generous pinches of sea salt. Cook until the potatoes begin to soften, about 3-4 minutes. If potatoes stick to pan, turn heat down slightly.
Add the garlic, fennel, and herbs and cook for two more minutes. Stir in white wine and water and cook for another 1-2 minutes. Add vegetable broth and thyme.
Reduce the heat to medium low, cover and cook until the potatoes are tender (about 20-22 minutes). Add the cannellini beans during the last 5 minutes of cooking time.
Before serving, add fresh lemon juice to pot, then taste and adjust salt and pepper, as desired. Garnish with chopped green onion, parsley, parmesan and a teaspoon of pesto! Serve alongside crusty bread with pesto for dipping. Happy eating!
[Go HERE for more of recipes!]