Are you looking for Ninja Warrior Playgrounds around Houston? Look below for good play areas for little ninja warriors… and a real outdoor ninja course!
My kids love to watch America Ninja Warrior. And when we go to parks, they race through the monkey bars and zip lines like a Ninja Warrior obstacle course.
My kids tell me that the best parks for ninjas have lots of ladders, zip lines and several kinds of monkey bars. If you also have a ninja, here are just some good Houston area ninja parks. (And if you want an official Ninja Warrior gym, check out Iron Sports!)
I know there are more… so tell us what to add!
Ninja Warrior Playground around Houston: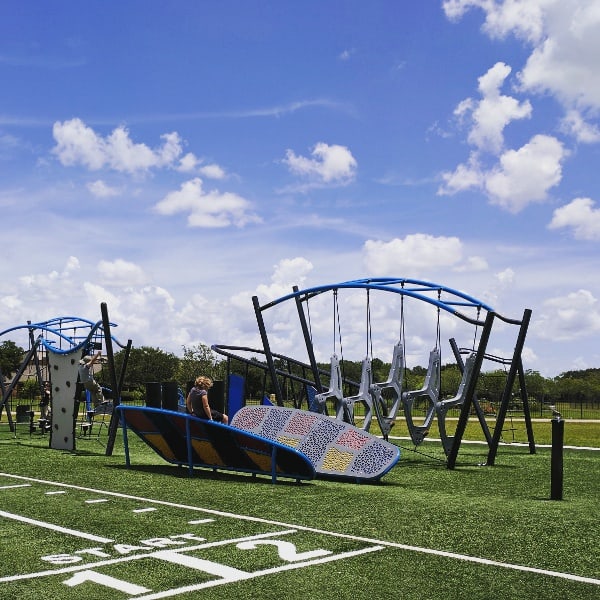 This permanent and public outdoor playground is a NFL themed ninja warrior course with 11 obstacles… complete with the timer button at the end. We go from Houston park to Houston park, making playgrounds into ninja courses… but Tom Bass Park actually has a ninja course!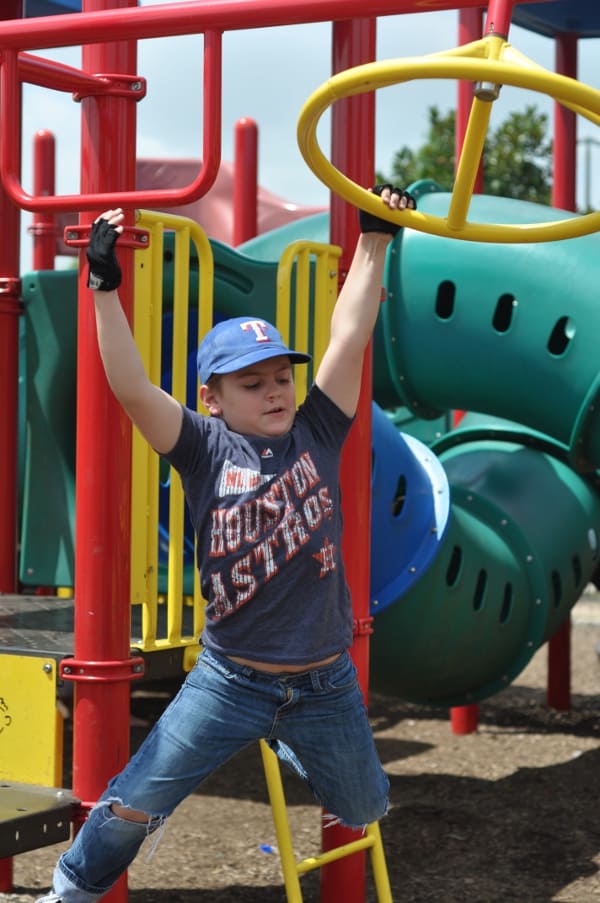 2. Nottingham Park – 14205 Kimberley Ln, Houston, TX 77079
Oh, this one is good! Wheel monkey bars, loop monkey bars, zip lines… plus a whole kid fit playground with rock wall and equipment for exercise.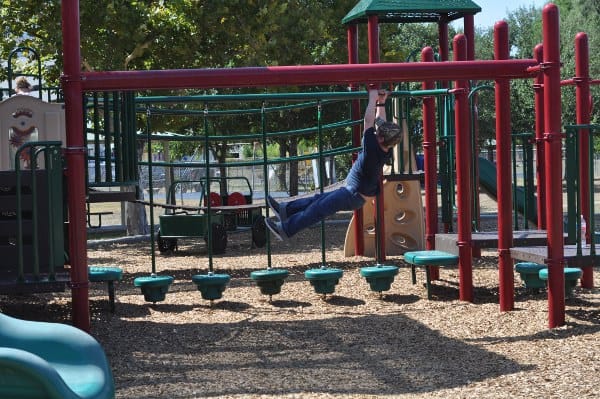 3. Bendwood Park – 12700 Kimberley Ln, Houston, TX 77024
Bendwood Park has two parks right next door. Here there are bridges, zip lines and monkey bars. Ninjas can race the clock on this playground.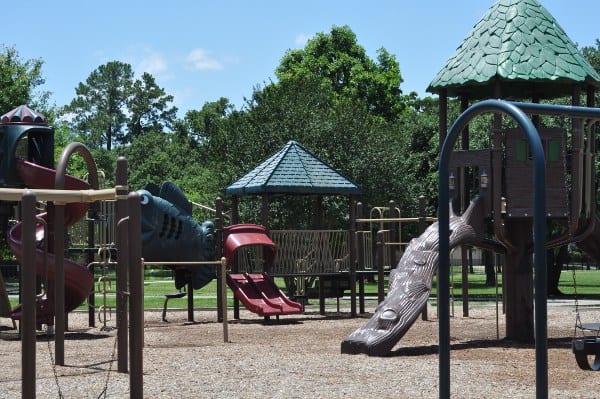 4. Nob Hill – 10300 Timberoak Dr, Houston, TX 77043
Ninjas will have to do some running at this park because the equipment is a little spaced out… but there is a lot of it. Bars, tree house, bridges and more.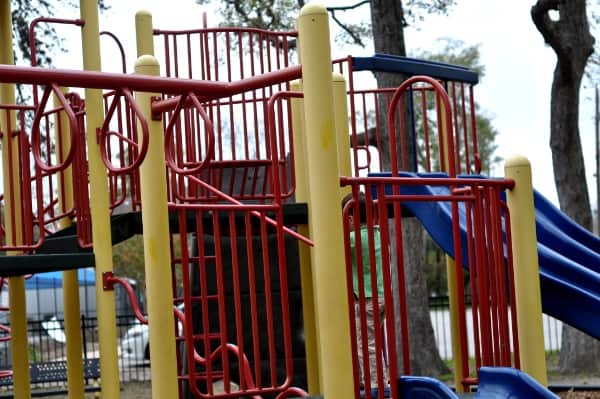 5. Evergreen Park – 4500 Evergreen Street, Bellaire, Texas 77401
The equipment is squeezed together… but you can climb and swing through this Bellaire park.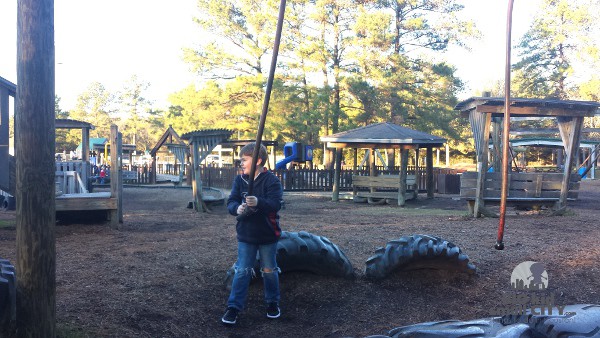 6. Matheson Park – 1240 Ulrich Road, Tomball TX, 77375
This wooden park is full of giant tires, big zip lines and lots of equipment. If you built an amazing obstacle course in your back yard, it would look something like Matheson Park in Tomball.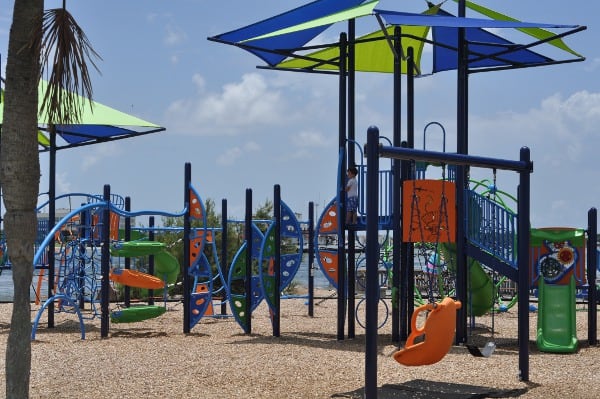 7. Seawolf Park – 100 Seawolf Pkwy, Galveston, TX 77551
So apparently little ninjas can start on one edge of this playground… and scale their way across to the other without touching the ground. There is less swinging and more climbing across this really cool Galveston playground.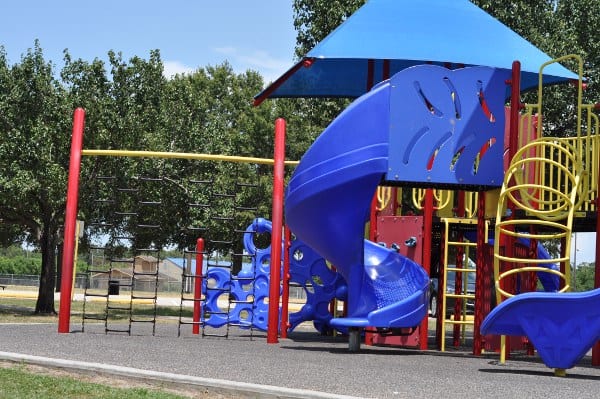 8. Clear Lake Park – 5001 E NASA Pkwy, Seabrook, TX 77586
I mean, just look at this place. Rope ladders, walls to scale, monkey bars… and this is just some of the equipment at Clear Lake Park!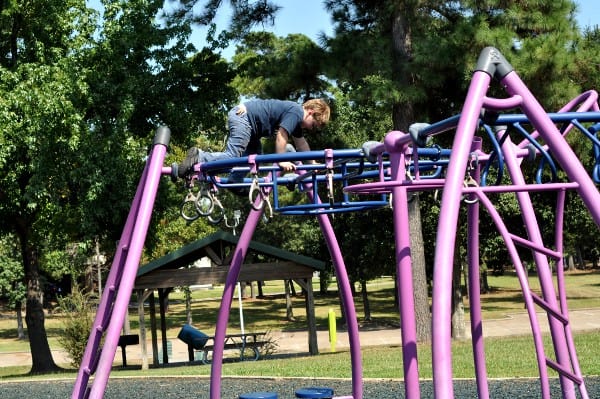 9. NC Foote Park – 2428 West Main, Baytown, TX 77520
Circles or monkey bars and ladders. This Baytown park is good for ninjas!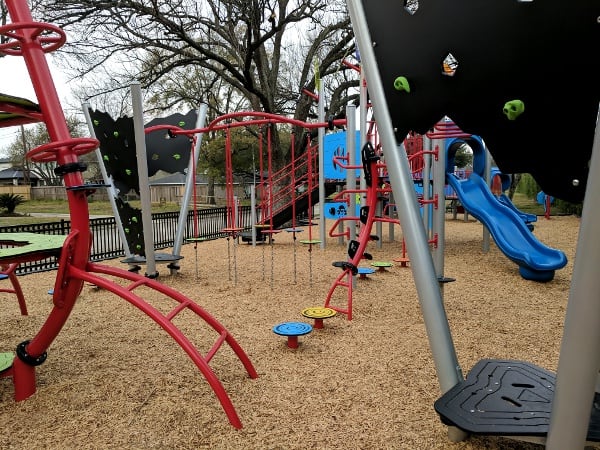 10. Ware Park – 6200 W Loop S, Bellaire, TX 77401
Lots of unique bars, ladders and lily pads!