Skip the line… Get the seats your kids are clamoring for… All for free with a standard Hermann Park Membership.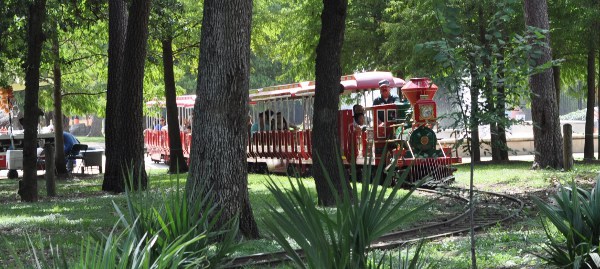 On the second Saturday of each month, we march past all the antsy kids waiting for the Hermann Park train, show our membership card and ride for free.  We get to select our seats first and I never have to hear, "But we waaaaaanted THAT seat on the train.", because we've already got it.
Many Houston families have a membership to the Houston Zoo, and maybe to the Children's Museum or Museum of Natural Science…  Why not get a membership to Hermann Park and ride the train all year long?
A family membership is $50 and pays for itself in less than 2 months.  Membership includes:
4 Free Train Tickets ($13.00 Value)
1 Pedal Boat Ticket ($10 Value)
Free Monthly Train Rides ($156 for a family of 4.  Bigger savings for bigger families!)
This is a value of $179 and it doesn't even capture the value of being able to skip to the front of the line and select the seats you want!  You get to ride for free once a month, and have this fast pass every singe busy day, including summer, holidays and weekends!
More membership benefits include:
Access to the Member Express Line for the train at Kinder Station
10% off merchandise in the Conservancy Gift Shop
10% off orders in Pinewood Cafe
AND your membership supports a fine Houston park.  Your $50 keeps the park running smoothly (and keeps it clean and fixes what's broken and provides the perfect urban oasis for Houston).
I receive no compensation for promoting the memberships, but as you can tell, I'm quite passionate about it.
If you purchase a family membership to Hermann Park, I'll give you a special gift.  At the August 6 Hermann Park Celebration,  BigKidSmallCity will give your kids a conductors hat and bandanna to wear around the party and take home!  Either purchase the membership online (and come find me at the event) or purchase it there.   (Picture is below!)
If you get your family membership at the August 6 event (or online), you will get to:
Skip the line ever busy day of the week (including during the busy $1.71 train ride day on August 6)
Come back on August 9 to ride all day for free!
Walk around with cute little conductors wearing this hat and bandanna!
Support our fine park and get your membership!