There is a new restaurant in Hermann Park and it is surprisingly affordable. Across from the zoo and right next to the to the train station is Pinewood Cafe. Here you can get salads, wraps and their famous grilled cheese sandwiches.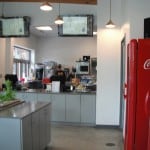 The kids and I were hungry and hot after watching a show at Miller Outdoor Theatre. Before heading into the Houston Zoo, we decided to try the new restaurant. At 1:00 on a Friday, there were a few families in the restaurant, but it was not too full. We ordered at the counter and then found our seats.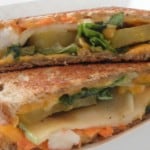 The kids meals all come with a small bottle of water and fries, apple or banana. Brooke had a corn dog kid meal ($3) and Joe had the grilled cheese kid meal ($4). I ordered Pinewood Cafe's specialty grilled cheese sandwich. For $5 I was able to pick one protein (shrimp), one cheese (Cheddar) and 5 vegetables (sprouts, basil, carrots, pickles and apples).
We sat in the air condition and enjoyed the views of the park through the ceiling to floor windows. High chairs were available and there was a basket of blocks for the kids to play with. Our food arrived in about 7 minutes and everyone was pleased.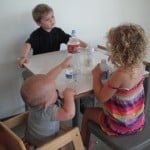 While we ate lunch, several families came in for lunch and ice cream, but the place was never over crowded.
The kids and I decided that Pinewood Cafe was a new go-to restaurant for when we are in Hermann Park or the Museum District. Next time we'll check Yelp before we go since I just discovered a $10 vouchers, being sold for $5.
Address: 6104 Hermann Park Dr, Houston, TX 77004