Map
Hours: 6am to 11pm. The Japanese Garden is open from 9am to 6pm (spring/summer hours).
Cost: Free (for the park)
Appropriate Age:  All ages
Our Review:
We love Hermann Park. It's right in the middle of the museums and medical center and close to downtown. The park is free and there is a lot to keep us entertained. Families are everywhere, picnicing, feeding the ducks, playing on the playground, hosting birthday parties in the pavillions or just enjoying the green. There are also two splash areas where kids can run through the water. Check out the map  for all the places to see.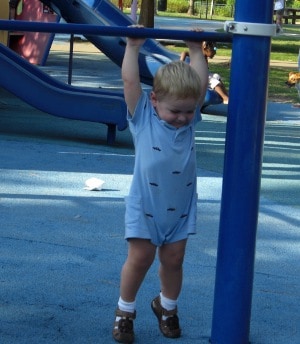 If you don't have time to pack a lunch, or you need some air conditioning, the Houston Museum of Natural Science  is right across the street. The grand hall does not require a ticket and has a McDonald's. Note that the menu at McDonald's  does not show this, but you can order just a hamburger for about $1.
Parking is free at the park, and usually easy, unless there is an event or it is a holiday. For those days, I suggest arriving early or riding the METRORail. There are three stops near the park:
• Hermann Park/Rice University stop at Fannin and Sunset
• Memorial Hermann Hospital/Houston Zoo stop at Cambridge and Fannin
• Museum District stop between Ewing and Binz
There is also a for-pay parking garage is available at the Houston Museum of Natural Science. On weekends, visitors may park in the Memorial Hermann Medical Plaza Garage at the corner of Cambridge and Fannin across from the Park for $6 per day (subject to change).
What is your favorite thing to do at the park?