Every school day I make a fun lunch for my kids. By far, their favorite thing to pack is Sushi Rice
. They don't really care if they get rice balls, sushi or just plain rice... as long as there is rice!
This week I made them sushi!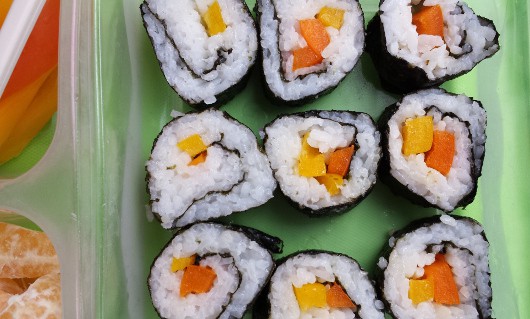 Sushi takes a little more work than the rice balls, but not more than 10 minutes of time. And I assure you it takes very little skill.
Detailed instructions are HERE and a quick summary is below.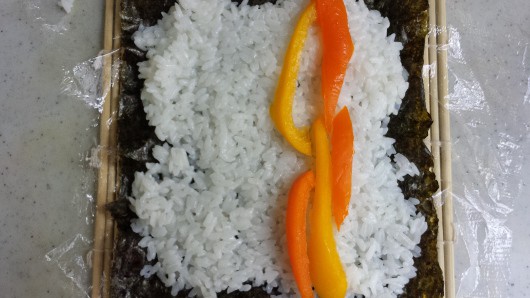 1. Cook Sushi Rice
in rice cooker. It must be sushi or Japanese rice or it will not stick together! I know because I've tried!
2. On a flat surface, lay out Bamboo Sushi Mat
, a sheet of plastic wrap and Nori Sheet
.
3. Use a wet spoon to spread rice over the Nori Sheet
.
4. Make a line, near the edge of the nori, with your preferred filling. I used peppers.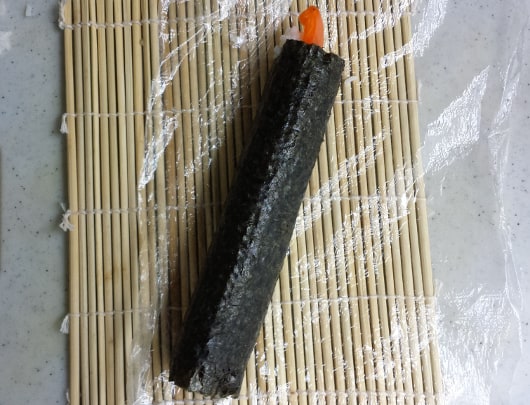 5. Start to roll the bamboo mat and nori over the filling. With each turn, squeeze the mat tightly. Really squish the sushi rice together so it sticks the roll together like glue. Finish rolling.
6. Use a wet serrated knife to cut the roll. This is the trickiest part for me. Rinsing the knife helps to keep the rice from sticking.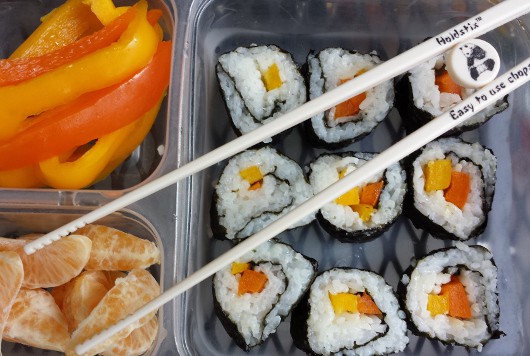 I packed these rolls up with some fruit and veggies and Easy to Use Chopsticks
. And the kids loved them!