One of my favorite places to go during the holidays is Discovery Green. There is an ice rink, family friendly events, holiday lights... and close by there is a giant chocolate display, lit up Texas shaped lazy river and Downtown Christmas light display.
Here's what to look for in 2021:
Jump to: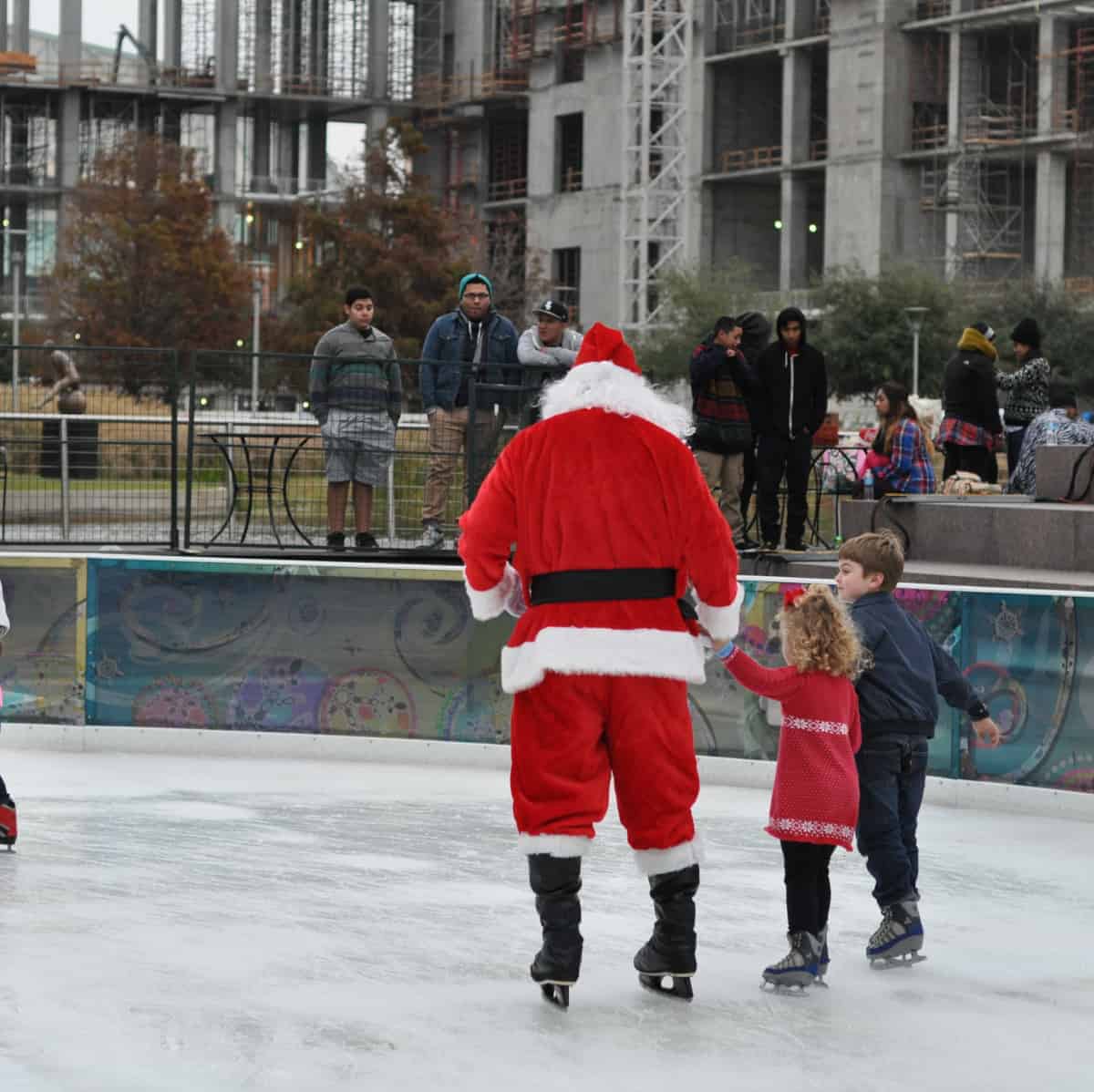 ICE skating is at Discovery Green November 12, 2021 through January 30, 2022. The rink is outdoors and open every week night and all day on weekends and holidays.
This year the holiday light display is called "Mosaic of Light" by artist collective HYBYCOZO.
The art is placed along the Brown Promenade and hung from the oak trees.
During the day the sculptures are gold jewels. At dusk and beyond, the glowing structures create light, and dancing shadows give them an expansive presence that interacts with visitors and the surrounding environment.
Discovery Green hosts family friendly events all year long. During the holidays, this includes free Christmas movies on the lawn and special characters on the ice (with ice skating ticket).
See the full calendar HERE.
What 2,200 pounds of chocolate and is 6.5 million calories? It's the Christmas display at Hilton Americas next to Discovery Green… and it's back for 2021!
This year the chocolate masterpiece is Nutcracker.
Float through the lazy river lights at the Marriott Marquis Houston in Downtown Houston! Back for its second year, the Texas Winter Lights will be open November 11, 2021 - January 3, 2022.
General Admission tickets are available for the public Monday through Thursday
This is about 10 blocks from Discovery Green... but on the City Hall side of Downtown, you can find a free holiday light display between Lamar and Franklin Street.
Drive over after your trip to Discovery Green. (You can walk too, but at night I would personally make sure I had a second adult with me.)
Parking
Downtown Houston has paid street parking and paid lot parking. Be sure to check the signs before you leave your car.
Metered street parking becomes free after 6:00pm and on Sundays.
Restaurants
Discovery Green has restaurants onsite. I also like to walk over to Phoenicia Specialty Foods because it's easy, casual and good.
HERE are more ideas on where to eat by Discovery Green... but know that I have not updated it since before the world got weird, so things may have changed some. (If you know of changes, send me a message/comment and I'll update it!)