ICE skating is at Discovery Green November 12, 2021 through January 30, 2022! The rink is outdoors and open every night.
This year there is only online ticket buying and Discovery Green is enforcing capacity limitations. Get details HERE!
Jump to: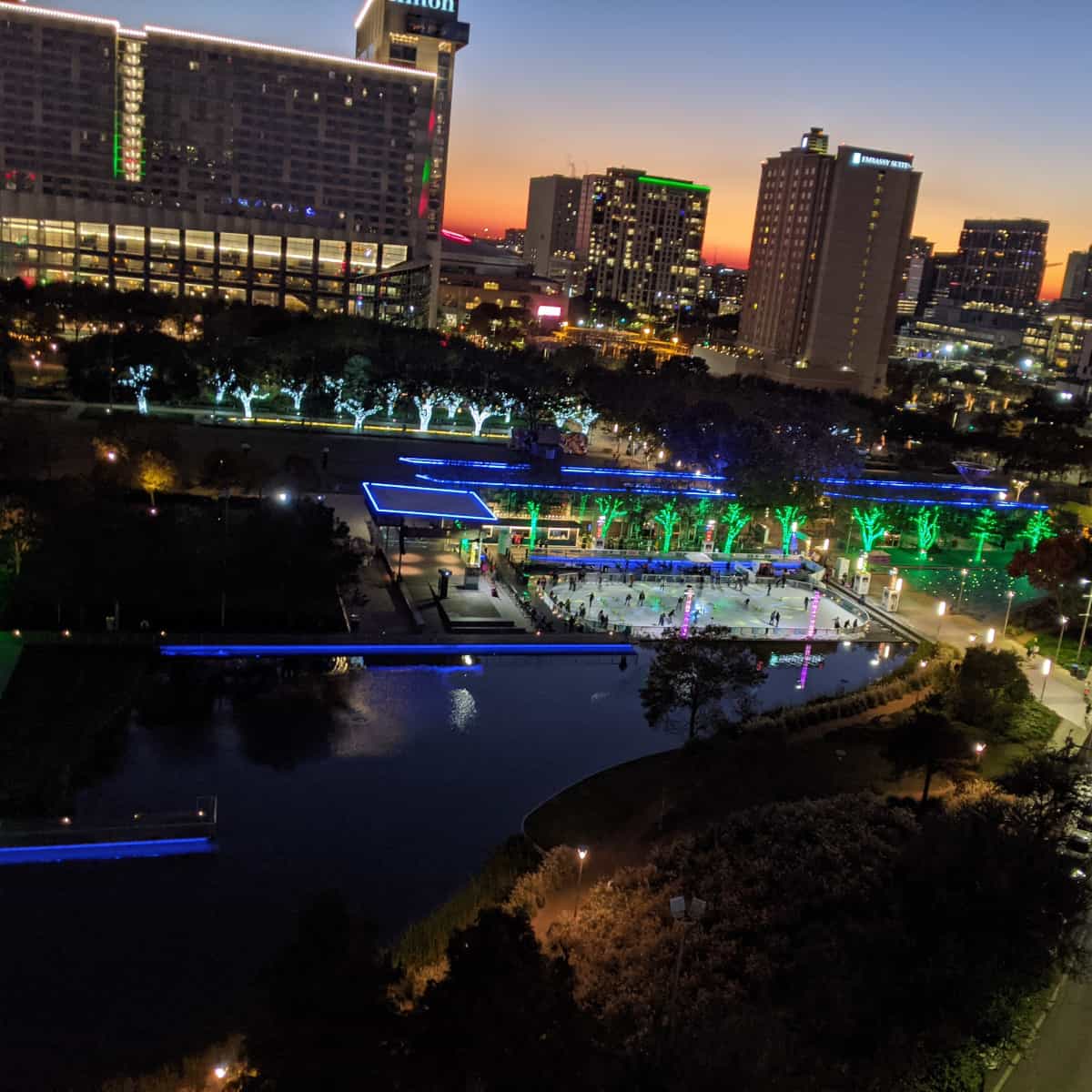 ICE Skating at Discovery Green Hours of Operation
Monday – Friday: 5-10 pm (Fridays open until 11pm)
Saturday & HISD School Holidays (Nov. 22-26; Dec. 22-31; Jan. 17): 11 am-11 pm
Sunday: 11 am – 8 pm
Christmas & New Year's Eve: 11 am-7 pm
Christmas & New Year's Day: 1-7 pm
Ice Skating at Discovery Green Tickets
Must be purchased online
$15 admission, skate rental included
Cheap Skate Mondays: $8, skate rental included (Mondays, Nov 15 & 29; Dec 6 & 13; Jan 3, 10 & 24)
ICE at Discovery Green Weather Delays
Because the ICE is outdoors, in Houston, it can close due to weather. (This usually happens if it gets too hot or if it rains.)
Call 713.434.RINK (7465) for updates and check www.discoverygreen.com for closures and other delays. Guests holding tickets will be notified via email and their tickets refunded if weather closures are necessary at their reserved times.
Wheelchairs on the ICE
Non-motorized wheelchairs are allowed on the ICE.
The wheelchair user must be accompanied by a responsible adult (but only one ticket must be purchased).
Parking
All parking in Downtown Houston is paid parking. That said, metered street parking becomes free after 6:00pm and on Sundays. If you park on the street, be sure to check the signs before leaving your car.
There is also a parking garage under the park. The entrance is by the George R. Brown Convention Center. The rates change some but it can be expensive.
You can also find a lot of paid lots surrounding Discovery Green.
More Houston Holiday Activities
After ICE skating at Discovery Green, walk through the park to look at the lights.
For more holiday events around Houston, including lights, shows and events, go HERE!