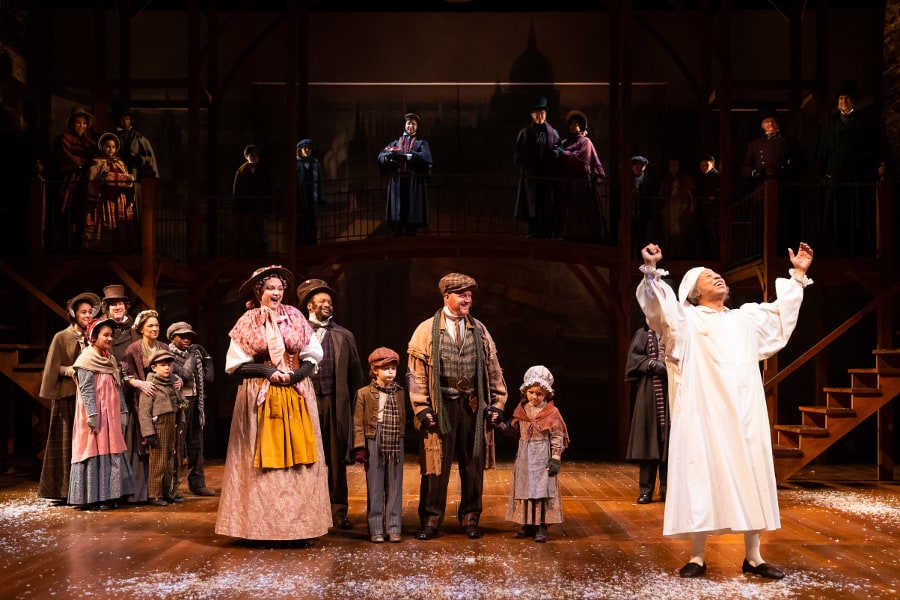 We just saw A Christmas Carol – A Ghost Story of Christmas at Alley Theatre and are officially in the holiday spirit!
This is a family-friendly re-telling of Charles Dickens' classic story, which follows Ebenezer Scrooge's journey with the three ghostly spirits who visit him on Christmas Eve. A Christmas Carol instills a powerful message about redemption and the spirit of the holiday season.
You can see the show through December 29, 2019 and it is suitable for general audiences (recommended age 6+). The run time is 2 hours with a 15 minute intermission.
I took all the kids, and this is what I have to say:
A couple of my kids do not love the theater. That said, they saw the show last year and they all insisted in going again this year. Also, my younger son (8) understood just pieces of the show last year, but really appreciated it this year.
The show is recommended for ages six and older. My three year old hates to be left out and insisted she would be on her best behavior. I brought her... and all went amazingly well. She watch the show and spent some time on my lap. (And know that I was fully prepared to take her to the lobby if there was any talking or fussing. I've spent hours of my life in lobbies, with a noisy baby, while the big kids finished an activity!)
If you arrive early or stay late at Alley Theatre, you can take your pictures next to all the Christmas trees in the lobby.
The show is very well done and there is not a bad seat in the house. The seats wrap around three sides of the stage. This year we were very close to the stage and it was amazing. That said, the ghosts can be a little spooky so some kids might prefer to be a little further away.
There are some dancing skeletons… and of course, three ghosts of Christmas. The show was mostly funny and entertaining, but we all jumped when there were load sounds.
All parking is paid in the Theater District (except on Sunday or after 6pm, when street parking is free). I prefer paid metered parking on the street… but had to give up and pay to park in the lot next to Alley Theatre.
You can wear jeans or a cocktail dress… and there was some of everything. Last year I wore my coolest jumpsuit... and ripped out the entire back zipper as soon as I arrived. I spent the show and intermission with two jackets wrapped around me. I am happy to report there were no wardrobe issues this year (unless you count my toddler wearing mismatching Santa clothes).
I highly recommend this Christmas show! If you want to take the family, go HERE to get tickets!