Whatever you planned to do at dusk tonight, cancel it. Hello, Trees! at Discovery Green is the coolest holiday art installation the park has ever had!
Now, if you just see it with no one around, it looks pretty boring. It's just white arches over the promenade. BUT if you go up and speak into the tube, the lights and sounds serenade you! AND if others do the same on the other side, it's even better!
(And if you can't go tonight... go any night through February!)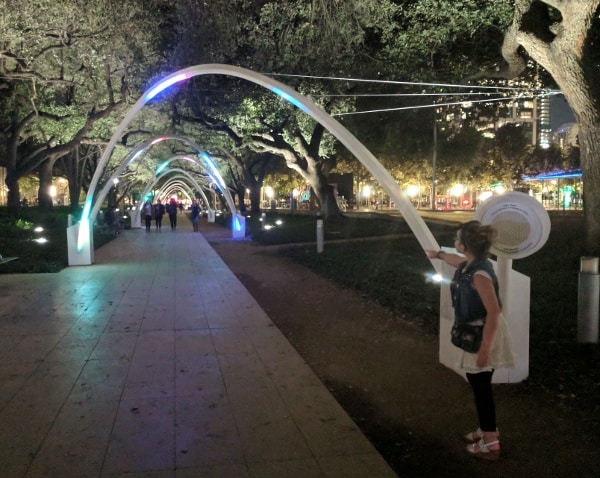 This was created by the Montreal art collective Daily tous les jours specifically for Discovery Green... and it transforms your voice messages into light and music, inspired by the inaudible connections and processes that exist in nature.
The original voice input is gradually transformed into a musical melody as the light reaches the base of each arch. When two messages meet, a special light and sound effect is triggered.
Learn all about it HERE! The exhibit is free and is open through February 25, 2018! (And go see the giant gingerbread house next door at Hilton Americas!)