From Houston Mom, Melissa:
Sometimes living so close to the heart of the city can be challenging with little ones; bumpy sidewalks for strollers, busy streets, lots of crowds…
Still, there are many great places in the Midtown, Montrose, River Oaks area that are wonderful for the whole family and we wouldn't want to live anywhere else!
Here is a list of little gems that we wanted to share: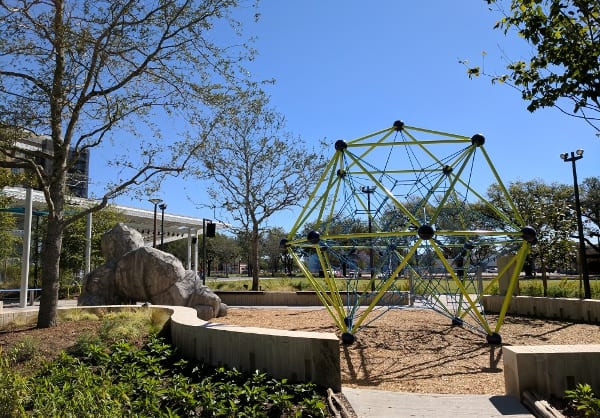 1.
Midtown Park
– 2811 Travis St, Houston, TX 77006
This beautifully maintained park boasts a large lawn and a great hill for rolling down, a wetland pond, swings, an art wall and a stage area. They have FREE family activities listed on their events page here, including capoeiria classes and b-boy hip hop for all ages. The playground features a large rope climbing area, a fun rock climbing structure for older kids and a rock play pit with movable tables that toddlers adore.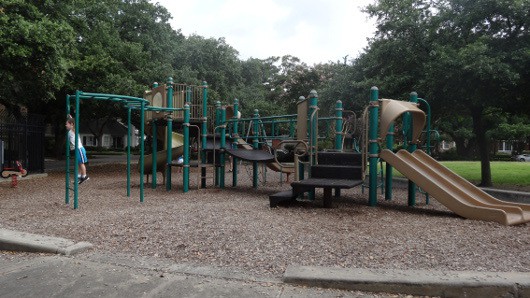 2.
Cherryhurst Park
– 1700 Missouri Street, Houston, TX 77006
This is a charming, shady park with a community center, a vertical garden, tennis courts and a small playground. On Mondays, Wednesday and Fridays from 10-11am drop in to the community center for free toddler playtime. (Note this program runs from September to May 1st). This is a fun place for an easy picnic, and it's close to many restaurants on Westheimer.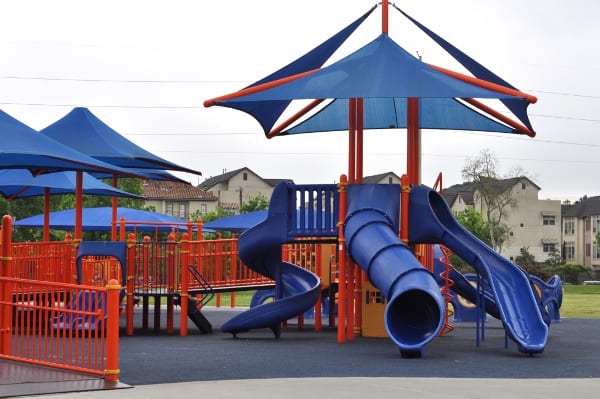 3.
West Gray Park
-1475 West Gray Houston, TX 77019
Officially known as the 'Metropolitan Multiservice Playground' and affectionately known as the "Playground Without Limits,' this wheelchair friendly park is a wonderful place for family time. There is no shale, but rather a rubber turf which is great for crawlers. The older kids can bike or scoot around the smooth path which is fenced in around the baseball diamond.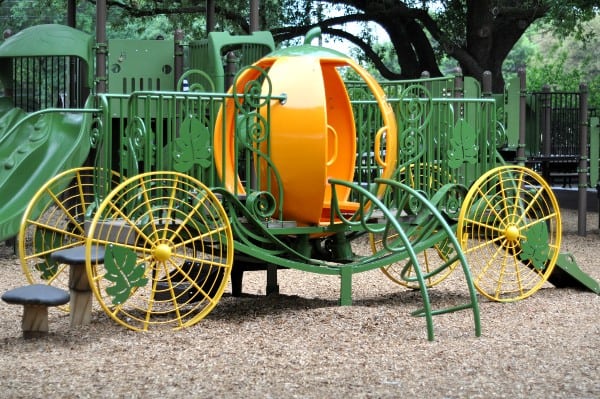 4.
River Oaks Community Center and Pumpkin Park
– 3600 Locke Ln, Houston, TX 77027
Pumpkin park has great equipment and it's fully fenced in. Furthermore, on Thursdays, the River Oaks Community Center, right beside the park, has a toddler craft from 11am-12 noon. (Note this program runs from September to the end of April)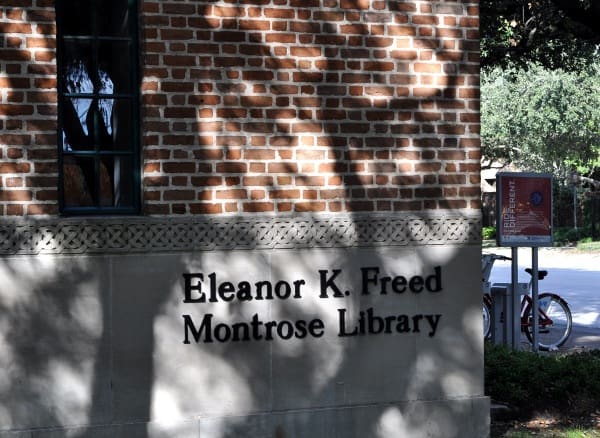 5.
Montrose Library
– 4100 Montrose Blvd, Houston, TX 77006
This library has a great toddler time and baby time on Tuesdays. Beside the library is the Black Lab which has an outdoor large size chess set! We love to play here in this shady patio area. It's fun for all ages, from crawlers to adults.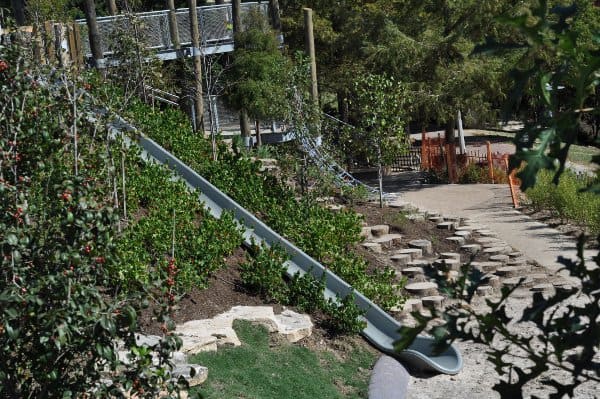 6.
Buffalo Bayou Park
– 105 Sabine St, Houston, TX 77007
A great place for a bike ride! The trails are beautifully smooth, and there is a large, beautiful dog park at 2929 Allen Park Way. There is artwork along the trail where you can stop for photos and to explore and interact with the sculptures. There is a fun outdoorsy nature park at the Sabine Street Bridge. On the other end of the park, you can check out the Dunlavy Kitchen.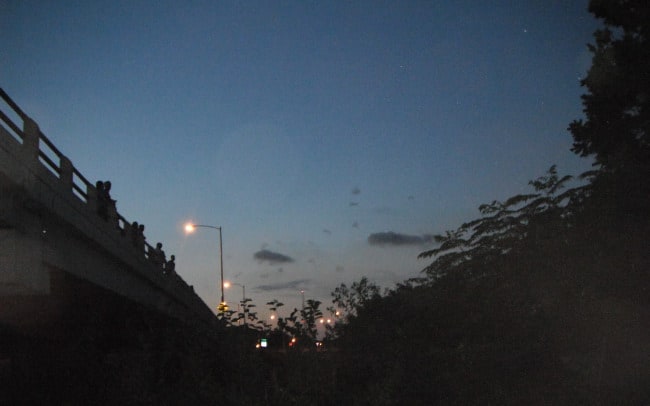 7.
Bat Colony at Waugh Bridge
– Waugh Dr, Houston, TX 77002
This is a fun evening activity that our family enjoys. We ride bikes down to the Bayou and sit quietly along the embankment at dusk, waiting for the bats to come out! It's truly amazing to see thousands of bats fly out from under the bridge and take off in a black swarming cloud across the city skyline. The first, third and fourth Friday of the month, there is a 'bat chat' with volunteers.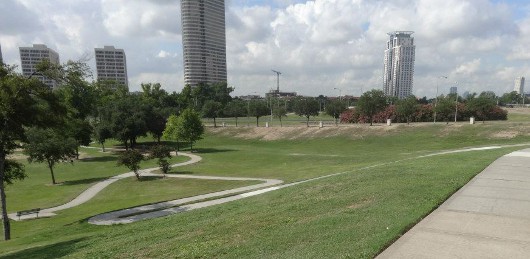 8.
Spotts Park
– 401 S Heights Blvd.
Fun playground at the top of the hill and a smaller playground next to the covered basketball courts at the bottom of the hill. It's a good place for parents to get a workout too. There is a nice set of stairs for stair running. And there are often folks working out here, even sprinting up and down the large hill.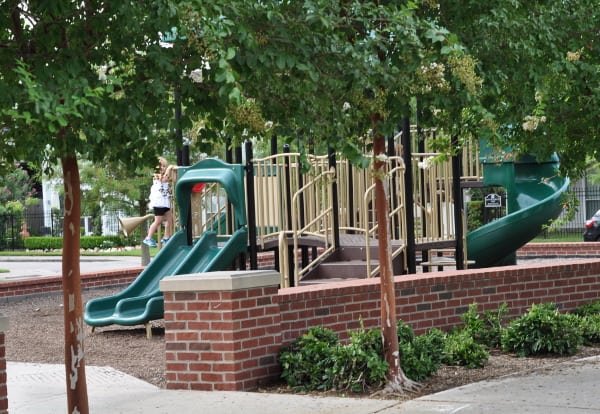 Other fun places we like to explore in this area are the
Wilson Spark Park
at 2100 Yupon street and a small, quiet toddler playground at
West Webster Street Park
.
Find the map below… and for more to do in Montrose, go HERE!