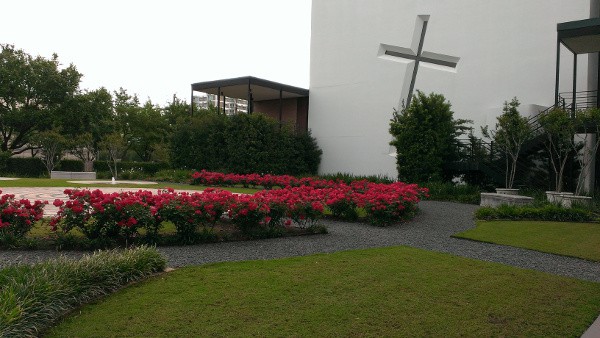 Address:
West Alabama & Yoakum, Houston, Texas 77006
Last week's park review was so popular, we are reviewing another labyrinth this week! This time the maze, designed to clear your mind for meditation, is at the University of St. Thomas.
Located on the campus, next to the Chapel of St. Basil, the labyrinth is a quiet spot to wonder through the path, next to rose bushes and fountains.
I used to wonder if kids and families were welcome on campus, but then I saw an article in an old Continental Airplane Magazine. In it the President of the University said he loved to see the community on campus and there were often moms with strollers walking through. Since then I've spent a lot of time pushing my stroller on St. Thomas sidewalks!
After a quick trip to the labyrinth, we run through the green in the middle of the campus and maybe grab a bite to eat at the on-campus Subway or yogurt shop.
Street parking is free, but may be hard to find. Look over by the Rothko Chapel and Menil Collection Park and walk a couple blocks to the University.
Go HERE to find more labyrinths in Houston!
View Larger Map