Get away from it all, without going to far! Margaritaville Lake Conroe is close to Houston, and it is a place to take the family, to play, to relax to reconnect and to enjoy time on the lake.
Read about our staycation at Margaritaville Lake Conroe below!
Jump to: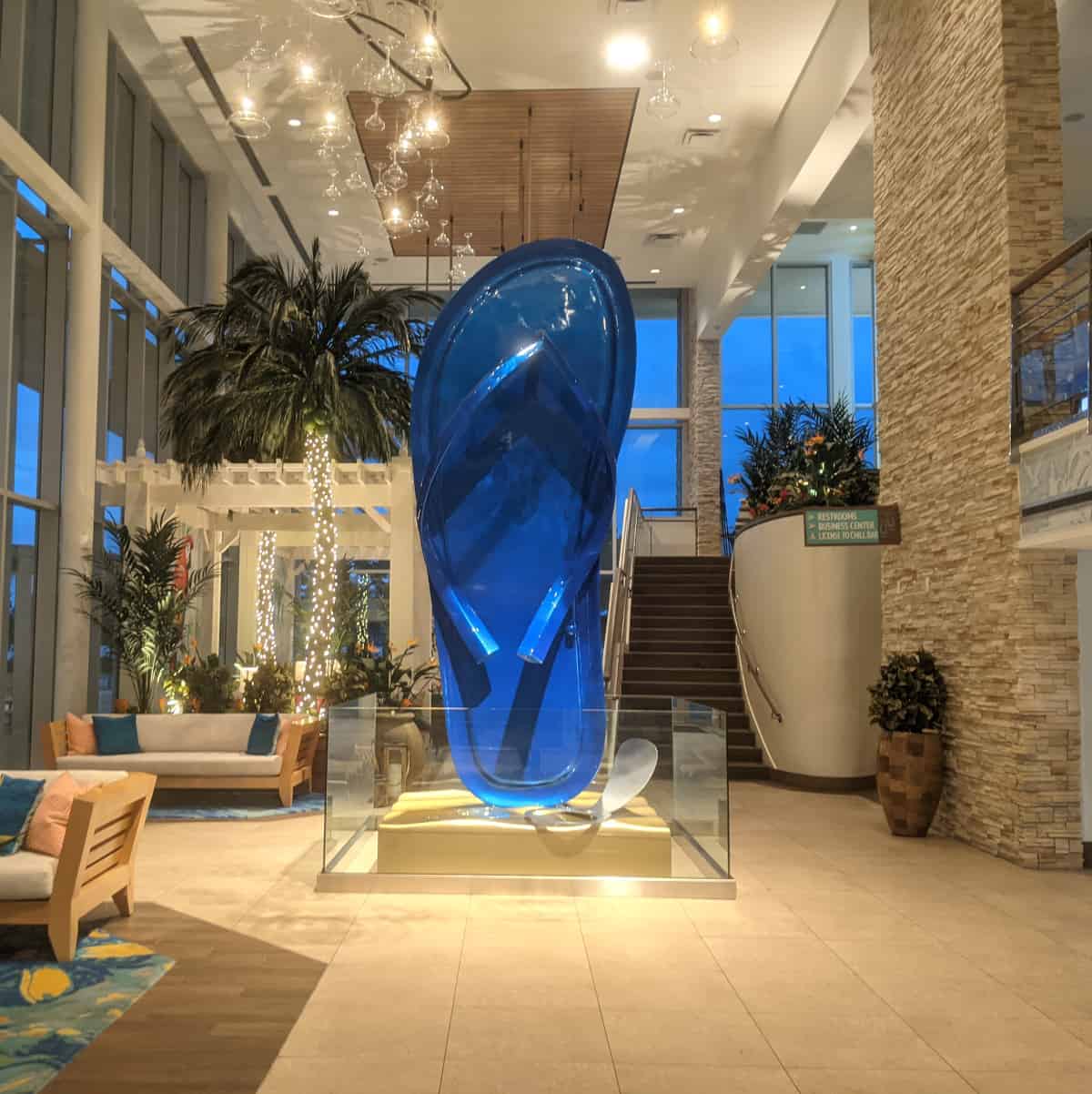 About Margaritaville Lake Conroe
Our host, Margaritaville, is on 186 waterfront acres on the shores of Lake Conroe. It is a beautiful, family friendly resort with a three acre waterpark, boat rentals, restaurants, mini golf, tennis, pickleball, big fitness center, spa, golf course and 80 boat slips (for anyone bringing their own boat).
As you might expect from the name, everything about this resort will transport you to Key West... from the colors, to the music to the laid-back attitudes.
Look below for the Endless Summer promo!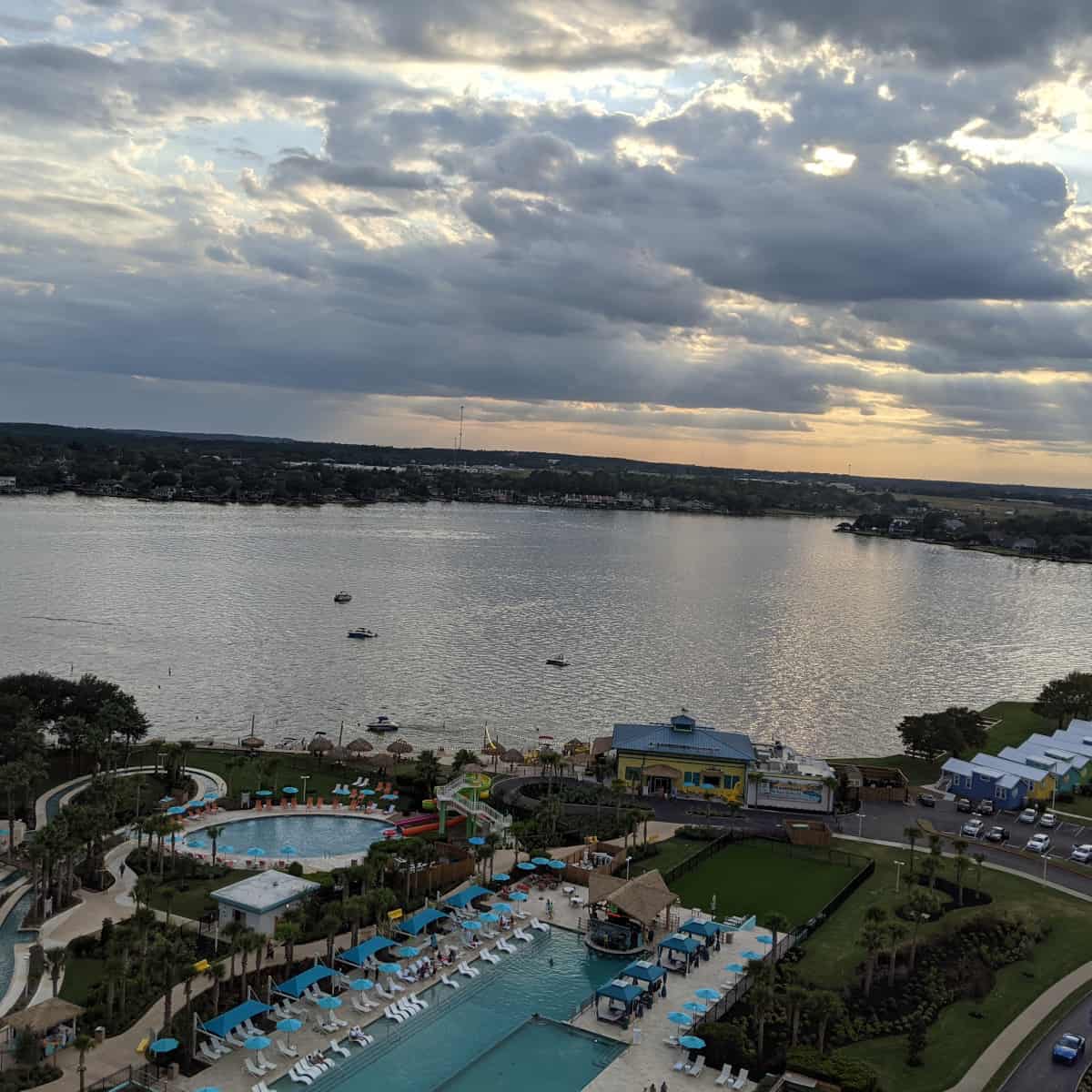 About our staycation
When we booked our first trip, we knew we were gambling with a tropical storm... and the tropical storm ALMOST won. But there is no way Jimmy Buffett would let a little rain get him down.
We floated down the lazy river, played in the splashpads, raced down the slides and had the pools mostly to ourselves. We played minigolf, visited the restaurants, fitness center and arcade... and then retreated to our suite for boardgames. Rain or no rain, Margaritaville certainly made our day more exciting!
We did push out our boat rental out by a couple of weeks because of the bad weather. We went back and it was awesome! Read about the pontoon boat rental HERE!
When we took our second trip to Margaritaville, it was sunny and beautiful. We went on weekdays and had a lot of room to play.
The pools would get busy midday, but there were still lounge chairs for everyone and the slide line was only a few kids long. When we went to the pools first thing in the morning and in the evening, we had the pools almost to ourselves.
I noticed that some families would stay at the pools all day... jumping between the slides and lazy river and pool and ordering food and drinks from the chairs. We preferred to swim, run to the room for a break and sunscreen, eat pizza at the cafe and then swim some more.
On our third trip, it was Spring Break and the resort was busy, but in the morning and evenings, we had the pools to ourselves. Midday was busy and getting a chair was difficult, but we still had room to play.
AND then we went back for a summer trip and switched things up with a cottage rental. This is a little further walk from the pools, but was amazing for our big family to have our own space.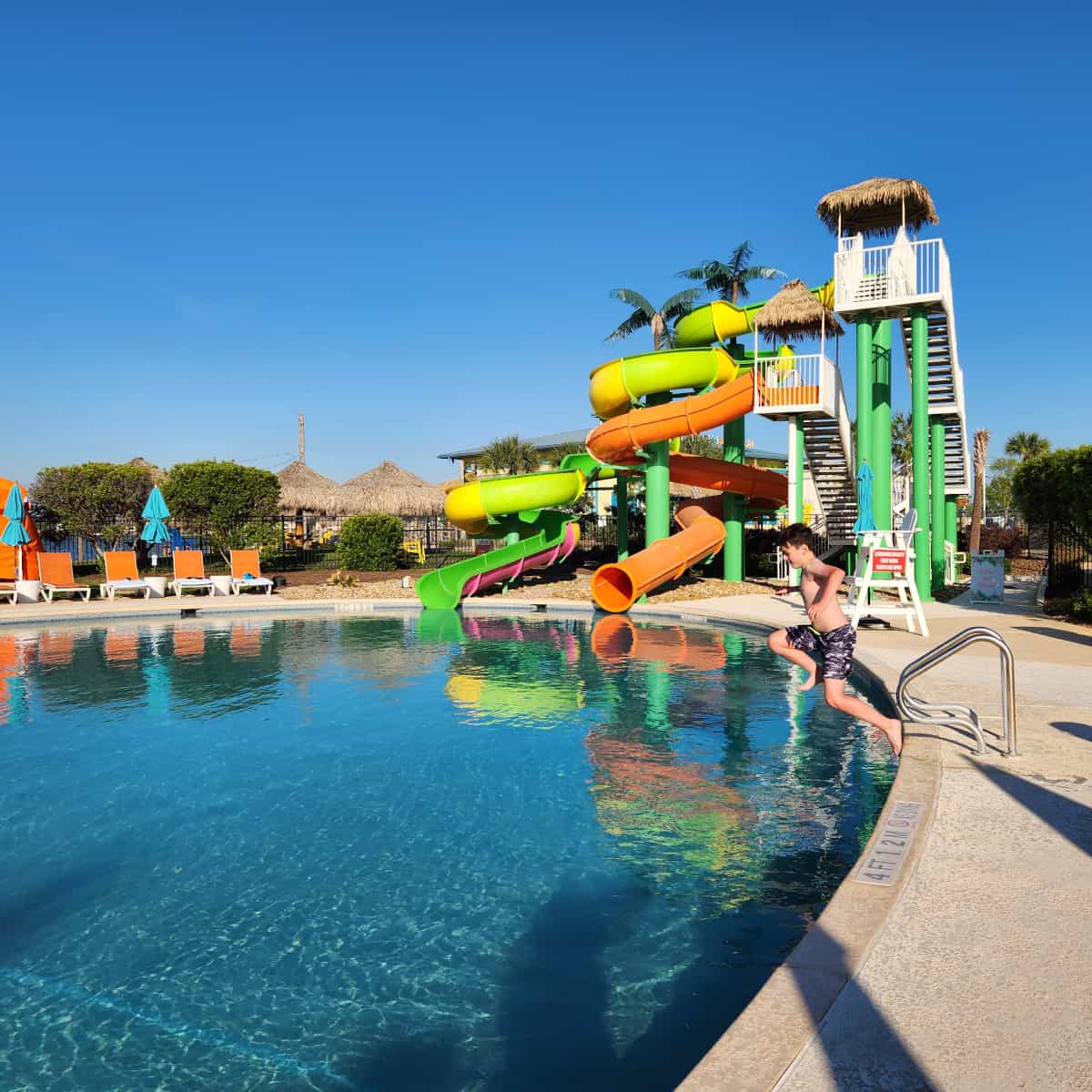 Tips for a staycation at Margaritaville Lake Conroe resort
Margaritaville Lake Conroe is family friendly. The restaurants have kids meals and the resort has a lot of amenities and activities meant for families. It's a great family staycation.
The staff is very very friendly. We did not pass one employee that did not smile and speak to us.
Margaritaville has 303 suites and 32 waterfront cottages. (There are no non-suite rooms.)
The suites are in the tower and have a bedroom, living room and really nice bathroom. The suites have a minifridge and coffee maker (but no microwave). The cottages have a living room, bedroom, nice bathroom and kitchenette with fridge, coffee maker and microwave. Some cottages have lofts with more beds.
The suites are a little closer to the pools and most of the restaurants.
The cottages give you your own little house... which is great for a noisy family like mine. The cottages also have their own assigned parking spot and boat slip, right outside (so you don't haul everything up the elevators).
The suites and the cottages have the same fixtures and furniture... so you're not roughing it in either spot!
Free self parking is available (as well as paid valet).
Some of the resort restaurants are open to the public, but everything else requires a guest wristband to access.
The waterpark includes a lazy river (with tubes included), splash zone, two waterslides (with 48" requirement for the bigger one and 42" for the smaller one), hot tub and one heated pool.
Pool towels are provided.
The resort will close the pools for very severe weather… but will stay open in the rain.
There are no lifeguards on duty, except by the big slides.
One pool is for adults-only. Everything else is open to all.
In addition to the pools, there is a small beach with lake access.
Weekends are the busiest time... so if you can do a weekday staycation, you will probably have more space.
The fitness center is really great. You know how some places call one broken elliptical machine a fitness center? Not Margaritaville. They have three studio rooms, free weights (dumbbells and Smith machine), resistance machines, lots of cardio equipment, spin room, racquetball courts and locker rooms.
At the resort you can rent equipment for the lake. They have 22' Tritoon boats, 19' Runabouts, electric paddleboats, stand up paddleboards, kayaks, fishing poles and bait. Read about our boat rental HERE. (It was a huge hit!)
There is shopping nearby, so if you forgot something, it's just a five minute drive to pick up some essentials.
Check the Margaritaville website for discounts.
Find more pictures below… and if you go to Margaritaville, tell us about it!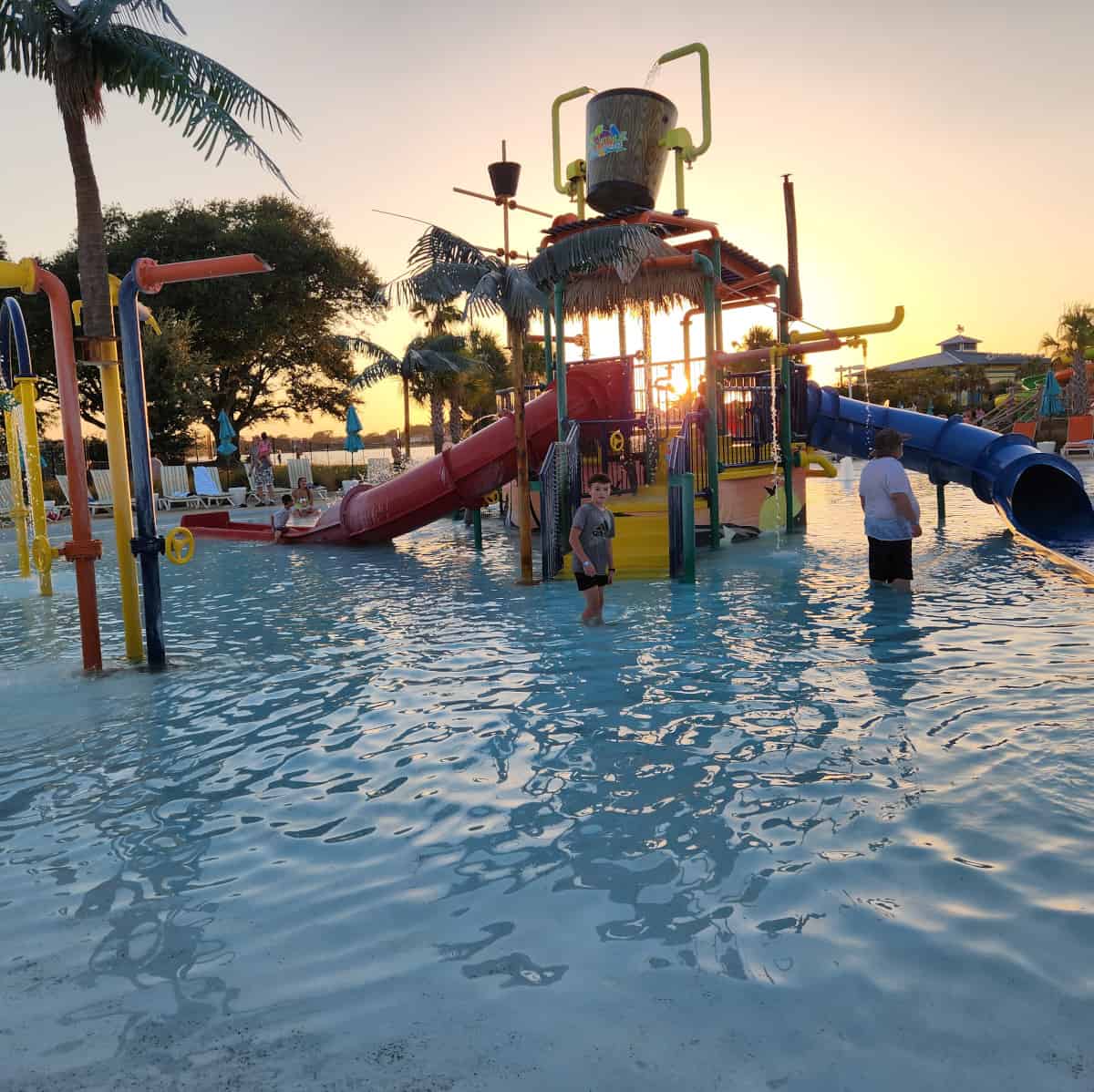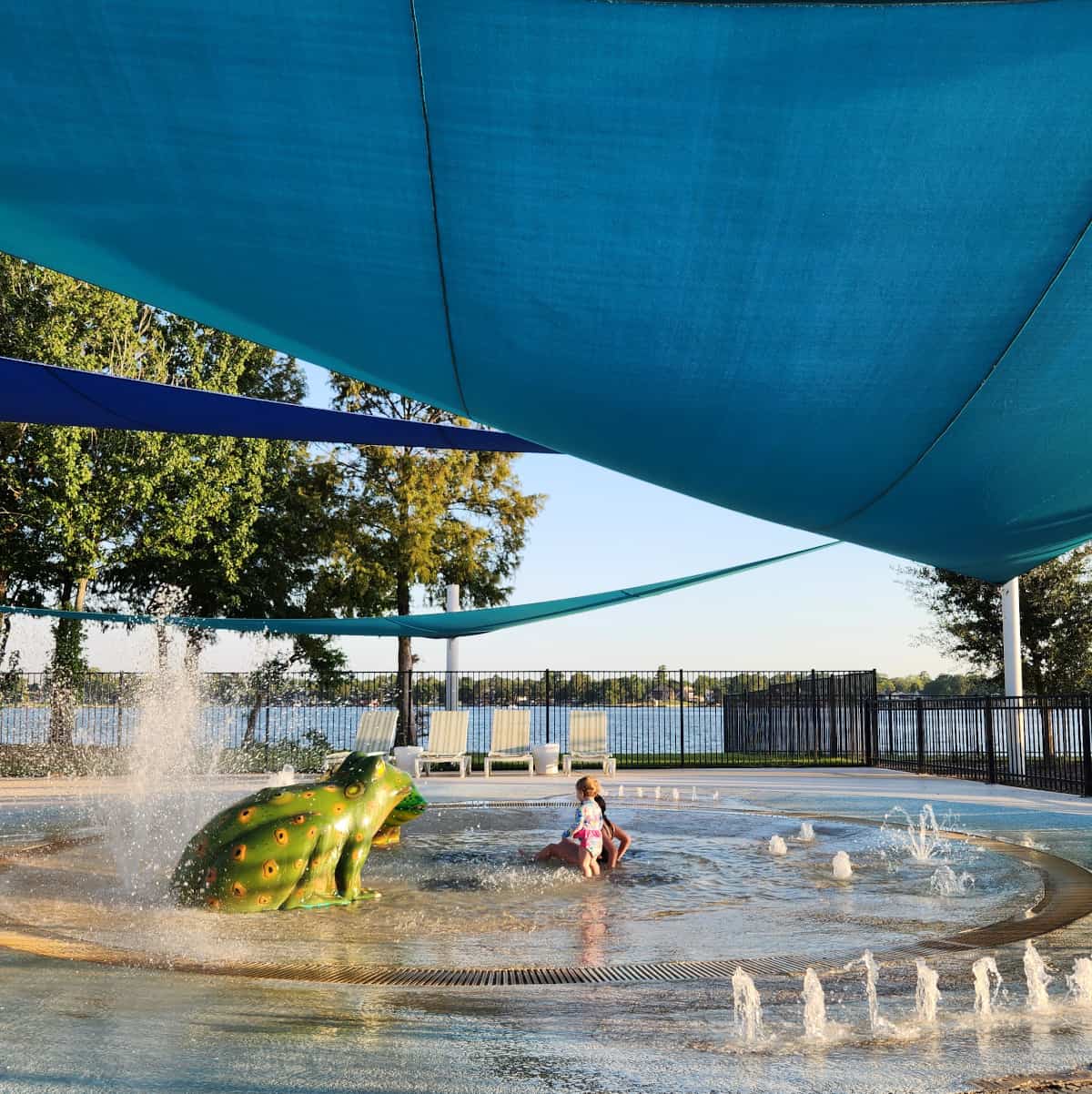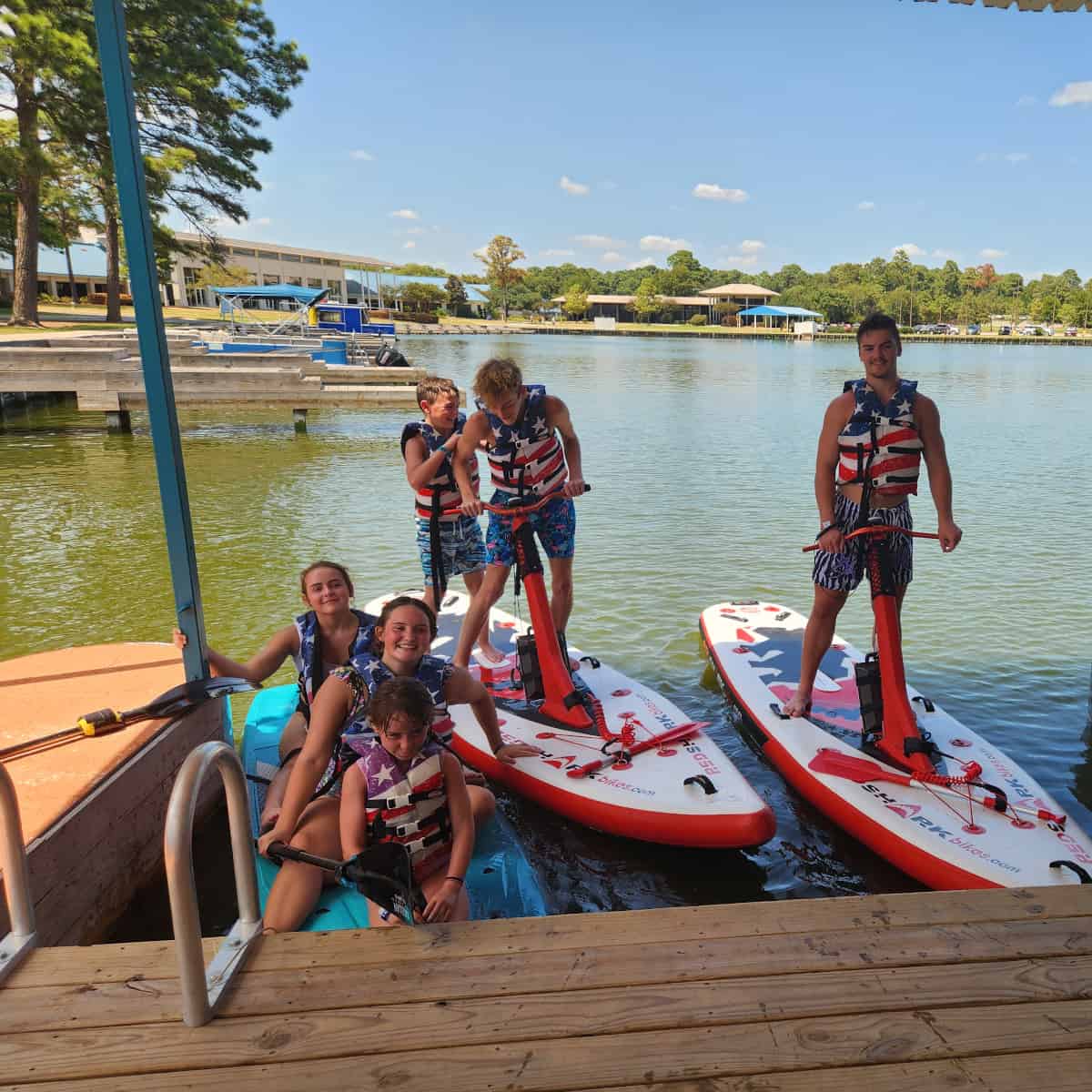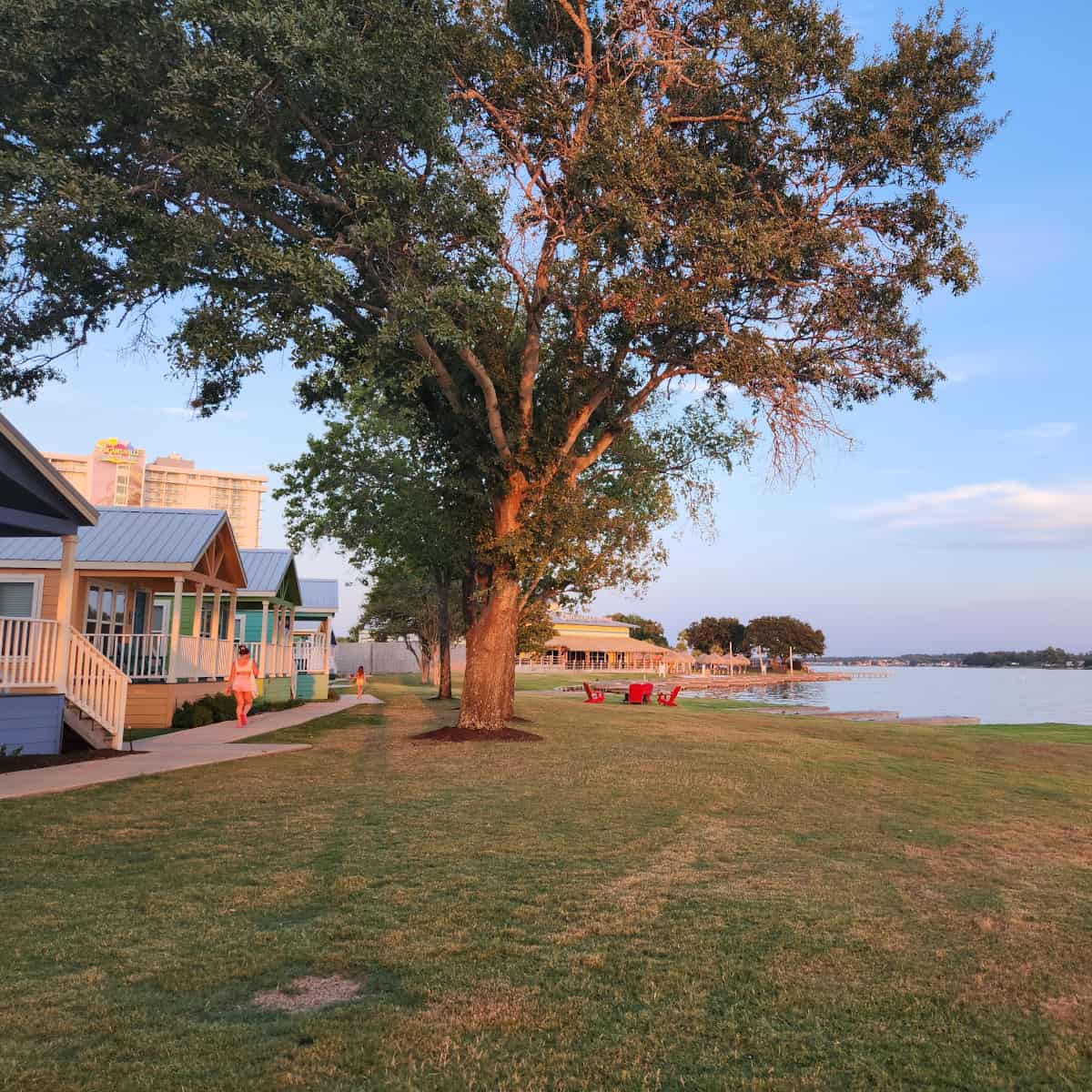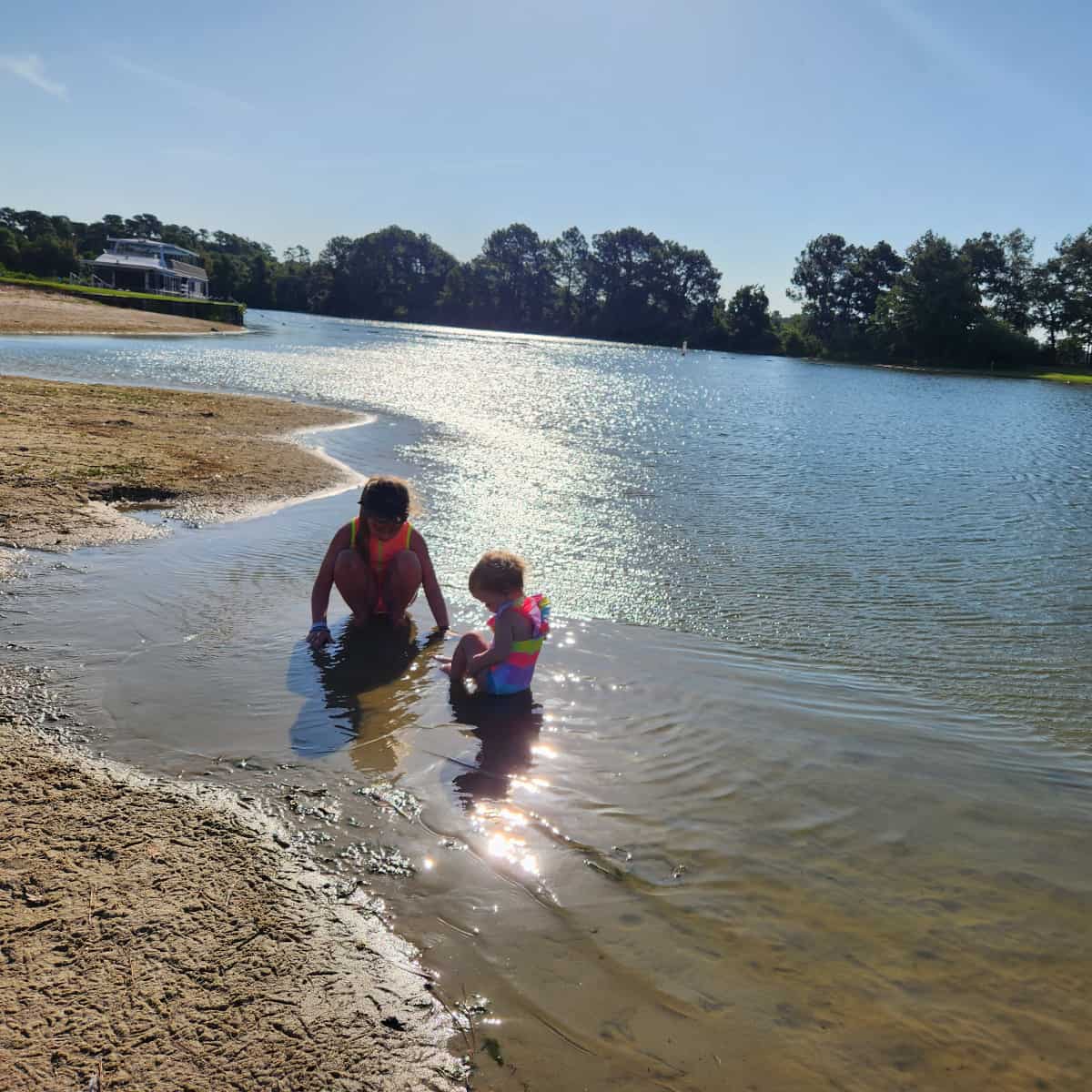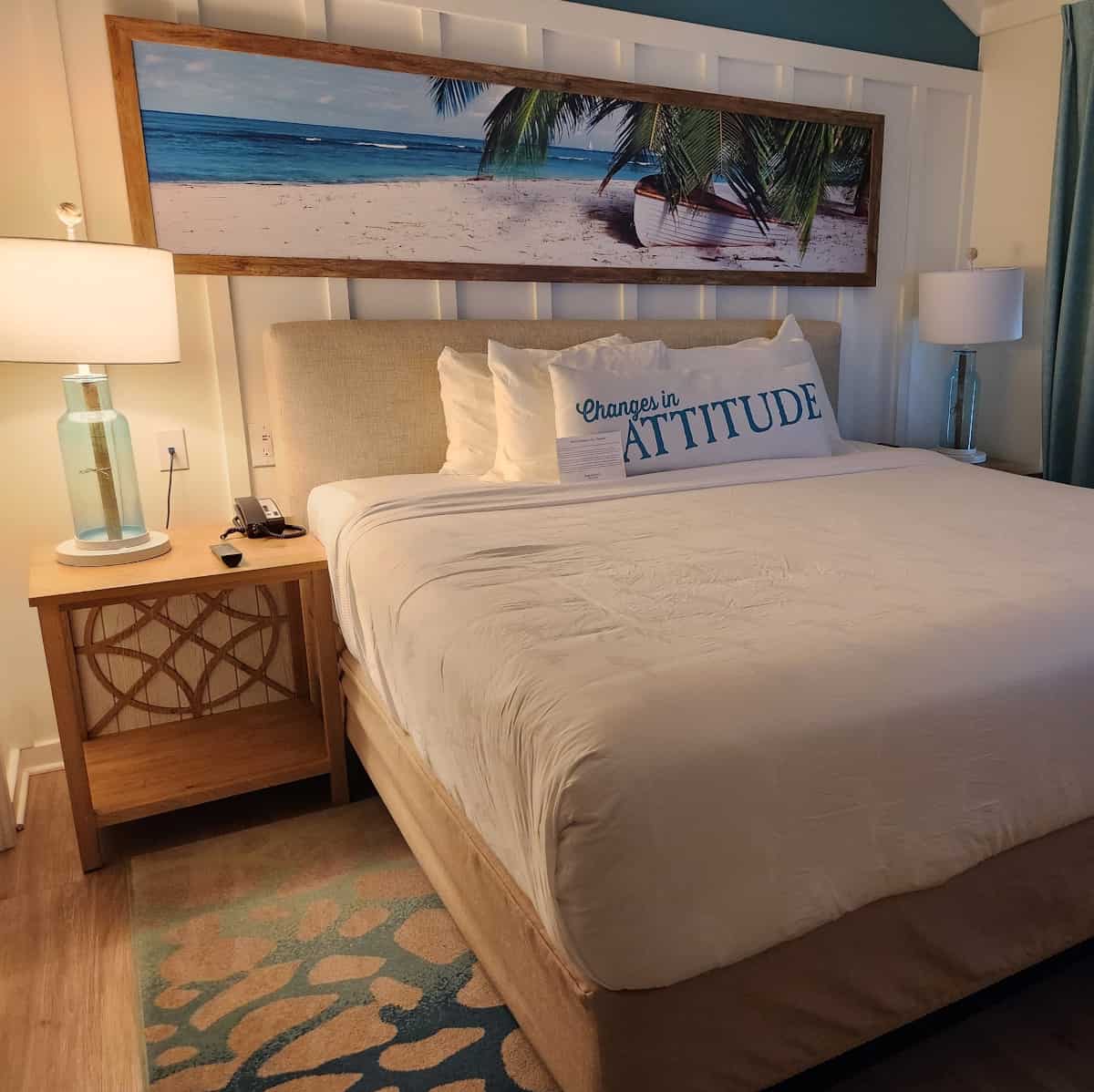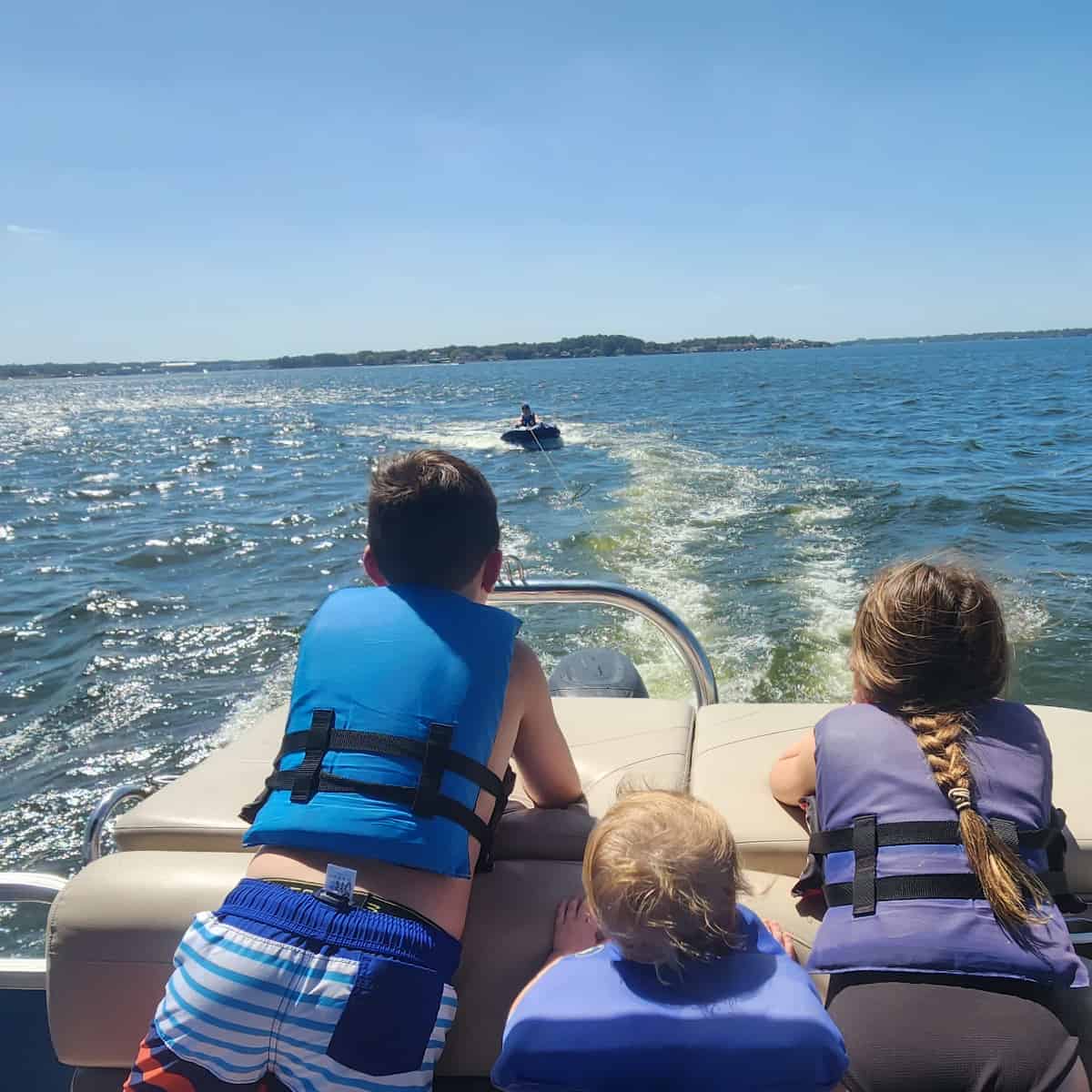 See the video below (or HERE):