Hi this is Pranika! The season has finally changed and Fall is upon us. With the cooler weather, we love to eat soup. I get a local share from a farm and like to cook what's in the box – including sweet potatoes and Brussels sprouts! Alongside the soup and Brussels sprouts, I served the meal with my no garlic, garlic bread from my first post on BigKidSmallCity.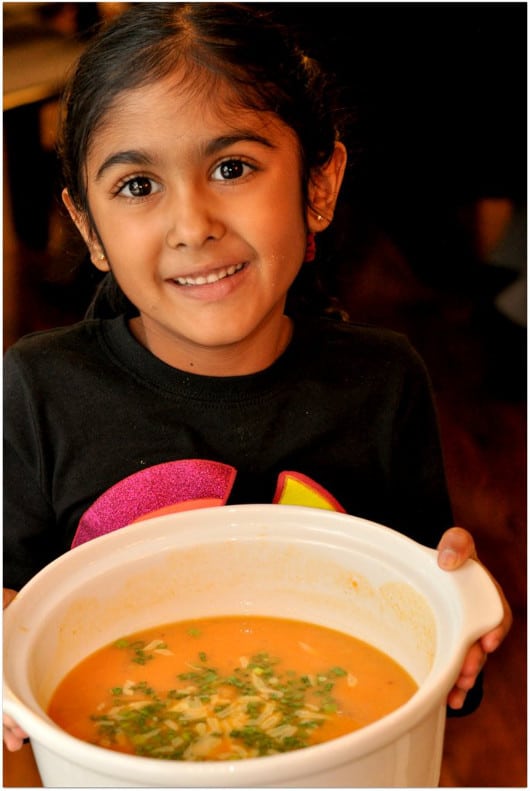 Happy Fall and happy eating!
Sweet Potato Soup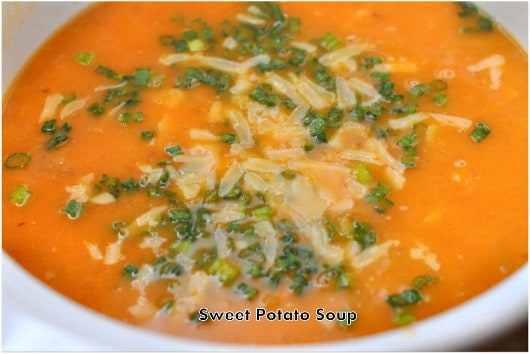 2 large sweet potatoes, halved lengthwise
½ cup water
2 tsps olive oil
½ large onion, chopped
½ tsp ground cumin
⅛ tsp crushed red pepper (optional)
4 cups chicken or vegetable broth
1 teaspoon salt
6 bacon slices, cooked & crumbled (optional)
¼ cup grated parmesan or cheddar
2 tbsp chopped garnish (Green onions or flat leaf parsely)
¼ tsp pepper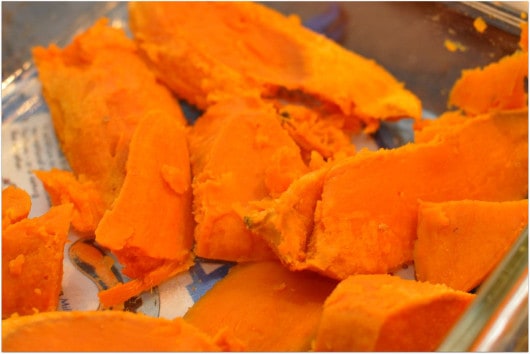 Place sweet potatoes cut side down, in a microwave-safe baking dish. Add water; cover with plastic wrap. Microwave on high for 10-13 minutes or until potatoes are tender. Cool slightly and discard potato skins.
While potatoes are in microwave, heat a saucepan over medium-high heat. Add oil and swirl to coat pan. Add onion and sauté for 3 minutes. Stir in cumin, crushed red pepper, salt and pepper. Add broth to pan and bring to a boil, then remove from heat.
Add half of sweet potato and broth mixture to blender. Remove center of blender lid to allow steam to escape, but use a towel over blender lid opening when in use to avoid splatters. Blend until smooth and then do second batch of remaining potato and broth mixture.
Pour soup into bowl and sprinkle with garnishes as desired (bacon, cheese, and parsley or green onions). Adapted from CookingLight recipe.
The kids enjoyed it and the adults also garnished with Louisiana Hot Sauce.
Enjoy!
Roasted Brussels Sprouts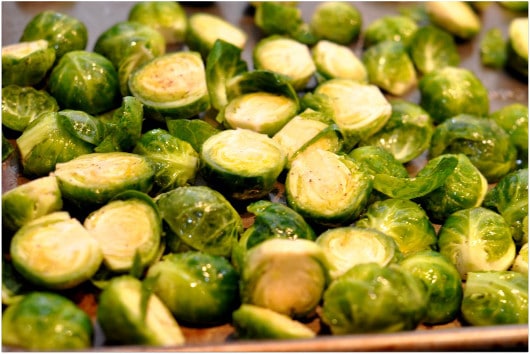 1.3 lbs brussels sprouts, halved and outer peel removed
3 tbsp olive oil
2 tsp salt
½ tsp pepper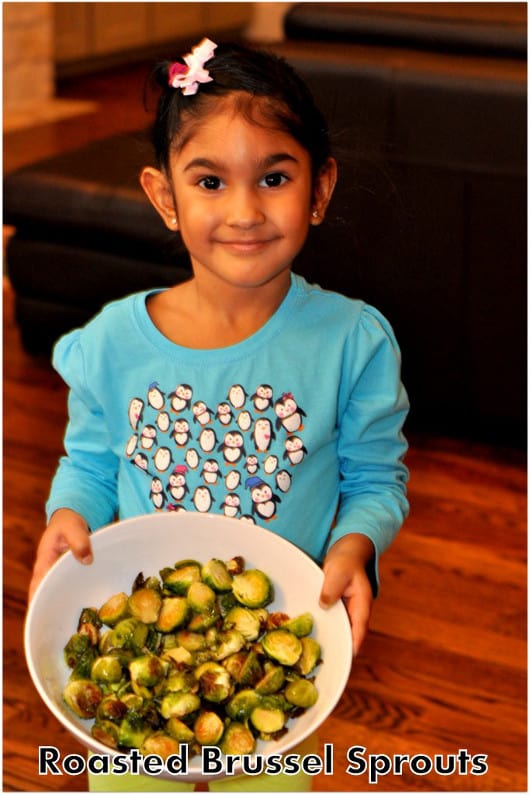 Pre-heat oven to 400 degrees. Combine all ingredients in a bowl, mix well and spread on non-stick sheet pan. Roast in oven on top rack for 20 minutes. After 10 minutes, pull out sheet pan, stir, and roast for 10 more minutes. Roasting brings out sweetness. My kids adore Brussels sprouts and usually take seconds!
No Garlic, Garlic Bread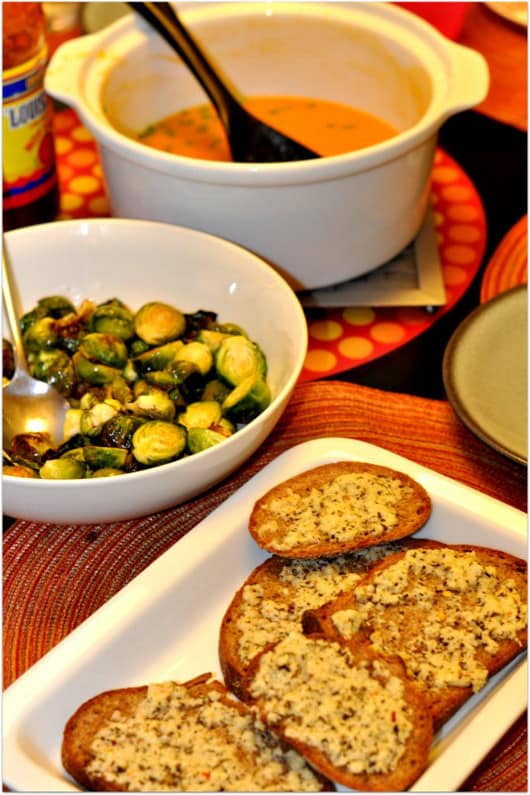 1 stick salted butter
½ tbsp dried oregano
½ tbsp dried basil
Pinch of crushed red pepper flakes
½ cup finely grated parmesan cheese
1 french baguette cut into 2 inch slices and spread slices on a baking sheet.
Preheat oven to 375 degrees. In a small pot on medium low heat, add one stick of butter. As its melting, add dried herbs. Once butter has melted completed, turn off the heat and add ½ cup of parmesan cheese. Stir well and spread on top of each baguette slice. Put baking sheet into oven on top rack and bake for 6-8 minutes, depending on crispiness of bread desired. Our friends and family call this "crack bread" because it's so delicious.