One of my favorite places to go during the holidays is Discovery Green. They have the ice rink, a ton of family friendly events and... in the evening... lights! This year the lights will be from two art installations:  Firmament and Enchanted Promenade.
Firmament is a vibrant canopy of LED lights by acclaimed Burning Man artist Christopher Schardt, and Enchanted Promenade includes towering colorful peonies by TILT, a French light art and design studio. And you can see both November 22, 2016 - January 8, 2017 (and the promenade will be lit up until February 19)!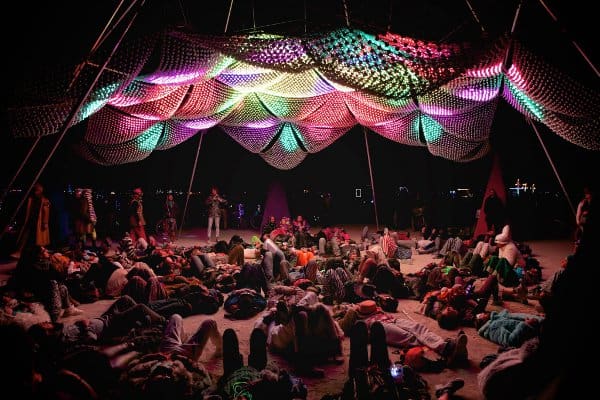 According to Discovery Green:  Firmament will enliven the Sarofim Picnic Lawn from November 22 through January 8, 2017. From artist and technology innovator, Christopher Schardt, Firmament is a 52-foot wide, canopy of 21,600 LED lights, suspended from a 42-foot high aluminum tower. The tower is elevated on six legs forming huge equilateral triangles with the ground. At its pinnacle, a 21" diameter LED ball serves as a beacon and will be visible from long distances.
Guests are invited to gather under the structure as the LED lights display celestial, playful, psychedelic and brightly abstract images. A continually changing musical element will engage visitors' senses creating an enveloping, comforting, communal environment below. Discovery Green will seek input from Houston musicians and the community to determine musical selections.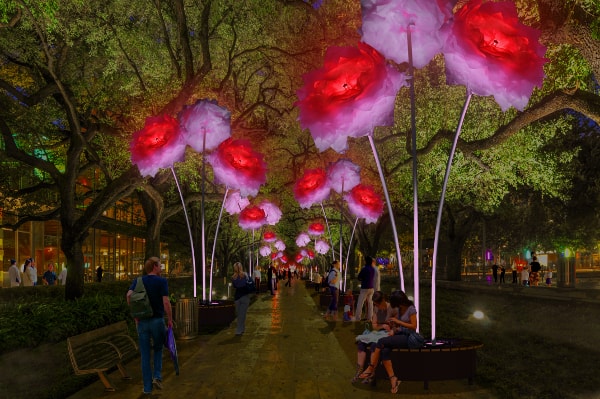 Enchanted Promenade will come to life through color-changing LED lighting. At night, the stamens grow brighter with a blazing red light that emanates through its petals and scatters warm light throughout. Below the soaring stems of the plant, diffused lighting subtly enhances an inviting seating area for visitors to lounge and enjoy the view.
See you there soon!