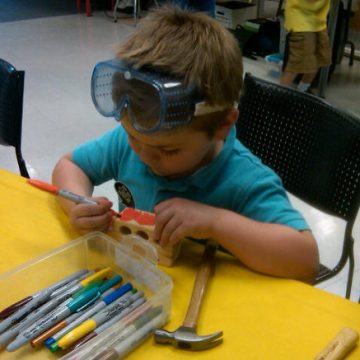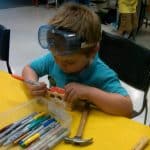 The first Saturday of every month, the Houston Center for Contemporary Craft hosts Hands on Houston. It is a free event, open to the public, with a new project each month.
Today I took the kids to make Handmade Wooden Toy Cars. We went at noon and I was worried that either the craft would be a little trinket or that there would be a mob. But, I was pleasantly surprised when we arrived.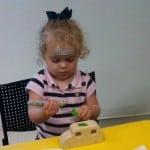 The back lot was almost full but inside there was plenty of space. (Had the lot been full, there is easy street parking.) This particular Hands On Houston event was led by the Woodworkers Club of Houston. They must have taken most of the parking spots, because there were a lot of people waiting to help my kids build a car.
The craft was being done in the main lobby and we were welcomed warmly when we arrived. The kids were able to pick out the style of wooden car and pick up their wheels and axles. (These little cars were very solid and really were designed for play.)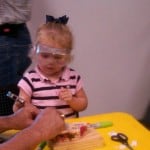 One of the woodworkers sat with the kids as they decorated their cars with markers and stickers. He then helped the kids line up the car in the jig while they hammered in the axles and wheels. The staff was very patient with the kids and excited to have us there.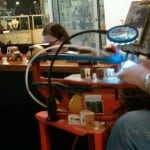 After we built the cars, the kids had fun watching a woodworker work and they admired his finished products. We then packed up our new cars and headed out. The whole event was about 30 minutes.
Hands On Houston was a lot of fun and I cannot believe that it was free. You can bet we'll be back again next month!
Read about our last visit to the Houston Center for Contemporary Craft HERE.