Address: 4848 Main Street. Houston, Texas 77002
Cost: Free
Appropriate Age: Any age

Our Review:
The
Houston Center for Contemporary Craft
was "founded to advance education about the process, product and history of craft". It opened over 10 years ago and is one of the few places in the country dedicated to craft. At the museum, you can find exhibits, artist studios and a gift shop. And it is free!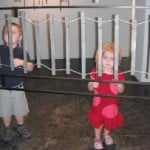 I took my kids on a Sunday after lunch. We drove there and parked in the back of the building. It was easy to find and easy to park. Inside no one was shocked that I was bringing 3 kids into the museum (phew) and we started our self guided tour.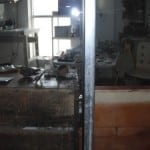 When we were there, Soundforge  was on display. My kids enjoyed using the different hammers to make music. Joe was sure to use each of the 10+ on display. This exhibit has now left, but others will be replacing it. You can see it schedule HERE.
After making music, we toured the rest of the gallery. The rest of the crafts were beautiful, but the kids were not especially interested. We kept walking and found the studios were the current artists in residence were working. This part was interesting because the kids could see the artist working.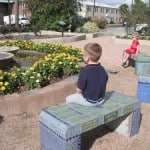 The Houston Center for Contemporary Craft has a calendar full of events, with many for kids. Follow the calendar HERE.
On the way out to the car, we walked through the big garden. It had a stage where the kids performed Ruby Tuesday for me and a few walkers as they passed by.
This museum is not the most exciting Houston museum for kids, but with certain exhibits, like Soundforge, or events, like Hands on Houston, you can have a lot of fun. And even better yet, it's free. So go check it out. What do you have to lose?