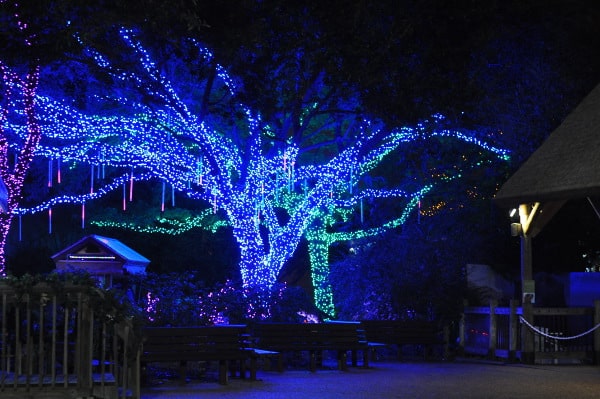 When
Zoo Lights
started a few years ago, I didn't like that Zoo Members still had to pay for not-very-discounted admission… but after one visit, they won me over and it's become one of our favorite Houston holiday activities.
We've gone on busy nights… and on empty nights… and if you can handle the fun before bedtime on a school night, I recommend a week night adventure!
On the Houston Zoo website, you can see which nights are value nights and which are prime nights. Prime nights mean crowded and value nights means you'll have some sidewalk space to yourself as you linger at the model trains, dance in the spot lights and enjoy every inch of the zoo.
On value nights, you can save a couple dollars. Also, if you pre-purchase tickets by 2:00pm each day, you can save a couple more dollars.
Value Nights: Members $8.95 online or $10.95 at the gate, Non-Members $10.95 online or $12.95 at the gate.
Prime Nights: Members $10.95 online or $12.95 at the gate, Non-Members $12.95 online or $14.95 at the gate.
Children 1 and Under – FREE admission to Zoo Lights
If you can't make a weeknight work, I still recommend going. Zoo Lights is magical… even if you enjoy it with every single other family in Houston.