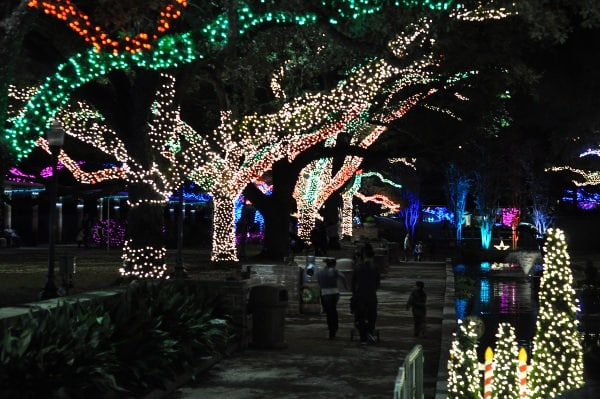 Each night in November , December and early January, the
Houston Zoo
closes at 5:00pm... only to reopen with millions of lights at 6:00pm. When I ask Houston parents for their favorite holiday event, Zoo Lights is usually what they tell me!
Open each night, families can walk through the zoo. The least busy days are "value nights", which are usually school nights. If you can swing it, go on a "value night" to have more room to move around and enjoy. If you cannot make a "value night", be sure to go on a "prime night" instead!
To find the current prices, visit the Zoo Lights website.
Buy tickets online or at the gate. Right at 6:00pm there is usually a (fast moving) line to get in. If you buy your ticket online, you have a jump start.
Also, I've noticed that if you go at 8:00pm instead of 6:00pm, many of the families have gone home.
When you, be sure to bring your old or broken holiday lights. Since 2016, 20,019 pounds of holiday lights have been recycled at the Zoo.  That's the weight of approximately two male Asian elephants!
Whenever you go... have fun and send us your pictures!  And for more tips on visiting the Houston Zoo, go HERE!