From Houston Mom, Ashley Ann:
I went on a wild trip this week, to Walt Disney World, with my family of five: Russell (husband), Patton (6yrs), Crosby (4yrs-Autistic) and Hannah (15 months).
When we were planning, my first thought we had was, "How on earth are we going to fly?". Well I have to tell you it was amazingly EASY! And the best part is that I did it alone with all three kids because my husband was already in Orlando.
So here is my secret to making it great: Wings for All. We went to IAH a month before our trip for the airport walk through for special needs kids. We went through check-in, security, and got on an actual plane. It's an amazing tool in preparation for any travel and it's FREE!!!!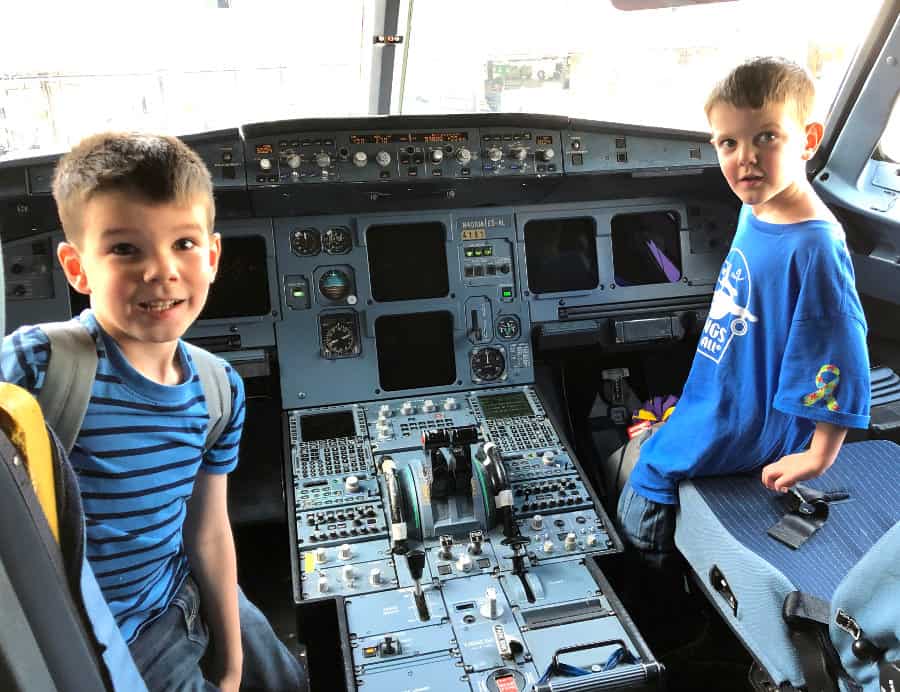 Our next question was, "How are we going to do a Disney park with Crosby?". The accommodations far surpassed any of our expectations!
We rented a double stroller so that all 3 kids could take turns riding throughout the day.
Upon arrival to Disney World on our first day we went to guest services. We explained that Crosby has Autism and that we may have some trouble with waiting for long periods of time and that we may need to contain him during wait times in the stroller.
We were given a wheelchair tag for our stroller which meant that we could bring the stroller with us to the entrance of all rides instead of leaving it at the beginning of the line. This was invaluable.
Once we figured out the kinks of the system we were set. A disability designation on your bracelet is similar to a fast pass but in my opinion is better, you don't have to actually stand in line and it's unlimited!
So when we scan Crosby's bracelet and tell the cast member we have a disability, they tell you a time to come back, and then you walk away. Simple right?! We took that time to go eat, potty, or just sit. With some rides with the wheelchair tag we walked right onto a ride because they had a separate entrance.
Now, am I saying it was a perfect day all day? No. But we're we able to enjoy the huge number of wins we had each day because of the Disney Magic? You betcha!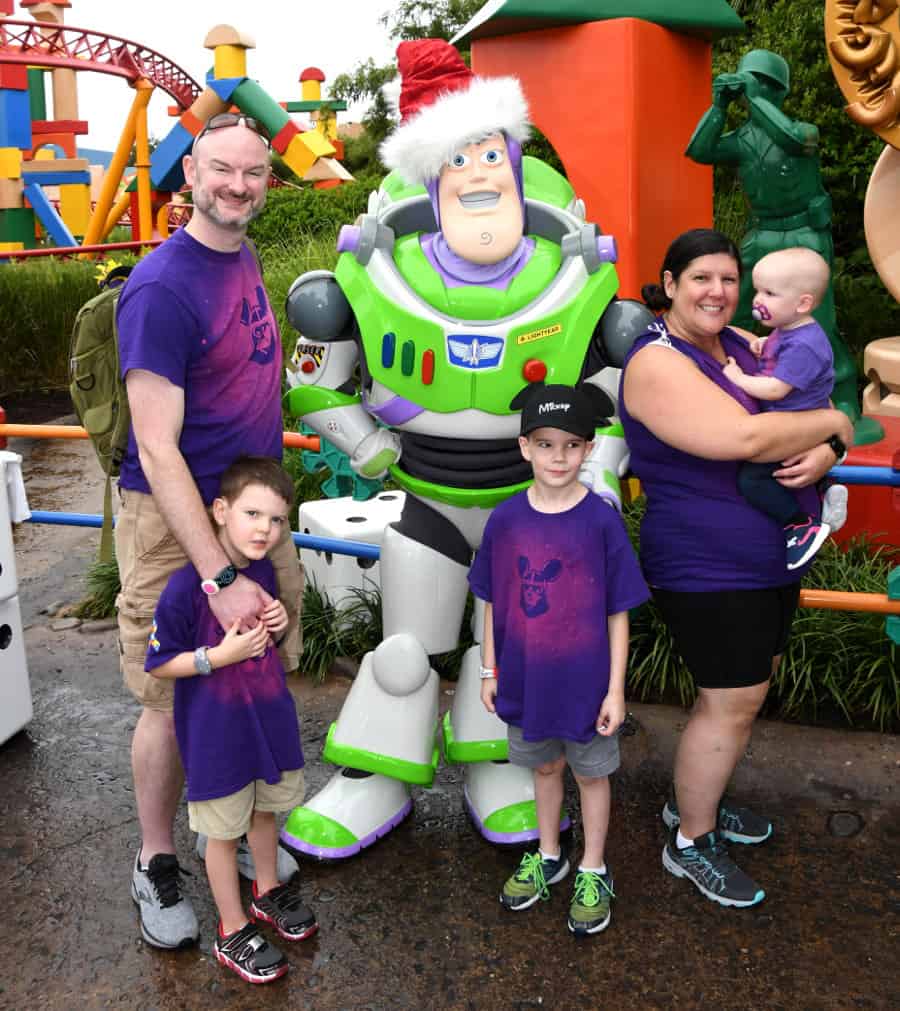 On day one we went to Hollywood Studios and just mostly walked around and met characters. Toy Story Land is where we were able to just walk onto a ride with no wait with only the disability tag. If Crosby seemed too excited, I warned the characters that he had autism and may be a little nervous or grabby.
We never felt rushed at anytime with any of the characters. In this park we met: Buzz, Woody, BoPeep, Vampirina, Doc McStuffins, Darth Vader, Mike and Sully. Mickey's Dance Party was not nearly as big of a hit as we thought it would be with Crosby but Patton and Hannah loved it. Mickey, Vampirina, and Doc McStuffins show up and sang their theme songs.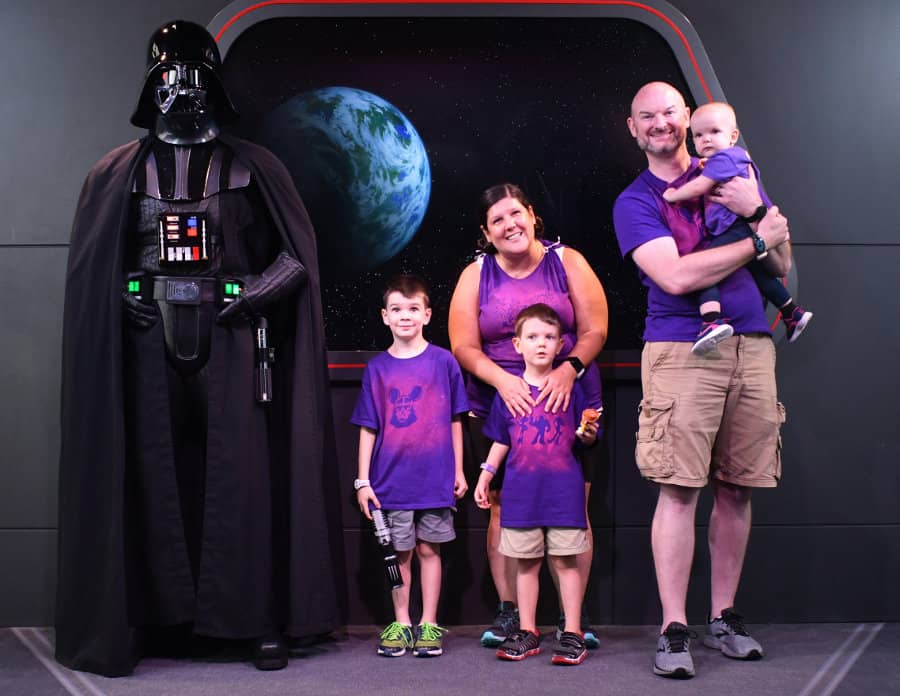 Day two we spent our morning around the hotel, Art of Animation, so we could attend the character drawing class in the lobby, we drew Stitch. This was a huge hit with Patton because he is really into drawing.
Since all Disney resorts have playgrounds we blew off some steam first before our class. Then we hit the arcade and the boys loved it. It had a ton of flashing lights and is pretty noisy but I think it was no worse than a typical day at Chuck E Cheese.
We booked a late lunch character meal inside the Magic Kingdom for our second park day. We saw Winnie the Pooh, Tigger, Piglet, and Eeyore. The boys loved it! Hannah not so much. The buffet was very good but for the price, we may wait until Hannah is old enough for princesses before we do a character meal again.
Since we had a late lunch with Pooh and the gang, we walked right into the park in the middle of the parade which was perfect because we saw all of the pretty floats and characters without having to meet any of them.
Russell and Patton went off to do big boy things so Crosby, Hannah and I went to ride "It's a Small World". This was the one ride I thought would be a hit but was not.
I apparently underestimated his refusal to ride on a boat. The characters were overwhelming because he didn't know where to look and it was super intense because we were on the first row. Luckily Hannah was super into it and was getting in Crosby's face and making him smile. By the end of it he said he enjoyed it but would not ride it again.
In all honesty the only ride we did successfully without issue was the carousel.
Even with the lack of riding pretty much anything, we filled our days but just walking around, meeting characters, and walking the shops. Almost every time I offered to walk in a shop Crosby would say yes. He loved naming all of the characters items that he recognized.
All in all it was an absolutely perfect vacation! Would I recommend going to Disney with an autistic child? Magic Kingdom, absolutely! Hollywood Studios was a bust in my opinion... but it made my husband and Patton happy so it works.
A few things I recommend to have:
A pair of affiliate Boise cancelling headphone. We only needed them for the fireworks but it was a great crutch just in case.
A fidget toy. Typically we don't give them to either of the boys but Crosby absolutely needed it. I found small Mr Potato Head Toy Story characters where the eyes and ears did not come off, only the costumes were removable. It had maybe 4 parts to each character which was plenty for him to feel satisfied.
Glow sticks. All three kids completely loved having glow sticks to play with on dark rides like Pirates of the Caribbean.
A stroller. There are services that will drop off a stroller to your hotel and pick it up on your last day. It was $50 for 4 days for a double stroller and it could leave the park with us. If you rent at Disney you have to return it every day when you leave and it's $30+ a day for a double.
Buy the photo package. I was apprehensive because of the cost but it is invaluable when you are alone with two kids and need to interact and can't get your camera. All characters have a photographer. You scan your bracelet and all of your pictures are compiled in the app. I wish some pictures would have been a little better angles or they would have tried to get everyone's attention. But when you are talking about 3 kids and one is autistic, any picture where everyone is looking at the camera is a good picture.
And lastly, just know that you can do it!
We were so busy thinking of all the bad things that could happen that it took us until the end of the first day to realize nothing bad had happened.
I can't wait to go back to Disney World when Hannah is 10, Crosby 14, and Patton 16! I'm sure there will be a whole other set of worries or issues by then but I know for sure that it will be worth it!